DL6QA's brief curriculum vitae
Acqua passata non macina piu
(Italian proverb)
Schnee von gestern
(liberal German interpretation of Italian proverb)
---
Although I have been repeatedly requested to disclose my curriculum vitae I don't think today's commercialized internet which is monitored and intercepted by international organizations is the right place for such publications. Moreover, my biography is a very comprehensive personal story and might be more suitable for a bestseller than for publishing in a homepage. As my biography is a private matter the following record of past stirring decades is intentionally only a very brief incomplete summary. Due to shortness it might therefore be that the context will not be fully understood.
---
Date of birth:
very long time ago
Place of birth: in Dutch East Indies (D.E.I., today's Republic of Indonesia)
Nationality: German
Parents and ancestors: German from West and East Prussia
Married: yes, two children
---

Spent total childhood without interruptions up to my age of 19 years in South East Asia and Far East
.
My birthplace, Island of Java, D.E.I.

My parents and my first birthday.

Our house in D.E.I.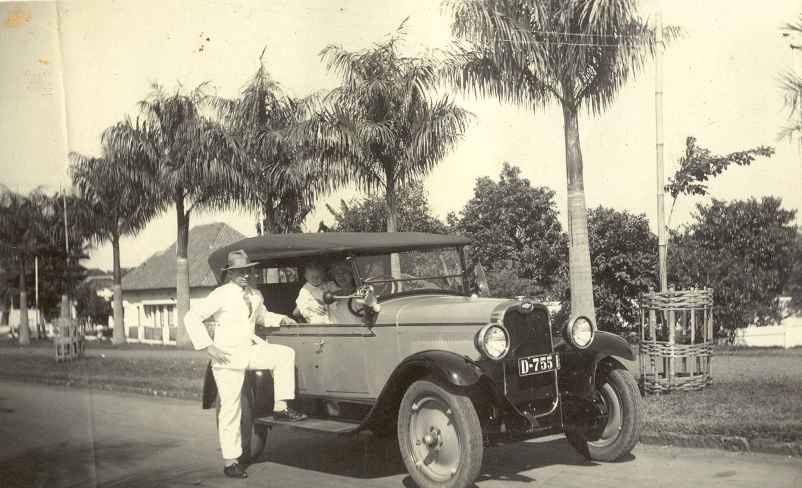 Going for an excursion with my parents, D.E.I
Before arriving school age my parents lived a couple of years in Siam (today's Thailand) and on the Island of Hainan (China)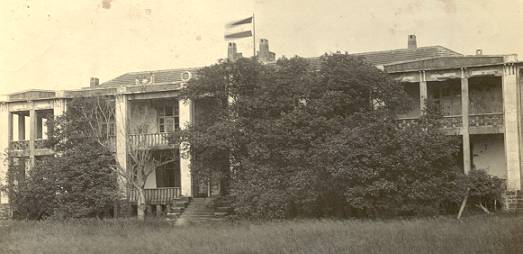 China, Island of Hainan
At that time we were the only Germans on the Island of Hainan and lived in the German Consulate in Haikou. After arriving in Haikou my father resumed his profession and besides took care of some work concerning the German Consulate building. The large building was erected in 1913 in the western suburbs of Hoihow (today's Haikou) and sold to the Kwangtung Provincial Government in 1937.
My education was mainly British until 1939. I attended British, Dutch and German schools in Singapore / Straits Settlements (Kindergarten / Sunday School / St. Andrews School), China, Dutch East Indies and Japan.
St. Andrews in Singapore was a school for British subjects and aliens. The English had their own schools. One of the first songs I had to learn in kindergarten was "Rule Britannia".
Singapore

Our first house in Singapore, Grange Road No. 3 at the road junction Grange Road / Orchard Road. Typical colonial style house standing on pillars.

On the premises today stands the China Emporium opposite of Hotel "The Mandarin". The area of the Mandarin before the war was a large orchid nursery.
Because there was no German school in Singapore our family moved to Shanghai but returned to Singapore after three years due to the Japanese-Chinese War in 1937. In Shanghai I attended the German "Kaiser Wilhelm" (KWS) school. The ship which took us back to Singapore via Kobe/Japan, Manila/Philippines and Hong Kong was the German NDL ocean liner "Gneisenau" (18.160 gross tons). See picture below.
Shanghai May 1935

Illumination of buildings along the famous Shanghai "Bund" commemorating the 25th anniversary of His Majesty King George V of Great Britain.

Shanghai at that time was divided into several international concessions and settlements.
Hong Kong 1937

On the way back from Shanghai to Singapore via Kobe / Japan, Manila / Philippines and Hong Kong we were encountered by a very strong typhoon in Hong Kong harbour. The stern of the German ocean liner "Gneisenau" was damaged by an other ship in-spite of taking shelter in Yaumati Bay, forcing us to stopover Hong Kong for almost one week for repairs before continuing our voyage.

The background of left photo shows "The Peak" and the top station of the Peak Tramway (funicular cable car).
German NDL (Norddeutscher Lloyd) ocean liner "Gneisenau", 18.160 gross tons of the Hamburg-Bremen-Yokohama Service which took us from Shanghai to Singapore.

The painting shows a scaled down copy of an original NDL post card.
Singapore

River Valley Road

Our second house in Singapore before escaping to D.E.I. in September 1939.

This photo was taken by my younger sister 57 years later. The house then was inhabited by the Food, Drinks and Allied Workers' Union.
In Singapore our family escaped internment by the British in September 1939 by fleeing with hand-luggage to Batavia, D.I.E. Unfortunately, however, my father was interned by the Dutch on 10th May 1940, but later on handed over to the British and was a civilian prisoner of war in Premnaga, Dehra-Dun, British India until December 1946. My mother, sister and me were interned by the Dutch in a camp at Sindanglaja (former spelling Sindanglaya) close to the Poentjak (today's Punjac) Hills / West Java. Almost all German women and children in D.E.I. had to leave the country and were shoved off to Japan on board of the Asama Maru in July 1941. A fortnight before leaving the camp many persons were contaminated with Malaria by Dutch medical staff during series blood examinations by using the same nonsterile lancet for a prick in the ear lobe. I was simultaneously infected both with Malaria Tropica and Malaria Tertiana. It took me almost three years to recover from the grave infection and it changed my total further life till today. I have never received an excuse or compensation from the Dutch for this criminal act.
Dutch East Indies 1940 / 41

Main building of "Beschermingskamp Sindanglaya" for German women and children fenced in with barbed wire.

Grand-Hotel "Sindanglaya", schitterend gelegen aan den voet van "Poentjak" en "Gedeh", 3600 voet boven zee.

A post card of the N.Y.K. Line M.S. "Asama Maru", 17.000 gross tons, which shipped several hundred German expellees from Batavia / D.E.I. to Shanghai, Nagasaki and Kobe. We arrived Kobe on 13th July 1941, much too late to continue our journey via Wladiwostok and Siberia to Germany. A very fortunate and fateful timing.
Lived in Kobe and Ashiya / Japan for almost six years from July 1941 until February 1947 and got acquainted with short wave radio communications and CW during the war via German Navy in 1943.
Kobe March 1943. The person in the center is me.
Negative size of photo 10 mm x 10 mm only.
Japan

Our resort in Ashiya shortly before USAF commenced mass carpet bombings of Kobe and Osaka areas. The house was located uphill very close to the Ashiya Shrine. Nevertheless the house and garden area were hit by approx. 80 incendiary bombs (sticky latex-gasoline mixture, phosphor and magnesia bombs). We could fortunately extinguish all important impacts.
Japan 1943/44

Ashiya Shrine in winter.
Japan 1991

Same location Ashiya Shrine and me 48 years later.
Japan 1945 - Totally destroyed Kobe / Osaka residential areas after repeated air raids by USAF bombers, type B 29. I have taken these photos as a contemporary witness towards the end of the war and remember the cremation of thousands of dead bodies on huge funeral piles in a dry river bed uphill to Rokko-san between Kobe and Ashiya after each holocaust carpet bombing. I will never forget, nor never forgive this mass execution of civilians hardly having a chance to survive. Remember that bombing of civilians is still in use today.
After the war worked for US Army, Headquarters 98th Division Signal Corps, APO 25 (Osaka) and US Army, 13th General Hospital, APO 660 (Osaka) as switchboard operator and interpreter of German documentation. Early 1947 US Occupation Forces started banishing German nationals from Japan and I was "deported" to Germany on board US Navy troopship "SS Marine Jumper" (Portland / Oregon) via Shanghai, Colombo, Suez, Port Said, Dover, Bremerhaven to US Internment Camp 74 at Ludwigsburg, US Zone.
Indian Ocean / Arabian Sea March 1947

On board US Navy troopship "SS Marine Jumper" somewhere between Colombo and Bab el Mandeb / Red Sea en route to Germany.

I'm the person left during a work break.
Started amateur radio in Germany 1947 / 48 as SWL / DE 8981.
Took up voluntary training in radio branch. Passed examination of Chamber of Trade, Hanover (Hannover).
Due paying member of DARC - Kiel / British Zone (German Amateur Radio Club) since March 1948. This was before DARC e.V. of September 1950.
Holder of call sign DL 6 QA since August 1950.
1950 - 1954 study of electrical engineering . Graduated in March 1954 as certified engineer "Ing.(grad)" which was later changed to "Dipl. Ing. (FH)".

I studied telecommunications. My hobby became my profession.
1954 - 1992
- Laboratory and test shop engineer (development, production and quality control)
- Systems and Project Engineer in Central Export Department.
- Technical and Area Manager Far East / Export Marketing and Sales
1991 started designing magnetic loop antennas and recommenced amateur radio before retirement.
1993 retired from active business work and resumed full time amateur radio.
One of my favorite private hobbies during business travelling in Asia was the pursuit of Asian and particularly Japanese Business Etiquette, observing the startlingly poor track record of successful negotiations of most European and American business men due to very poor insights into aspects and etiquette of the Asian culture, the hierarchical structure, the tight solidarity of a group and intricate codes of behaviour. My greatest fortune is having had the unique chance to grow up in Asia and knowing the trip wires.

Today I watch many of our unskilled new generation of unprofessional politicians of the old "68ties" (the drug addicted fun society and greatest misfortune for Germany after WW II) lacking behaviour and education, having lost their moral compass, very frequently having a hand in a trouser pocket, tapping others on the shoulder in easy familiarity and preaching "unconditional solidarity". Incapable bigmouths spending money of others recklessly and additionally running into many billions of new debts every year. A "helping hand" are the worker unions demanding higher wages for less work hours every few months forcing German enterprises to continually dismiss hundreds of thousands of employees and to shift their production to cheaper facilities abroad. A masterpiece of this generation is the continual dismantling of pensions and destruction of social welfare of the aged in Germany. The aged are now cheated and deceived for every second of their work life.
During my work I gained practical knowledge and specialized in:
-
Postal and military radio monitoring and direction finding systems
-
ESM / ECM systems
-
HF / VHF / UHF radio surveillance / interception installations
-
HF radio propagation and HF communications
As a byproduct of my work I was able to acquire a lot of experience for my hobby:
-
HF amateur radio communications and HF antennas
-
Small HF Antennas for amateur radio applications
My guiding motto since many years:

Nana - korobi, ya - oki

Calligraphy by K. NARUSE, Professor of the Imperial University of Kyoto, 2600 (Japanese chronology) and published in "Japanischer Volksmund", December 1941 by Rose Takahashi. The Kobe & Osaka Press, Kobe / Japan, 1942. Possibly only very few copies of this handmade publication have survived World War II.

Guess what it could mean. Start trying to find out.
---
Contents of this publication "DL6QA's brief curriculum vitae" © Friedrich Flakowski 2001. The copyright for any material created by the author is reserved. All photos shown are my private property. No part of this publication may be reproduced or used, stored in other electronic systems, or distributed otherwise, without my prior written permission.
---