! Author : guenter.koellner@oen.siemens.de <! Created: 950324 14:20
AF Upconverter LA8AK
(C) LA8AK (C) DL4MEA 02/1998
09.02.98 Source/Text added, changed to Arial

D: Diese Schaltung ist ein NF-Upconverter für den Empfang von Telegrafie-Meteorscatter-Signalen. Das NF-Signal vom Eingang wird um 6kHz bzw. 8kHz nach oben gemischt. Diese Schaltung arbeitet zufriedenstellend seit 8 Jahren, und ich benötigte eine weitere für mein 70cm IC475. Leiterplatten sind auf Anfrage verfügbar.

Hier der Originaltext von LA8AK aus DUBUS 1/1988:

Der MS-Timer und der Up-Konverter in DUBUS 4/87 (von DF4LY modifiziert) ist eine sehr alte Version und es sind einige Fehler enthalten. Die neue
Schaltung (Fig. 2) ist in der Träger- und Brummunterdrückung verbessert. Wie es sich gezeigt hat, ist es vorteilhaft die Oszillatorfrequenz umschalten zu können (Switch S1). Wenn die höhere Frequenz weniger geeignet ist, kann man jetzt auf eine niederigere umschalten (Recorder-abhängig).
---


E: This circuit is an audio up-converter for the reception of CW meteoscatter signals. The audio signal from the input is shifted up by selectable 6kHz or 8kHz. This circuit works here satisfying since about 8 years, and I made a PCB because I needed one for my 70cm IC475. PCBs are available on request.

This is the original text of LA8AK in DUBUS 1/1988:

The MS-timer and CW-up-converter published in DUBUS 4/87 are designed very early, so it is a lot to improve. The circuit diagram (DUBUS 4/87
p. 287) for the up converter as several faults, see new diagram. With this new circuit carrier balance and common hum rejection is improved. As shown it may be an advantage to choose between two oscillator frequencies, depending upon the avaialbe tape recorder (switch S1). If the highest frequency gives bad performance, use the lower.
---
Schematic: (click on the image to view (and save) a high resolution GIF picture)
Picture: Place Plan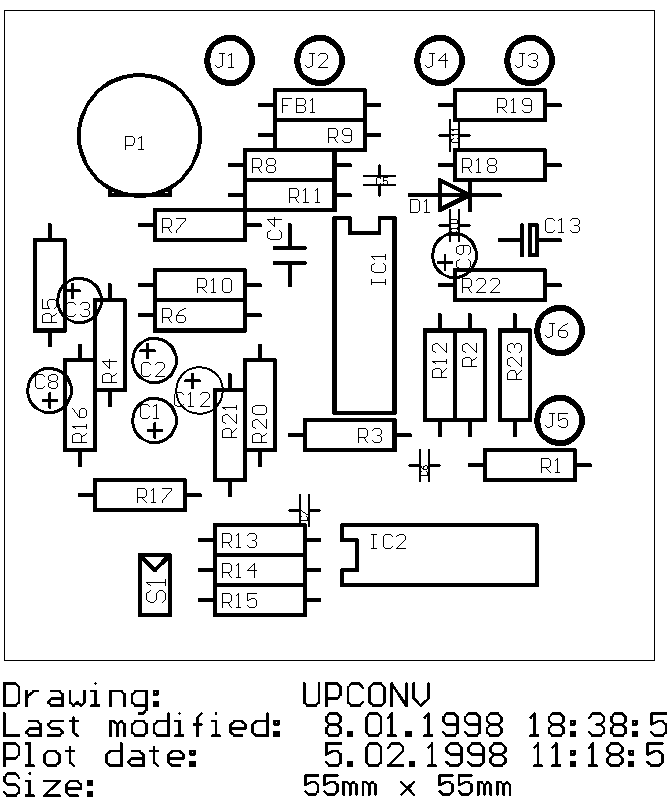 Picture: Solder Side (click on the image to get a Postscript file)
---
Last updated 980127 08:00 by DL4MEA