Homebrew QRP TRX
Project Page of
Peter,DF2CH Falk,DL3DAZ and Olaf,DL4DZ
UPDATE: Version 1.0 of favrprog,
Serial In-Circuit Programming Software for Atmel AT90Snnnn available.
Our group is currently developing a RF transceiver for portable use. We will make all information available here you need to make your own.
Main features will be (all subject to change due to technical progress and your hints):
Rx/Tx cover 0 to 30 Mhz
small size (abt. 120 x 180 x 60 mm)
10 Watts RF Output in CW-mode
only widely available parts used
low cost (less than $300 )
all information available free including controller source code
Some Details:
Big 6 digit 7-Segment LC-Display for frequency-display
direct digital synthesis (Analog Devices AD9850)
direct conversion receiver
more than two vfo's, RIT/split/UP/DOWN plus some memories
integrated keyer
target power consumption 100 mA receiving
PC Interface
RISC controller Atmel AT90S8515
programmable NF-Filter
Interested ? Want to help ? Have ideas ? Go ahead, contact us
Where are we right now ?
The controller board was nearly finished when we had to switch to a different controller family to add some features. So DL3DAZ has nearly finished redesigning the program. View prototype picture. Download circuit diagrams from download area

Some receiver designs have been tested, currently we are planning to use a single sideband phasing method direct conversion receiver.
In march a working prototype must be ready as DL3DAZ will do a business trip and has no portable equipment right now.
As in our group is no knowledge about DSP, we will use a switched capacitor filter. (Any idea? Low power solutions are very welcome)
DL4DZ prefers mobile phone dot matrix displays. Any manufacturer out there who could make some available to us for this purpose ?
DF2CH is working on the controller PCB. See our download area



NEW: Changed download file format to zip, so all users will be able to unpack then. (I was told, there is no "tar" included in Windows59...)
NEW: Version 1.0 : Serial In-Circuit Programming Software for Atmel AT90Snnnn.
Features:
No external logic required. (Only 1 Capacitor)
Connect AVR-Controller directly to parallel port
C-Source-code available (only)
Tested with AT 90S8515 and Linux
Download favrprog.zip
Update:Controller source code for Atmel AT90S8515. Very early version.
What works:
Change frequency of DDS-chip
Repeat function for keys
Select digit to be changed
Store settings to eeprom
Download vfo.zip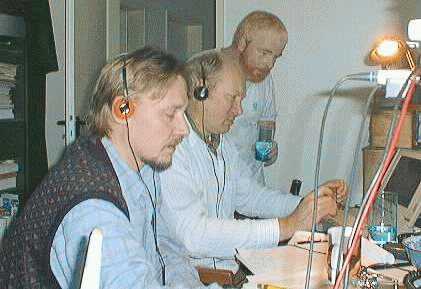 A Picture of DL4DZ,DF2CH and DL3DAZ in cqww-cw 1998 running an IC-751


You are visitor number
since 02/07/99




Last update: 03/11/1999