QRP - life is too precious for QRO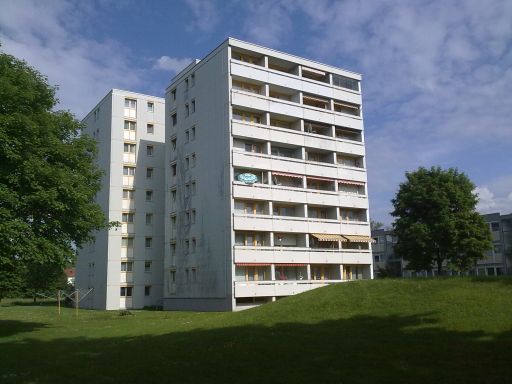 A certain number of ham radio enthuisiasts do not own a house and real estate.
But they are ham radio enthusiasts nevertheless.

The fact that you live in a rented apartment is not the end for your technical hobby.
In addition to that, certian countries' regulatory bodies put strict limits on the electric and magnetic field strength that
transmitters put on their neighbourhood.

This may sound as solid blocking points for our beloved spare time.
But we are an experimental radio service.
And the experiments we perform may lie outside the pure RF technology as well.

With the above points in mind I implemented an approach which resulted in quite reasonable result.

The XYL and I, we rent a small appartment in the 6th floor of a 7-story building.
We have two balconies toward the south west.


This sound quite promising, but:
Certian People are quite nervous when confronted with "antennas" and "transmitters".
These "people" may be your neighbour, your landlady or the company that administrates the housing complex you live in.


Thought #1:
The antenna shall not be very outstanding, at least from optical point of view.
I am still quite active in my job. So my ham radio activities take place in the evening and on the weekend.
Why should the antenna be visible when it is not used ?
So why not put it down when you are QRT and put it up as long as you are on the air?
The "people" around me will not see the antenna miost of the time, because it is not there.
Throughout my operating hours, I guessed they would simply tolerate it.(And I was true ;-) )


Thought #2:
An antenna should radiate the energy of my transceiver quite effectively toward my fellow hams and vice versa.
If it does not, you should rather call it a "resistor" or something else.
The achievable antenna lenth within the "tolerance limits" of my neighbours is ca. 2 m.


Thought #3:
The building we live in is made of massive steel concrete.
Our balcony is rather a steel concrete box with a 3.5 m by 1.3 m cutout.
Most antenna types do not like the proximity to materials such as steel concrete, e.g. magnetic loops.


Thought #4:
There should be only one antenna, but there are several shortwave bands to use it.
A one-time activity for changing the band would be OK for me.
Tuning equipment is quite expensive (esecially if it works automatically) and it is never loss-less.
These are the reasons why I do not possess or use any.

Taking these thoughts into account a came to the following implemetation:
an "Outback-1899" mobile whip, donated by my good old fellow Roland, DF7IB
the band is easily set by changing the short-cut wire on the load coil on the antenna lower end
a stainless-steel fixture, made from parts from the home depot store
it allows to fix the antenna in both position with only changing one screw ( by hand )
several meters of RG-58 coax, especially for the mandatory common-mode coils on the feed-point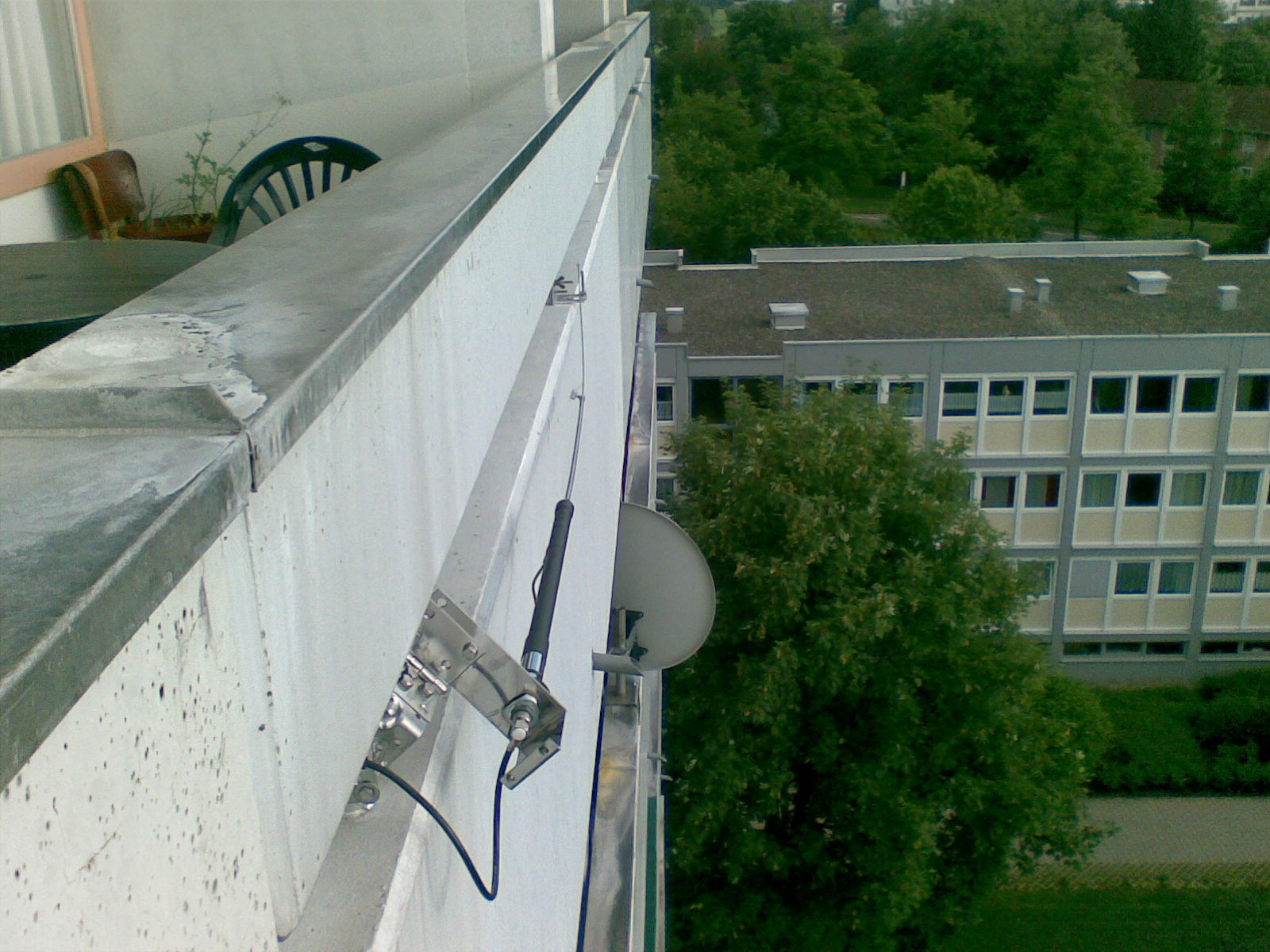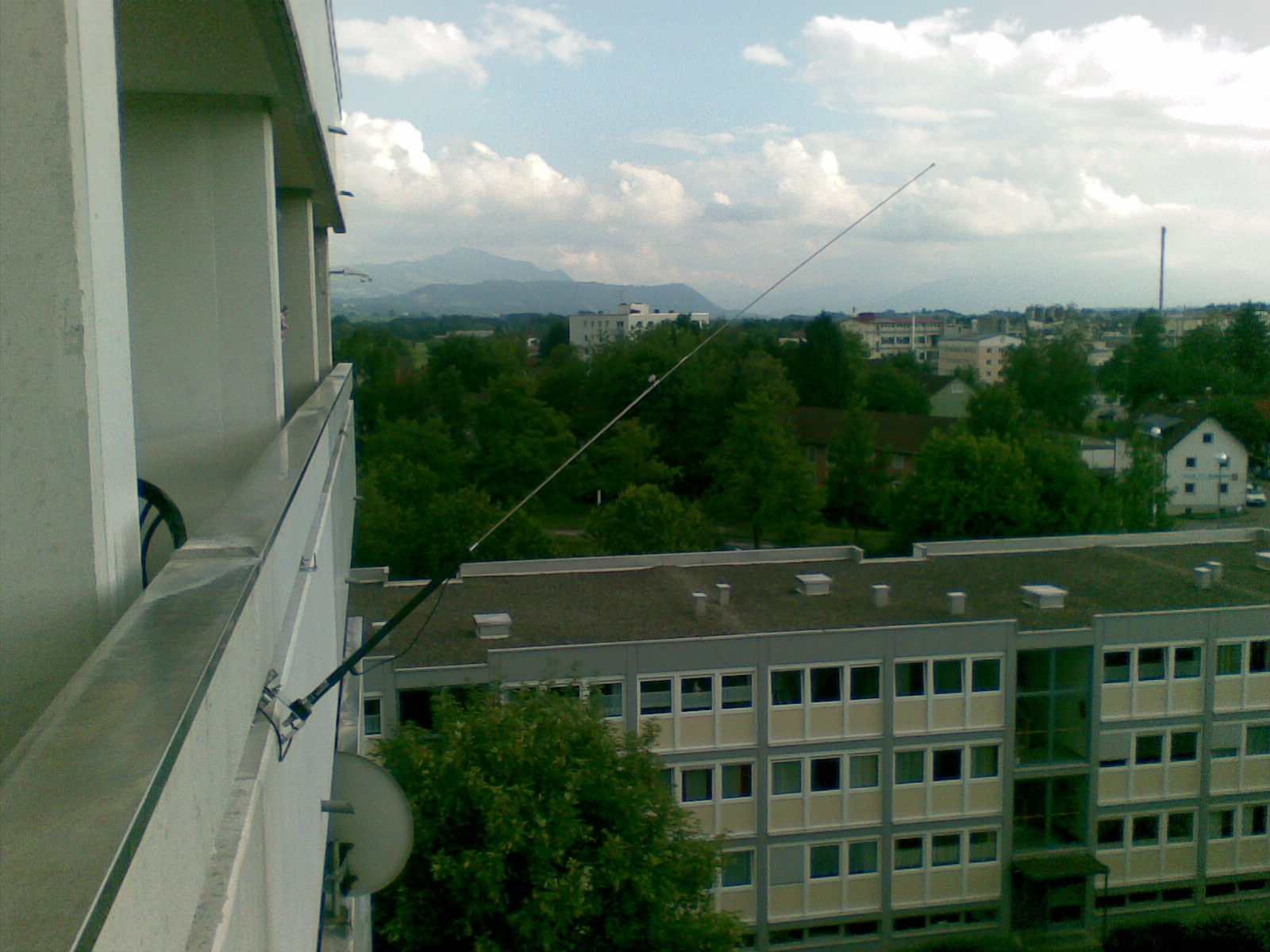 With the above setup and a maximum of 10 W RF output, I so far worked a total of 6 continents on 10 m, 12 m, 15 m, 17 m, 20 m, 30 m, 40 m and even 80 m.
Definetly, I will never be the biggest gun in the CQ WW DX contest.
But I can take part in world-wide ham radio and enjoy it even under the restrictions stated in the beginning.


---
back to start