| | |
| --- | --- |
| | Traps with Toroidal Coils |
Traps with Toroidal Coils
In the range up to 150 Wtts RF Traps with toroid-coils are simple to build and to tune. A problem could be the parallel capacitor for high Voltage. Experiments show in a load-test that a Voltage of 2-2,5 KV for the C is sufficient for proper working.
If you cannot get such capacitors you can use 4-5 C's with 500 V in series. In a test 3 x 100 pF/500 V in a 10-m-trap could handle 100 Wtts.
For the tests I used the toroid-types T94-6, T94-2 and T106-2. The table shows the calculated number of turns, in practice the real number is a little bit lower (nice for tuning...).
The example shows a toroidal trap.

9 1/2 turns of 1,5-mm-CuL and 3x100 pF/500 V in series gives a renonant frequency of 28,4 MHz.

This trap handles 100 W RF, but better is a voltage of 2 - 2,5 KV for the capacitor.
For the calculating we need the Thomson-formula

f (Frequency) in Hertz, L (Inductance) in Henry, C (Capacity) in Farad
We need f in MHz, L in uH and C in pF

Here are the modified formula for our purposes:
The AL is a specification of the toroid and gives the Inductance/100 turns in uH on the core.

N means the number of the turns.
The calculated number of turns for the Amateur-bands
| | | | | |
| --- | --- | --- | --- | --- |
| Band | Inductivity | Capacity | Toroid | Turns |
| 10 m | 0,95 uH | 33 pF | T94-6 (yellow) | 11 1,5-mm-CuL |
| 12 m | 0,78 uH | 47 pF | T94-6 (yellow) | 10 1,5-mm-CuL |
| 15 m | 1,2 uH | 47 pF | T94-6 (yellow) | 13 1,0-mm-CuL |
| 17 m | 1,65 uH | 47 pF | T94-6 (yellow) | 15 1,0-mm-CuL |
| 20 m | 1,85 uH | 68 pF | T94-6 (yellow) | 16 1,0-mm-CuL |
| 30 m | 2,47 uH | 100 pF | T94-2 (red) | 17,5 1,0-mm-CuL |
| 40 m | 5,1 uH | 100 pF | T94-2 (red) | 24,5 1,0-mm-CuL |
| 80 m CW | 10,05 uH | 200 pF | T106-2 (red) | 27 1,0-mm-CuL |
| 80 m SSB | 9,25 uH | 200 pF | T106-2 (red) | 26 1,0-mm-CuL |
| | |
| --- | --- |
| | |
| 16 1/2 turns close spaced give an inductivity of 2,8 uH | 16 1/2 turns wide spaced give an inductivity of 2,5 uH |
The upper picture show how the inductivity can be influenced by changing the distance between the turns of the coil. Closer turns give a higher inductivity, wider a lower. Tuning is no problem!

But how can we measure the frequency of a toroidal trap? Look for the DK7ZB-method as described on the other page::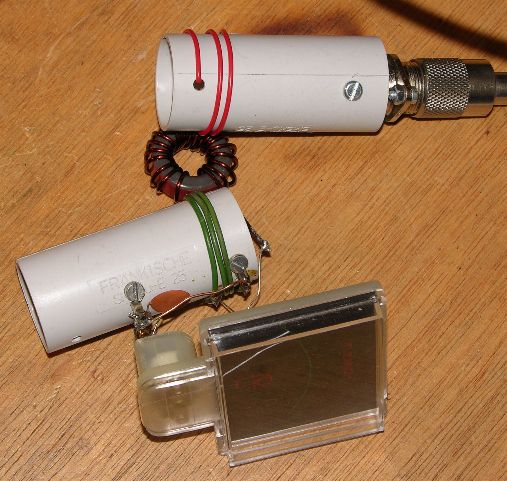 Here the complete trap for 10,12 MHz:

16 1/2 turns on a T96-2 (red) and a capacitor 100 pF, 7 KV