Last update: 13-September-2001
CRO-LCD
A small PCB for a 2-line LCD and 4 buttons. It can be directly connected to the CRO board.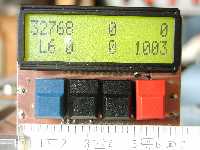 Download a .zip file (385KB) which consists the schematics etc. as pdf and the EAGLE V4.01 layout files.
Hints for reproduction:

The layout of the board is now optimized for homebrew. Only the bottom layer must be etched. The top layer signal lines can be replaced by some wires. The wires above connector SV2 should be mounted on top, the wires below SV2 should be mounted on bottom. Connector SV1 (and SV2 if necassary) must be mounted and soldered from bottom side. Please refer to pictures below.

The location of the pushbuttons are not quite in center in relation to the LCD display.

Before you solder the buttons and the LCD, think about the different level you need for installation of the board in a box.
Both layers in one picture, top view.