San Ambrosio Island
This very rare DXCC country was activated by Mike KM9D. He surprised a lot of low banders with a new country on 80 and 160m.
Isla San Ambrosio [26 21S., 79 52W.] is high, steep, and about 2 miles
long. The island consists of volcanic rocks arranged in horizontal strata intersected by vertical veins of basalt, which appear from the offing as streams flowing from the summit.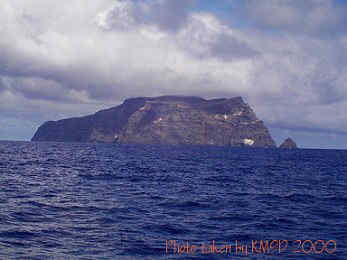 This photo shows Mike KM9D on a visit of the CE0ZY Expedition
in February on Robinson Crusoe Island.
From left to right Manfred DK1BT, XYL from KM9D, Mar DL3DXX
and Mike KM9D, on the home of Eliazar CE0ZIS
Click here to go back to the last page.