Turn on your computer speakers
CT1EEB working FS/AH8DX on phone (SSB) (CLICK TO LISTEN)
CT1EEB working KH2/N2NL in CW (CLICK TO LISTEN))
The sound you hear is my Topband signal in the Island of St. Martin in the Caribbean and in the Island of Guam, the Pacific Ocean.
(If you need CT1 in Topband let me know to my e-mail: [email protected] )
Está curioso acerca da banda de 160m?
- Dê uma vista de olhos a este PDF que preparei sobre propagação (antenas incluídas): A BANDA DE 160M - TOPBAND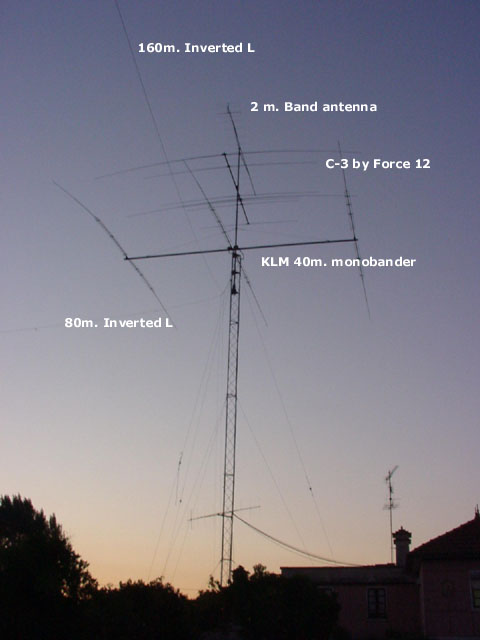 Working conditions for Topband:
RX/TX: Icom IC-7600
Antenna: Inverted L
Linear amp.: Ameritron AL-1500 (1.5 kW)
Vibroplex (s/n 41719) CW paddle.
DXCC's worked until January 2020: 297 Entities
DXCC's Confirmed until January 2020: 297 Entities
(in the photo you can see my Low-band inverted L's hanging in the top of my tower #1)
See you in Topband, José CT1EEB