ED1ONS - Isla de Ons - IOTA EU-080
2003 IOTA Contest Multi-single Island DX'pedition station (low-power) effort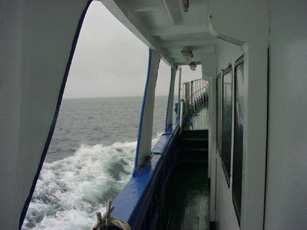 Ons is a rather large piece of rock (4.9 Km Large) in the northwest coast of Galicia, with a resident lighthouse keeper and a population of not more than 16, probably the people that run the local business there.
The Island is located exactly in the heart of the Peninsula's Celtic land, being influenced by the Vikings and finally ending as a Spanish Kingdom Military outpost and possession.
In 1936 Civil War breakes up in Spain bringing thousands of refugees to the most remote areas of the Kingdom, one of them was Ons, located away from the frontline was the shelter for many, in 1955 the population raised to 500.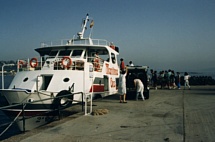 Nowadays the Island is no longer isolated from the mainland, a Ferry-boat (runned by 2 companies) acomplishes a daily connection with the Galician seaport of Bueau (also with Portonovo and Sanxenxo) taking care of passagers but also the goods for the islanders.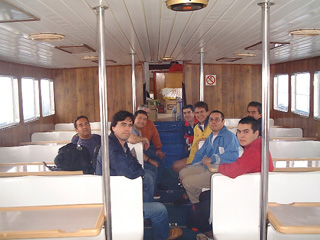 In the Photo you can see the Team being ferried to the Island.
Left row: José CT1EEB, Javier EA1CA, Rosendo EA4ABE, Pepe EA1DKV.
Right row: Filipe CT1ILT, Lopes CT1CJJ, Filipe CT2GLO, Brilhante CT1APE, Gerardo EA4ST.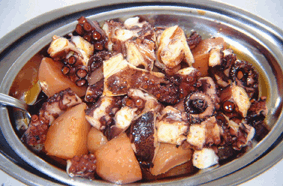 The island 16 habitants live in a small harbour village where there are rental houses for summer visitors and a couple of Restaurants.
Please allow me to advice you a visit to "Casa A Cuña" a very nice Restaurant with a great Octopuss stew.
Antennas were a tri-band rotable dipole (10,15, 20m.) and inverted V dipoles for the 80 and 40m. band.
In the photo Gerardo EA4ST stands in the front of the rotable dipole in the islands top.
1626 QSO's were made from EU-080 in CW and SSB (119 in 80m., 367 in 40m., 779 in 20m., 346 in 15m. and 8 in 10m.), the low number of QSO's in 10m. reflects how bad propagation was.
As usual the higher frequencies weren't forgotten and 7 QSO's were made in 144 Mhz SSB, being the farthest one to EA7 in southern Spain.
ED1ONS claimed 2,585,520 points for the 2003 IOTA Contest Entry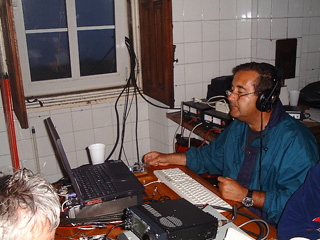 Left photo: Father and son (CT1APE & CT2GLO) team together for a 2 hour SSB run.
Right photo: Javier EA1CA handles the CW pile-ups (due to the bad propagation CW was the best mode for low-power).
Now have a look in the on-line Logs and see if you worked us: