CO0OTA
Sabana Archipelago DX'pedition 1995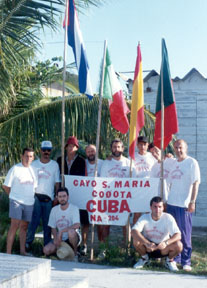 Multi-national effort from Cayo Santa Maria IOTA NA-204 - CUBA
Operators: CL2II, CO2QQ, CO2SA, CO6CG, CO6DS, CO7KR, CT1EEB, CT1ESO, EA5BYP, EA5YN, I8IYW, I0SNY
In early 1995 I was invited by Luis, CT1ESO, and the Cuban DX Group to be part of the Team activating this new-one for IOTA, I gladly accepted, this was going to be my first ever DX'pedition outside of the Portuguese borders and my first look into a new perspective of DX'ing.
=== AN ADVENTURE WAS ABOUT TO START ===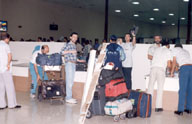 It all begins in the Airport, at the Barajas / Madrid Airport the customs officer didn't want to let us board the flight to Cuba. "We had no VISAs in the passport !" uncertain that we could enter Cuba we insisted with him and finally we were granted authorization to proceed, he tought for sure that we were going to be returned to Spain by the Cuban authorities !
"The DX'pedition almost aborted at this time".

The photo shows the close inspection that the Varadero / Cuba Airport Officers made to our luggage, all electronics were inspected and serial numbers cross-checked.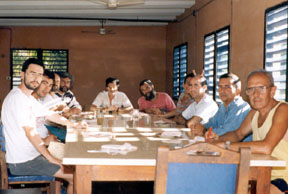 Cayo Santa Maria is probably the closest part of Cuba to the USA, located in Northern Cuba (79º05'05''W 22º40'00''N) one can almost see the Florida Keys on the other side.
In the photo you can see all Team in the Islands military base canteen for lunch, this was the oportunity to discuss operating and technical issues...

"Spite it was a military camp I really enjoyed the food, specially the coffee...!"
While we were working radio and the military were doing whatever..., the civilian cooks and logistics staff stayed in the camp, we used to join them very often for a coffee break.
In the photo you can see Pino I8IYW, Jose CT1EEB and Vicente EA5YN enjoying a quiet chat in a calm Cuban afternoon.

Nevertheless the aim of this trip was to activate a new-one for IOTA and everyone had a share of it. From 160m. to 2m. we made 4925 QSOs, 96 DXCC Entities to 5 Continents in 4 days
(25 to 29 May 1995).
In the photo Jose CT1EEB works the pile-up from Station#1, the only one equiped with a FL-2100z Linear amp., the radio is my old Kenwood TS-850s.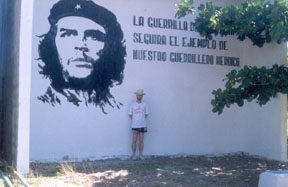 "Hasta siempre comandante"
This Dx'pedition couldn't be made without the help of: ARI, FRC, Northern Portugal DX Group, Diamond DX Club, 425 DXNews, Empresa Rumbo/Cuba, Gitei - Comunicações Lda.
My personal thanks to Luis CT1ESO, Juan CO7KR and Arnaldo CO2QQ for all their work and effort.