If you have any Lighthouse near your QTH it's a great challenge if you can planning a Amateur Radio Operation from the Lighthouse . You are promoting Amateur Radio and Lighthouse, you can have a very good social contact with others operateurs and Lightkeeper.
You can test your Portable/Station you can calibrate your antennas, most important you are promote your QTH and your country. Amateur radio it's a very good HOBBY why don't you promote Amateur Radio and Lighthouse? When you are operating from a Lighthouse many people around the world want to know exactly where you are! They remember the Lightkeeper!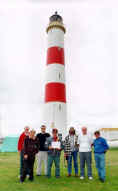 If you want to activate a Lighthouse with a Portable Amateur Radio Station don't forget to send a previous information for DX Bulletins /Magazins there are many operateurs interesting on a QSO! You never forget a operation from a Lighthouse!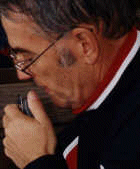 For many of us remember a special friend , is like to return on time and back . For almost everybody interesting on Island specialy on Portuguese Island the year 2000 was a sad year. Unfortunatelly we've lost a big friend and very important enthusiastic Dx'pedinionary. Mário went Qrt last July , with 67 years old just arrived from Hidenseen Island last 2 weeks on June. For many years we have enjoyed listening Mário operations with his particular way to do. Mário ,DJŘMW it was a Dxer of note. While not chasing the new ones, Mário fills out lots of QSL cards for DX stations . His call it was readily recognized as he was handled the QSLing chores for a lot of Islands , Lighthouses and Castles cards. We'never forget you Mário, Thank you very much on promotion Ham radio and Islands and Lighthouses.
73s from
Islands and Lighthouses Chasers
P.S.-Mário was a great Lighthouse Chaser , he make a lot of friends on Lightkeepers on Berlenga Island, Cabo Carvoeiro, Cabo S.Vicente, Vila Real Santo António and many others places.
The "WORLD LIGHTHOUSE AWARD" WLH, is a diploma created and inspired by two open sea and navigational enthusiasts and amateur radio operators from Breton F5SKJ and F5OGG. Is also inspired by DXCC program so you can work many DXCC countries all over the world with Lighthouse. Including rare DXCC countries like Alaska, Hawaii, New Caledonia, Vietnam, Singapore some are on small islands. This is a very exciting program.
The World Lighthouse Award Manager is F6DGT, Guy Maillard, 27 Avenue Chanzy, F44000 Nantes- France (Europe).