USA
Worked All Great Lake Lighthouse Lightship Award Diplomas de Faróis dos Estados Unidos da América

FRANCE The Diploma
List of Lighthouses Rules of Diploma DPLF Medals D.P.L.F. Rewards Diploma de Faróis de França The World Lighthouse (WLH)

RUSSIA
Award
List Expeditions Valid
Diploma de Faróis da Rússia

ITALY
Rules
Lighthouses list
Notices
Pictures
Award
Software Diploma de Faróis de Itália

GERMANY
Rules
Lightouses list
DL Lightship Award
Diplomas de Faróis da Alemanha

DANMARK
Lightship Award Diplomas de Faróis da Dinamarca


BELGIUM
Diploma de Faróis da Bélgica

SCOTLAND
Diploma de Faróis da Escócia

CROATIA
Award
Lighthouse
list Diploma de Faróis da Croácia

POLAND
Diploma de Faróis da Polónia

NEW ZEALAND
List Diploma de Faróis da Nova Zelândia

SPAIN
Lighthouse
list
Diploma de Faróis de Espanha
Title 4

ARGENTINA
Award
List
Diploma de Faróis da Argantina

BRAZIL
Award
List
Diploma de Faróis do Brazil
LIGHTHOUSE CALLING FREQUENCIES -
SSB: 1.970, 3.970, 7.270, 14.270, 18.145, 21.370, 28.370 MHz
CW: 1.830, 3.530, 7.030, 14.030, 18.073, 21.030, 28.030 MHz
Amateur Radio combined with Lighthouse activity is rather different than practicing it from an island. If planning an expedition on a Lighthouse one must know that other entities are involved, like Lightkeepers and other people, even if they don't know a thing about radio. If we are transmitting from a Lighthouse everybody wants to know exactly where we are, our coordinates, so they can find us out on a map. That's the reason it's most easier to approve any Lighthouse activity you can find a a lot of documentation and permission. That's why there's a lot of wonder around lighthouse activities and ham radio.
For many countries, Lighthouse belong to history , with 900 Kms of Atlantic coast, most of the Portuguese Lighthouses are very important to navigation , through many years they helped and contribute as a guide from South Atlantic to North Atlantic and vice-versa for many ships.
If you are planning with yours friends or with your local Radio Club an expedition to a Lighthouse in your QTH, be aware that you are promoting the Lighthouses. your country patrimony , you are promoting your nation's history and finally you are promoting and save Amateur Radio.
Our Club CS1CRA in 1997 in the Cape Roca Lighthouse , was active CT7GL during Jamboree-on-the -air with a special event station with more than 200 girl guides representing LISBON and Portugal.
Scouts and Girl Guides and Amateur radio together can have a great promotion for Lighthouse and Amateur Radio and Scouting.
It has been a long time since there are activities from Portuguese Lighthouse, but we are making efforts and trying to promote this activity especially on young operators.
It is a great challenge but we are working hard on that . We've a different opinion and a different idea from other Lighthouse awards .
If you like to promote Amateur Radio and Lighthouse we can use your help in making this activity a great way on the radio. There are different World Lighthouse Awards, but most important is promoting your Country Award.
~~~~~~~~~~~~~~~~~~~ "0" ~~~~~~~~~~~~~~~~~~~~
Na verdade as acticidades dos radio amadores nos Faróis tem suscitado grande interesse, contráriamante a actividade das ilhas existe uma forma diferente de estar . Todas as expedições realizadas em Faróis envolvem sempre outras entidades, sejam os faroleiros sejam outros organismos ligados aos Faróis. São os radioamadores que através das suas expedições promovem os Faróis e o património do seu país e divulgam o rádio amadorismo, por essa razão sempre despertou um interesse diferente. O Fascinante mundo dos Faróis envolve várias actividades de culktura e lazer , desde colecionismo até , Literatura e história, Fotografia e cinema , Pintura e escultura, Filatelia enfim são bastantes os entusiastas dos Faróis. No radioamadorismo os Faróis Têem um interesse peculiar , uma vez que não é fácil conseguirmos um contacto regular com uma estação num Farol, a não ser que o Faroleiro seja radio amador torna-se difícil, contudo pensamos que o crescente interesse nesta actividade faça despertar nos operadores mais novos o gosto de expedições e por isso o gosto de activar Faróis.
NEXT PORTUGUESE LIGHTHOUSE OPERATIONS
| | | | | |
| --- | --- | --- | --- | --- |
| DATE | CALLSIGN | LIGHTHOUSE | CT Ref. | ARLHS Ref. |
| 06/07FEB.2009 | CT1BWW/P | Cape Roca | FES001 | POR042 |
| | | | | |
| | | | | |
| | | | | |
| | | | | |
| | | | | |
| | | | | |
| | | | | |
| | | | | |
| | | | | |
| | | | | |
| | | | | |
| | | | | |
Pictures of Swedish lighthouses
Pictures of Wisconsin, U.S.A. Lighthouses
Portland Bill Lighthouse - U.S.A.
Rose Island Lighthouse
The Internet Index of Lighthouse Links
The Victory lighthouse of Trieste Web Site
The World Lighthouse (WLH) Home Page
The World's Lighthouses, Lightships & Lifesaving Stations
Tinicum Rear Range Lighthouse Society



Bugio Lightouse
This card is valid for 8 Awards IOTA,WLH,DIP,DFP,DCFP including DXCC,WAZ,WPX, but the most important is on promotian Hamradio and Lighthouse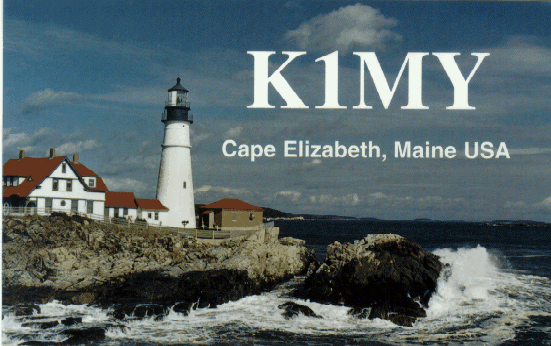 K1MY
Nice QSL card from Maine , everything is beautiful,Lighthouse and sea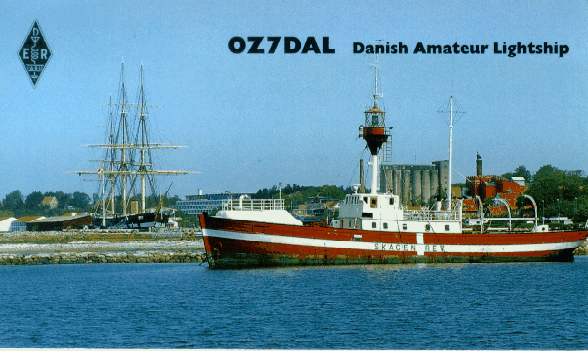 OZ7DAL
What a nice day operating from Lightship in Danmark.
Scandinavia Lighthouse from SWEDEN here is 7S2AT/p
Fort Brescou Lighthouse on the air "MERCI" au Team TM5B "Aurevoir a la prochaine au plaisir de vous revoir! "
From NEWFOUNLAND to the World VO1XC operating from his Caravan promoting Beautiful Lighthouse!Thanks!
K2L USA Lighthouse once again great signals into Europe, please continue!
SV1QN/8 Lighthouse from Greece, every year OM's participating from GreeK Islands on Lighthouses!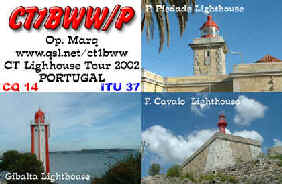 CT1BWW/P on Lighthouse Tour 2002 Gibalta Lightouse Forte do Cavalo Light. Pta. da Piedade Light. please take a look at http://www.qsl.net/ct1bww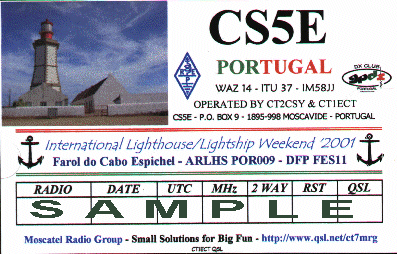 CS5E Espichel Lighthouse in Portugal during International Lighthouse Weekend. Portuguese Team are CT1ECT and CT2CSY please take a look at http://www.qsl.net/ct7mrg
SY7LH Greek Lighthouse , nice call for special event station from Greece Amateur! Congtratulations for you good Job!
OH0A ALAND Islands with your Famous Lighthouse, remember y athis island are valid as separate DXCC entity. Thanks for promoting DX and Lighthouse !