W3ZIF
Royal Kramer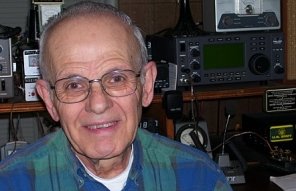 This is Royal W. Kramer, W3ZIF, from Mechanicsburg, Pennsylvania. Royal was first in 1954 licensed as WN3ZIF with a Novice Class license. He joined ARMS in 1989. Other on the air interests are CW (he's a FISTS Club member), DXing, and public service.
The W3ZIF station includes four HF rigs, all of which he uses at various times. He's had a Kenwood TS-520S since 1977 that he uses mostly on 75 meters and the ARMS net, a Ten-Tec Jupiter, a Ten Tec Scout, and a MFJ-9020 QRP rig running 5 watts on 20 meters CW only. For VHF/UHF he uses the Kenwood TR-7600 (he's had it since 1980), an Icom IC-2AT, and a Yaesu VX-5RS. Antennas include a 66-foot long G5RV approximately 18 feet in the air, a B&W AP-10A window sill type antenna (40-2 meters), and a Ľ wave ground plane for 2 meters approximately 12 feet above ground.
Royal has earned the following operating awards: WAC (all CW), WAS, RCC, DXDC, the Century Award Certificate from FISTS for working 100 FISTS members, and two ARRL Public Service Awards (for the Stroudsburg flood in 1955 and the Johnstown flood in July of 1977).
During the Stroudsburg flood, Royal spent thirty hours on August 21-22, 1955, helping to maintain radio communication. He says it was an experience he will never forget as he was still an infant in amateur radio and it left a big impression on him in seeing all the devastation and loss of life. With so much to be done, he felt he did very little, if anything, to alleviate the situation. But prior to leaving after those thirty hours, the fire chief went over to Royal and the other hams, and with weariness on his face and tears in his eyes said, "Thank you gentlemen for all the help that you have given to us. We don't know how we would have done without your help." Royal says, "I don't know how the other seven men who I was with felt about that comment, but to me it meant more than if he would have handed me a million dollars. I knew he was truthful and really meant every word that he said."
Royal has been retired for eleven years from the Pennsylvania Power & Light Company in Allentown, Pennsylvania, where he worked for forty-three years. For thirty-eight of those years he was involved with electrical drafting and engineering.
Prior to moving to Mechanicsburg almost three years ago, Royal and his wife, Charlotte, lived in Allentown, where they had lived all their lives. Royal was a member of his church's Elder Board and later the Deacon Board for nine years. He was also involved with the senior citizens group and is still a member of the Veterans Appreciation Committee (VAC) at that church. The VAC honors all of the church veterans at a special morning service on the Sunday of Memorial Day weekend. Royal also spent twenty-eight years involved with the sound system and the audio and video tape ministry. In his Mechanicsburg's church, he is involved with the senior citizen group, a Sunday morning greeter once a month, and recorder of the tally sheets of members who attend each week.
On January 7th of this year, Royal and Charlotte celebrated their 50th wedding anniversary. They have two children. Their daughter, Louise, who lives in Westerville, Ohio, is married and has four children. Her son was adopted from a Christian orphanage in Haiti. Royal and Charlotte's son, Curtis, is married and has four children. The youngest will be two years of age in May. He's the only boy, and that makes "Pop-Pop" quite happy as the Kramer name can now continue down the path of time, the Lord willing. They live about twenty minutes down the road in Dillsburg, Pennsylvania.
Royal cites Isaiah 40:31 as his favorite verse of Scripture. "But those who hope in the Lord will renew their strength. They will soar on wings like eagles; they will run and not grow weary, they will walk and not be faint."
Royal is proud of his U.S. military service and would like to leave these words with us. "I served our great country during the Cold War in Pirmasens, Germany in the U.S. Army Signal Corp (1957-59). I am still in contact via e-mail or Christmas card with several of the men who I served with. It seems that camaraderie never disappears from your life as there will always be that band of brotherhood that remains for life."
21 October 2022