KA0TTV
Randall Terrill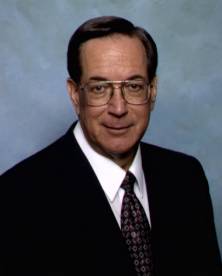 KA0TTV
License class: Advanced
Year first licensed: 1984
My main interest in ham radio is in rag chewing with other hams and joining in on nets, especially Christian nets. I used to run some phone patches for missionaries out of South America, but with the advent of cell phones that has stopped. I also check into some contests.
I am running an ICOM 730 through an Ameritron ALS-600 amplifier through an MFJ 998 Intellituner into a MFJ 1798 Vertical Antenna. I also am on two meters locally with a Yaesu FT-2800M.
I spent 11 years (1960-1971) in the U.S Air Force running and maintaining a Flight Simulator for the F-106 fighter aircraft. It was during those latter years that the Lord saved me and called me into full-time ministry. I got out of the Air Force in 1971 and started to college and then on to seminary.
During that time I had a marvelous wife and four wonderful children. I also began pastoring a church. The stress level was pretty high as I tried to balance all of that together in order to be effective in any of it. While pastoring a church most of the time, I finished my BA in Christianity in 1975 and my Master of Divinity in 1979 and a Doctor of Ministry in 1983.
Then I had three TIA's (Trans Ischemic Attacks) within a six month period and all the doctors could figure out was that it was caused by stress over an extended period of time. It was then in 1984 that my wife and doctors decided I needed a hobby to relieve the stress. I had always been interested in electronics and had thought of becoming an Amateur Radio Operator, so I decided it was time to begin the process.
I began practicing the code and joined our local ham club. I received my Novice license in 1984 followed by my Tech license a short time later. A year or so later I received my General license and then a few years later took the test and received my Advanced license. It sure did help the stress level to get away and "hide" in the shack and communicate with other hams. I learned how to run a phone patch so I could help my missionary friend in South America get in contact with his family here in the states. When cell phones came on the scene, it didn't take long for the phone patches to go by the wayside.
Now that I have retired, I tell people I have retired from full-time pastoring but not from preaching the glorious gospel of our Lord Jesus Christ. As you could tell from above I spent eleven years serving our country in the United States Air Force. During that time the good Lord saw fit to call me into full-time preaching ministry. I got out of the Air Force in 1971 and pastored the Fair Play Baptist Church while attending Southwest Baptist University in Bolivar, MO. In 1975 after graduation we moved to Ft. Worth, Texas so I could attend Southwestern Baptist Theological Seminary. I was called to Swan Baptist Church near Tyler, Texas 140 miles from the seminary. I traveled that twice a week for over three years trying to keep up with pastoring the church and my studies at the same time.
Needless to say, I was away from my family a great deal of the time. They understood but at the same time would get quite frustrated. I remember sitting in my office at the church on a Saturday morning getting ready for the worship service on Sunday when the telephone rang. I answered it and it was my youngest daughter. She wanted to know if she could make an appointment to see her pastor as she didn't get to see her dad very often. The Lord struck my heart and I hung up the telephone and went straight home for the rest of the day. The Lord was very gracious in helping me be prepared for the worship service.
After seminary graduation, I was called to the First Baptist Church in Independence, KS and served there for ten years. Then we answered God's call to pastor the First Baptist Church in Leavenworth, KS. We served there almost twenty years before retiring in April 2009.
What a privilege and honor to have been called by our loving God into His ministry and then getting to serve His church over the years. Truly as the song says, "Amazing grace, how sweet the sound that save a wretch like me. I once was lost, but now am found, Was blind, but now I see."
My favorite Bible verse is Romans 8:28
18 October 2022