PUBLIC SERVICE
ACTIVITY REPORT
_______________________________________
About This Form
Amateur Radio donates thousands of man-hours of supplementary public service communications in civil emergencies, official drills and events such as parades and marathons each year. Such events show Amateur Radio in its best light, and it is critically important that ARRL bring documentation of this public service work to the attention of the Congress, the FCC and other public officials. Your information below is an important addition to the record. Please complete and return this form to the Public Service Branch at ARRL Headquarters. Thank you.
________________________________________________________________________
1. Nature of activity (Check one).
Communications Emergency. Amateurs supplied communications required to replace or supplement normal communications means.

Alert. Amateurs were deployed for emergency communications, but emergency situation did not develop.
X Special exercise. Amateurs supplied communications for a parade, race, etc.
Test or drill. A training activity in which amateurs participated.
2. Brief description of activity: Trail communications support for the 2000 Iditarod Sled Dog Race

3. Places or areas involved: Anchorage, Alaska to Nome Alaska

4. Number of amateurs participating: 49

5. Event start date/time: 4 March 2000 10:00 ADT

6. Event end date/time: 21 March 2000 2000 ADT

7. Duration of event (hours): 418

8. Total man-hours: 630

9. Number of repeaters used: 4

10. Estimated manpower cost: $6,300.00 (man-hours times $10/hr)

11. Estimated cost of equipment used: $46,150 (hand-helds, repeaters, etc.)
49 HT's, 8 HF's, 4 beams, 1 150w Amp, 4 repeaters.

12. Total estimated cost of service: $52,450 (add amounts from lines 10 and 11)

13. Nets and/or frequencies used (including repeater call signs): 147.30/90 KL7ION, 147.009/69 KL7DJE, 146.94/34 Nome downtown repeater, 145.45/146.05 Anvil Mountain. Dual band repeaters at Yentna station, Finger Lake, and Rainy Pass to Anchorage, Roan Roadhouse to Nickoli, simplex in McGrath, HF from Ophir, Cripple to Ruby and the Matanuska Valley 3940, 7250, 14292. Simplex also in Ruby, Nulato, Unalakleet, Shaktoolik, Koyuk, and Nome. White Mountain, Safety and Nome on the SPARCS repeater system

14. Number of messages handled: Continuous Tactical Traffic

15. Names of agencies receiving communications support: Iditarod trail committee, Iditarod air force, news media, National Geographic, General Public

16. Please list call signs of amateurs who were major participants: KL0CY, KL7JA, KL0CQ, KL7AE, WL7IN, WL7BD, KL0QQ, KL7LA, KL7DC, AL0R, WL7DX, WL7KH, KL7DJE, KL7SE, AA0NN, NL7EA, KL7TQ, KL0CW, KL0LL,AL7FIKL0DW, KD5ESY, KL0DY, NL7WW, KL0EO, KL0YF, KL0NC, KL0ER, KL0OK, KL7HHO, KF6SCE

17. Other comments: The Iditarod Sled Dog Race is run every year starting on the 1st weekend in March. The race starts in Anchorage with a cermonial run to Eagle River, then restarts the next day in Wasilla for the push to Nome. The distance is between 1100 and 1200 miles depending on whether it's an even or odd year. This year, the northern route was taken (1200M) and 82 teams, each team consists of 16 dogs and a musher, started the race. Mushers race day and night stopping frequently to feed and rest their dogs. At each checkpoint, they are met by Veterinarians, who check all the dogs, and race officials, who check the mushers and their gear. The Communications personnel pass all message traffic: Team times in/out, dropped dogs, logistics information, weather reports, flight information, emergency traffic, race updates, and other general messages. This race prepares Hams better for handling emergency traffic better than anything else as they are up for the duration of their checkpoints operation. This may go for 35 hours at Yentna to 8 days at Unalakleet. Catching sleep becomes an hour here or there slowly, working towards sleep depravation. This is very realistic and representative of the efforts that might need to be put forth during an emergency such as an earthquake.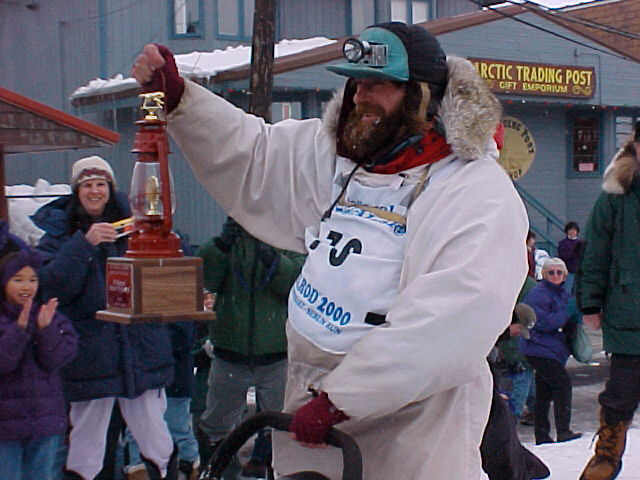 A 2000 Iditarod musher crosses the finish line in Nome carrying the "Red Lantern",
signifying he's the last musher on the trail.
___________________________________________________________________
Name of Amateur Radio organization providing service: Anchorage Amateur Radio Club, Elemendorf Amateur Radio Society, South Central Radio Club, Matanuska Amateur Radio Club, Seward Peninsula Amateur Radio Club
Location of organization: City or town: Anchorage, Nome, Wasilla State: AK
Your name: Mark J. Kelliher Call sign: KL7TQ
Address: 11317 Terrace Hills Dr., Eagle River Alaska 99577
ARRL appointment, if any: ARES Member e-mail address: [email protected]
Telephone: (907) 694-3722 (907) 694-3722
(days) (evenings)
I attest that the information provided above is complete and true to the best of my knowledge.
//signed//
Mark J. Kelliher May 22, 2000