ak0b
Hi and welcome to my glowbug and qrp building page. The name is Stan Wilson. I live in St. Charles, MO near St. Louis. St. Charles is known for being the first capital of the state of Missouri and the Lewis & Clark expedition up the Missouri River started from here. Also Danial Boone lived in the area for many years.
I have been a licensed amateur radio operator since 1954, and hold an extra class ticket. My favourite phase of the hobby is building equipment and experimenting. I have taken part in just about every area of the hobby over the past 46 years. Currently operating QRP PSK-31 on 80 and 20 meters. While I enjoy QRP I also own a KW and have WAZ on 20 meters and 234 countries confirmed on SSB.
I also enjoy sport cars and drive a 1977 MGB. I do most of the work on it myself except for the body work. I have been driving a MGB since 1975. We drive this one all over the country to rallies and shows in the summer.
On to the building... First a little Frank Jones design.
de Stan AK0B
Frank Jones 6J6 QRP transmitter
Frank Jones 6J6 QRP transmitter


bottom view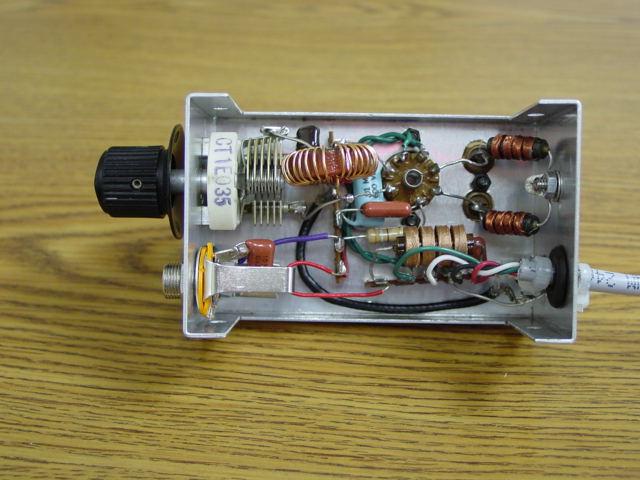 power supply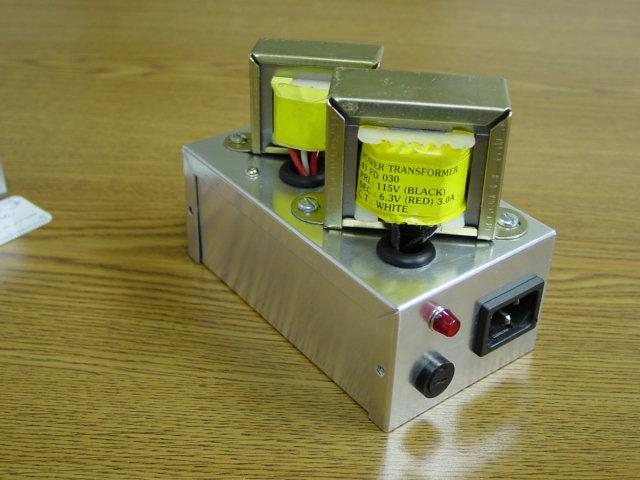 The circuit diagram of a Frank Jones osciallator from the 1936 era


Construction details for the 30 meter xmitter in the pictures:
I built the xmitter in a mini-box, about 2 x 3 x 1 inch, using a power iron core coil. I designed the coil for a loaded Q of 12 using the T68-2 core (red) at 10.1 mHz (30 meters). The inductance was 6.6 uH, 34 turns of 22 ga wire center tapped for the power connection. The antenna link is three turns wound around the center of the plate coil. I spaced the 34 turns to fill the core and spaced the antenna link at double wire dia. at the center of the tank coil. A cap of 38 pf was required for tuning. I used a 15 pf mica in parallel with a 35 pf air trimmer. Works great I was able to set the variable at about half mesh.
I did not optimize the bias voltage and used a 390 ohm cathode bias resistor which should give me about - 6 volts bias. The unit produces a really nice sine wave with no cross over distortion and a T9 note (when detuned slightly to less capacity). The DC input is 2.25 watts (150 vdc and 15 ma) and the QRP SWR bridge shows a good match between the xmitter and a 50 ohm load so the antenna link must be close to the correct value.
de Stan AK0B
You are vistor number
since 02/12/01