Elefantreffen Rally at Nurburgring, early February 1977
Don rode with me from Scotland to the woods near
the Nurburgring, Nurburg, Germany. Snow in Scotland turned to rain
and snow in Belgium and Germany.
We were both stationed in NE Scotland in the US Navy.

WAØVPK (now AEØQ) on 1975 BMW R90/6 at border
of Luxemburg, February 1977.

Back to Contest Page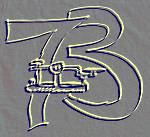 ---