The ARES Trailer
The Pahrump Search & Rescue donated a travel trailer to Southern Nye County ARES.
This page documents the various steps in converting this trailer to a mobile Emergency Operations Center.

---
This the trailer as received:

Outside Views:

---
Here is the inside, looking toward the front (hitch-end) of the trailer.

---
Here is the inside, looking toward the back of the trailer. There is a sink, gas range, refrigerator and bathroom.
The trailer also has a heater and a swamp cooler.

---
Dick Grady had some gravel delivered for a pad on the side of his house. Helping to spread it were Jerry Dries N7HYV with his tractor, Dean Black N7USE, Caroline Brumbaugh KC7KFU, Jim Tully N7ENB and Sam Musselman KB7VBU. Then after a few days of watering and driving over it, the pad was firm enough to hold vehicles. Dean Black and Dick Grady moved the trailer to the side of Dick's house.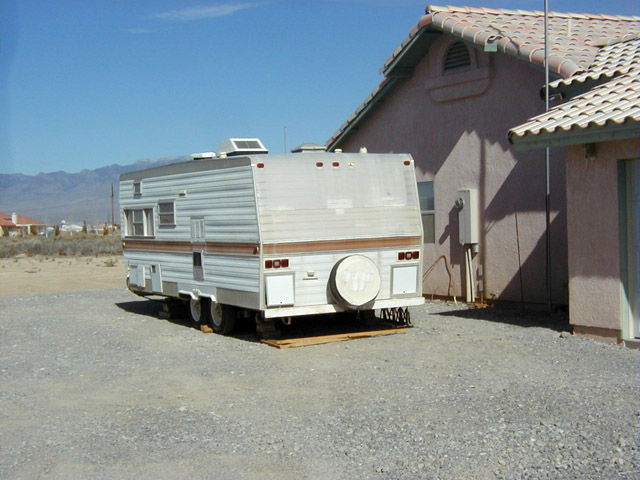 ---
On February 1, Dean Black N7USE, Sam Musselman KB7VBU and Dick Grady AC7EL removed the seats and their supports from the "living-room" part of the trailer.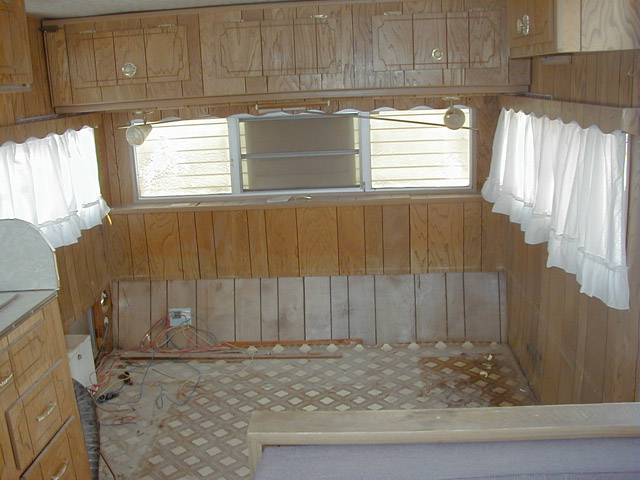 This is the side wall of the radio area, on the side opposite the door. The black hose is a heater duct. The water heater is on the left. The smaller white box in the center held a small battery (accessible from outside); we will use the box for antenna connections.

We also made some measurements for a counter-top to use as a desk surface.
---
(to be continued as work progresses)
---
Return to AC7EL's home page