W2CWW

New York City, USA
SIARA

Staten Island Amateur Radio Assotiation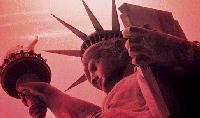 * Photo Album *






Hobby, hobby... - Huge mobile antenna at 160m. Spectacular view from Verezano bridge to Staten Island.
View to the Staten Island and Brooklyn from W2CWW repeater location. "BALLOON" Field Day antenna at 160m.
The World of 50 MHz. Camp 5 - Field Day. N2KOO is operating from mobile position.
SIARA offers you the best space in the East. Members of H.F. field day team. Rich, AA2MF is thinking about how he can make a reflector from the bicycle at 160m antenna.
Camp. Antenna raising. AB2AP is operating CW at 160m contest. Yagi antenna on field position on the Muller Field location.
Van of NX2O is good support of W2CWW Field day. Satellite FD











If You have any interesting material, photos, stories or historic information about W2CWW and Staten Island Amateurs, Please

to AB2AP by [email protected] or pass it to NX2O, Wolfgang. Thank You.