CONTESTING PHOTOS & OTHER MISCELLANY
---
International Amateur Radio Union Contest
Multi-Single from LaSalle, Colorado
KF4OAD (1999) + AEØQ and ABØMV (2000) + AEØQ
1999 IARU contest from WØUN
KF4OAD Multi-Single with AEØQ

Glenn and I operated on 15m for a couple
of hours while visiting WØUN
during my visit to Colorado from North Carolina

What a difference from my North Carolina apartment antennas! And an Alpha amp too!
Wow! My first contest award and all while John was cooking hamburgers on the grill!
KF4OAD (+AEØQ) First Place Multioperator, Colorado Section
2000 IARU contest from WØUN
ABØMV Multi-Single with AEØQ

Antennas at WØUN
Those are trees, not weeds!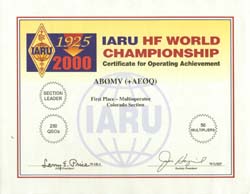 First Place: ABØMV (+AEØQ)
Multi-Operator, Colorado Section

---
2000 CQ World Wide SSB
ABØMV Multi-Single All Band
from old Alpha Power site in Mead, Colorado
Operators: ABØMV, AEØQ, NØHF, KCØERX
Dan NØHF calling CQ
while Joe KCØERX practices logging

Joe KCØERX working mults!
His first HF contest.
He had so much fun that soon afterwards
he upgraded his license class.
---
2000 JIDX SSB Contest
ABØMV 10m Single Band High Power
This was my first JIDX contest.
I loved this contest!
What a treat to work pile-ups---everyone was so polite and co-operative. My kind of contest!
I have a good friend, Nami, in Tokyo.
We worked together in North Carolina and
I am hoping she will get her ham license.
I love telling her of my QSO's with Japanese hams.

Dante, the true contest dog early in the morning before
the heat has warmed the place.
Dante whines when I work at the computer but
he seems to love radio contests.
He seems to enjoy hearing all the voices.

ABØMV First Place USA Zone 4 and 5
10 meter single band High Power
I also won my first Plaque (TOP GUN USA, Zone 4 & 5) in this contest!
View of antennas from old Alpha Power site
Mead, Colorado

---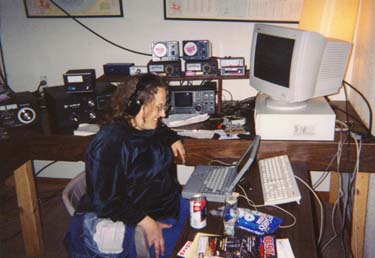 ABØMV ragchewing with DX on 15m from KVØQ
while my husband Glenn AEØQ did the 2001 BARTG RTTY contest on 10m.
Highlights included finally speaking French on the air with French hams
and being called by a 9 year Virginia girl who wants to become a ham and having a third-party
QSO with her for half an hour or so.

---
2001 CQ WW SSB @ NØHF
Glenn and I have always enjoyed contesting with Dan NØHF from his station.
For this contest, we had several members from Grand Mesa Contesters of Colorado join in the activity.
Other members not pictured: Glenn AEØQ, Merri ABØMV, Chris N4VI and Bruce WW1M
NØHF Dan calling CQ on the run station.


KØUK Bill running the mult station
What a blast to have Bill join us all the way from over the Continental Divide!
---
2001 ARRL DX Contest: ABØMV
The rare contest operated from home.
4:00 a.m. local time looking for DX on 40m and 80m before sunrise shuts down the bands.
Even at this hour, Dante likes being near the radio!
---
Back to ABØMV main page