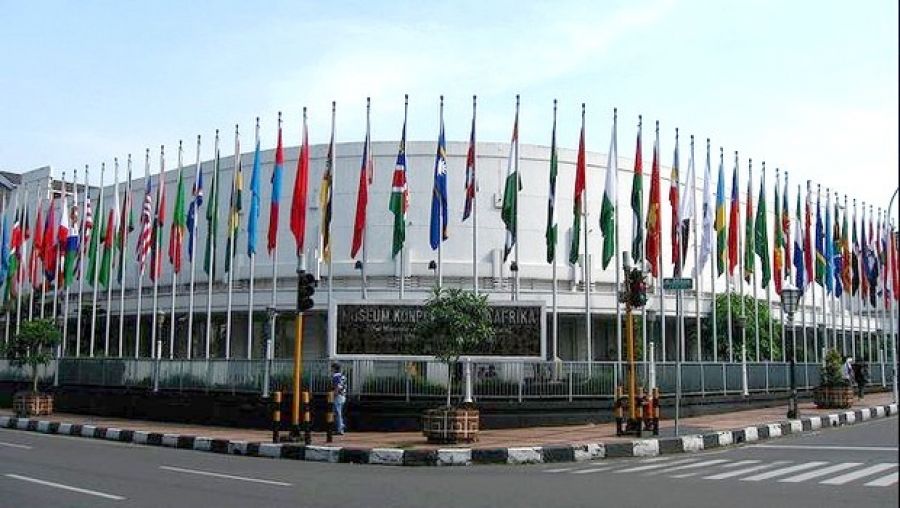 Asian-African Conference Award
The first large scale Asian–African or Afro Asian Conference also known as the Bandung Conference was a meeting of Asian and African Nations, most of which were newly independent, which took place on April 18–24, 1955 in Bandung, Indonesia.

The twenty-five countries that participated at the Bandung Conference represented nearly one-quarter of the Earth's land surface and a total population of 1.5 billion people. The conference was organized by Indonesia, Burma, Pakistan, Ceylon (Sri Lanka), and India and was coordinated by Ruslan Abdulgani, secretary general of the Indonesian Ministry of Foreign Affairs.

The conference's Nations aims were to promote Afro-Asian economic and cultural cooperation and to oppose colonialism or neocolonialism by any nation. The conference was an important step towards the Non-Aligned Movement.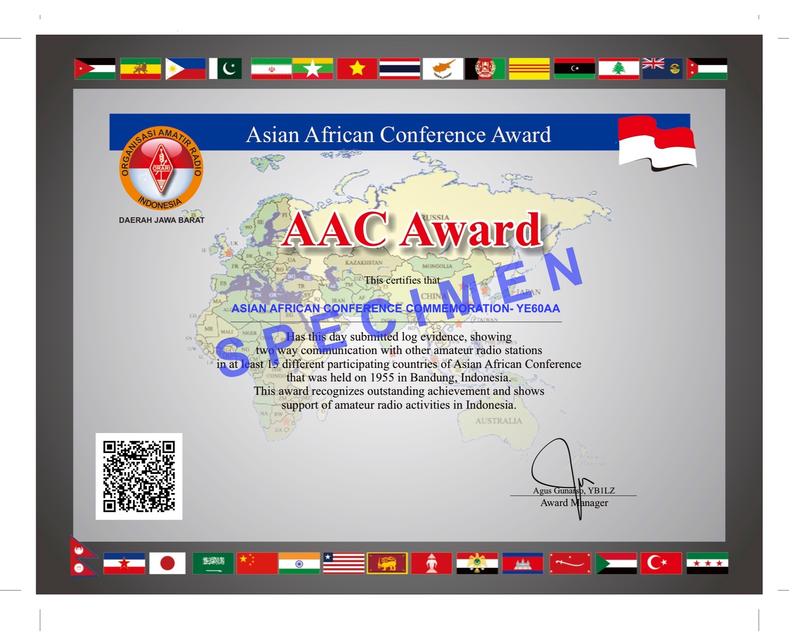 The AAC Award my be claimed by Worldwide Amateur Radio Station who have a valid license.


Apply the AAC Award must be successfully contact QSOs with Amateur Radio Station at least 15 Country participants AA Conference, the number of countries which successfully contact QSO will print in the AAC Award.


Award fee for Amateur Radio of abroad since 1st January 2016, USD$ 15.0 (Fifteen US Dollars) per award, please send fee via paypal account [email protected] on behalf ASIAN AFRICAN CONFERENCE AWARD.


Award fee for Indonesian Amateur Radio members Rp. 100.000,- (One Hundred Thousand Rupiah) per award, please send fee via Bank Mandiri 132-00-1203808-0 on behalf ORARI DAERAH JAWA BARAT or such as point 4. above equivalent Rp. 100.000,- receipt bank transfer please send via email to [email protected]


The Log Sheet should be sent to :
Participants may claim more than one award from the category available, Individual log sheet must be made for each claimed category.

Claims for AAC award can be made in several categories as follows :


All Band All Mode (mixed)
All Band CW
All Band Digital
All Band Phone
10 Meter All Mode
10 Meter CW
10 Meter Digital
10 Meter Phone
15 Meter All Mode
15 Meter CW
15 Meter Digital
15 Meter Phone
20 Meter All Mode
20 Meter CW
20 Meter Digital
20 Meter Phone
40 Meter All Mode
40 Meter CW
40 Meter Digital
40 Meter Phone
80 Meter All Mode
80 Meter CW
80 Meter Digital
80 Meter Phone
160 Meter All Mode
160 Meter CW
160 Meter Digital
160 Meter Phone


Participants should engage communication with Amateur Radio Station from 28 countries that are participated in the Asian-African Conference in 1955. The communication should at least take place with 15 of the 28, one of which must include a QSO with an Indonesian Amateur Radio Station.


Each Contact QSO only used to claim one category (not be reused for other categories).


Contact QSO applicable after 18th April 1955 until now.


As some countries have more than one prefix in the callsign, all valid prefix are applicable for claiming the AAC Award (i.e. Indonesia : YB/YE, YC/YF, YD/YG, YH).


The bands used for claiming this award are 10, 12, 15, 17, 20, 40 and 80 meters. Digital mode will be carried out using RTTY, PSK, or JT-65.


The log sheet form is provided, It can also be self-made, The information should include Your data of the station, operator, callsign, band, mode, address and email along with complete of data QSOs such as Callsign, Date, Time, Band dan Mode. logsheet download here.


The following Participating countries Asia Africa Conference 1955 :


| | | |
| --- | --- | --- |
| No | Country | Prefix |
| 1. | AFGHANISTAN | T6 |
| 2. | CAMBODIA | XU |
| 3. | CHINA | B |
| 4. | EGYPT | SU |
| 5. | ETHIOPIA | ET |
| 6. | GHANA | 9G |
| 7. | INDIA | VU |
| 8. | INDONESIA | YB |
| 9. | IRAN | EP |
| 10. | IRAQ | YI |
| 11. | JAPAN | JA |
| 12. | JORDAN | JY |
| 13. | LAOS | XW |
| 14. | LEBANON | OD |
| 15. | LIBERIA | EL |
| 16. | LIBYA | 5A |
| 17. | MYANMAR | XZ |
| 18. | NEPAL | 9N |
| 19. | PAKISTAN | AP |
| 20. | PHILIPPINES | DU |
| 21. | SAUDI ARABIA | HZ |
| 22. | SRI LANKA | 4S |
| 23. | SUDAN | ST |
| 24. | SYRIA | YK |
| 25. | THAILAND | HS |
| 26. | TURKEY | TA |
| 27. | VIETNAM | XV |
| 28. | YEMEN | 7O |
For furture information please drop Your email to [email protected]


GOOD LUCK FOR ACC AWARD HUNTING
Regards, 73 de AAC Award Manager