My Amateur Radio History
I was first licensed in 1965 as a Technician with the call sign WA3DJI in Coraopolis, PA--about 18 miles west of Pittsburgh. My first "station" was a Heathkit HW-30 "Twoer" or "Benton Harbor lunch box" and an 11-element Cushcraft beam at 70 feet. The Twoer was a crystal-controlled, 5-watt AM/MCW transceiver with a super-regenerative receiver. The nickname was chosen because the rig was about the size of a child's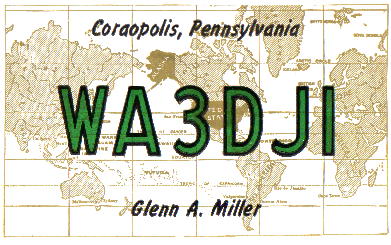 metal lunch box with a carrying handle on the top, just like a lunch box. (Heath sold 10 meter and 6 meter versions of that rig called, not surprisingly, a "Tener" (not to be confused with Pavarotti) and a "Sixer.") My "Twoer" would get swamped when the Steel City Amateur Radio Club, some 15 miles distant, would fire up their 2 meter kilowatt station--a major drawback of super-regen.
I later upgraded my station with the purchase of an crystal-controlled Ameco TX-62 75-watt AM/CW transmitter and Heathkit SB-300 receiver with 2-meter converter and a second 11-element beam stacked atop the first. I put up a 5-element 6 meter beam also, but never did get the 6 meter converter for my receiver, so I never got on 6. I was still "rockbound" since I couldn't afford the add-on VFO for the TX-62. I had a pretty good, moderately strong signal, and worked Florida, Michigan, and a number of Canadian stations with it. Pretty exciting DX for a 15-year-old kid. I wish I had kept some pictures of my station from back then.
I was pretty much inactive from 1969 until 1972--I was busy going to college, working in a steel mill, getting married, and getting drafted (my draft lottery number was 46!). Instead of taking the ever-so-enticing 2-year vacation to Southeast Asia with the US Army (you may recall "The Vietnam Conflict"), I enlisted in the Air Force to become an air traffic controller. The USAF, in its infinite wisdom, knowing I'd had four years of German language training, sent me to Russian language school... Well, it was in Monterey, CA, so it wasn't all that bad.
After the year of language school and follow-on technical training in San Angelo, TX, in 1973, while stationed in Germany, I upgraded to Conditional class (a General class equivalent license given by a volunteer examiner when the applicant is located more than 75 miles from an FCC examination station) and got the call sign WA3WEN. At that time my station consisted of a Heathkit SB-303 receiver and SB-401 transmitter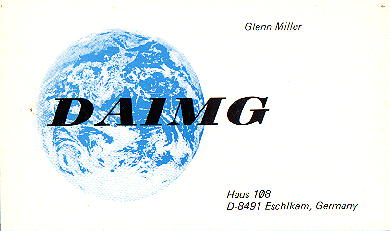 on a small dresser at the foot of the bed and an indoor random wire running down the hallway into the kitchen. My German reciprocal call sign was DA1MG and my primary mode of operation was CW (Morse code). My German landlord never did figure out why his TV screen went funny in the evenings. I volunteered to operate the unit Military Auxiliary Radio System (MARS) (formerly Military Affiliate Radio System) station, running telephone patches and sending written message traffic to the states for the Americans stationed there. Our little MARS station was extremely active from our small unit located on the Czech/West German (back when there still was a Czechoslovakia and West Germany) border and I had a good group of volunteer operators to help keep it in operation when the bands were open. I joined MARS as an individual member at about the time I learned I was going to return to the states.
I upgraded my license to Advanced class in January 1976 while stationed at Goodfellow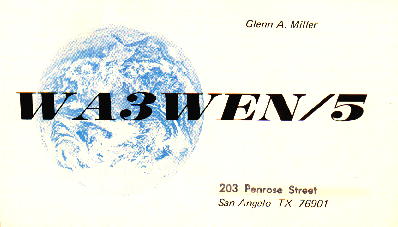 AFB, San Angelo, TX. I had to drive to Dallas (about 4 hours away) to take the test at the FCC Field Office where I failed it the first time and had to wait 30 days to retest. I 1976, I joined the ranks of the 2-meter FM crowd when I built a Heathkit handie-talkie (HT) and HW-2036A mobile rig. I had a humble Ringo Ranger for 2 meters and inverted vee wire antennas for my HF station. My shack was located in an enclosed breezeway between the kitchen and garage. I became a member of the San Angelo Amateur Radio Club and helped build the club's current clubhouse at Mathis Field just before leaving in 1977 for my next AF assignment.
In 1978, I was assigned to the Defense Attaché Office at the US Embassy in Moscow, USSR (now Russia), and was off the air
for those 2 years, 5 months, 4 days, and 16 hours (but who was counting?). I did have my Heathkit SB-303 with me and I listened to the amateur bands from my living room. I had the embassy check to see what the possibilities were of getting some sort (any sort) of reciprocal license, but the best they could do was "perhaps" get me permission to operate a "collective" (club) station. (The Soviet paranoid feeling, I'm certain, was that all people working at the embassy were spies, and giving one of those spies permission to operate a transmitter from his apartment? "Ha!. You make a joke, nyet? I laugh on you.") It would have been interesting. I once drove past the Central Radio Club (the Soviet equivalent of the ARRL) building, but didn't stop in. It was while I was in Moscow, in February 1980, that I joined the Radio Amateur Satellite Corporation (AMSAT).
I left Moscow at the peak of the sunspot cycle in June 1980 (just before the Olympic Games that no one went to) and was assigned to Fort George G. Meade, MD. There I sold my Heath "twins" and made a pilgrimage to the Dayton Hamvention in 1981 where I purchased a Kenwood TS-530S HF transceiver, matching speaker, and antenna tuner. That, along with a Heathkit antenna tuner connected to a 5-band trap vertical antenna, was my station in the corner of the bedroom in our on-post government accommodations. I replaced my Heath HT
with an Icom IC-2AT--the best little HT ever built. I also got more interested in the amateur radio satellite program. I used a Kenwood TR-9130 all-mode 2-meter rig, an Icom IC-402 3-watt SSB/CW transceiver driving a 40-watt home-brew amplifier, and an Advanced Receiver Research 2-to-10 meter converter into my TS-530S. The antennas were Cushcraft 10-element, 2 meter and 20-element, 70 cm crossed yagis. Two light-duty TV rotors did the azimuth/elevation duty. I think I worked everyone within range using the Orbiting Satellite Carrying Amateur Radio (OSCAR) in my last year at Fort Meade. Trying to manipulate two rotors to track the satellite and send Morse on a Vibroplex bug was a challenge at times, but it was great fun.
In 1983 I was reassigned to Monterey, CA, for intermediate Russian language training where I got interested in radioteletype (RTTY). I built a Heath terminal unit and fed it with a newly acquired Commodore 64--pretty much state-of-the-art at the time. My station in Monterey was pretty modest due to the antenna restrictions imposed by my landlord who never did understand what amateur radio was all about ("It's CB, ain't it?"). My shack was again located in the corner of our bedroom, much to my wife's dismay. While in Monterey I was a member of the Naval Postgraduate School Amateur Radio Club.
In 1984 I transferred to Munich, Germany, where I landed the reciprocal call sign DA1CM. A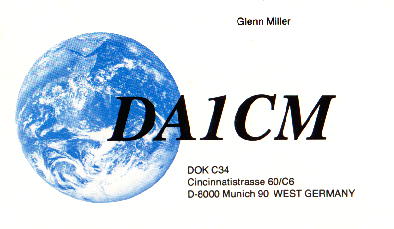 storage room in our apartment building attic was ideally suited for the ham shack (and, more importantly to my wife, got it out of the bedroom). I used a Butternut Butterfly beam on 10-20 meters (only slightly better than no antenna at all) and a trap dipole on 30, 40 and 80 meters. At the urging of Kurt/W3AKZ/DA1ZE, I became a bier-drinking member of DOK C34 of the Deutscher Amateur Radio Club (DARC) (a DOK is a local chapter of the DARC). I discovered packet radio while in Munich and had a great time talking with other Americans (GIs mostly) and Germans on 2 meter packet using a Heathkit HD-3030 terminal node controller (TNC). I retired my TS-530S in favor of a TS-440S, keeping the 530 as a backup rig. The addition of a Kantronics All-Mode (KAM) put me on AMTOR (Amateur Telecommunicating Over Radio--a modified form of RTTY with error detection and correction). My Heathkit building continued with an SB-1000 kilowatt HF amplifier, station monitor, audio filter, digital voltmeter, and other smaller kits. I once counted up the number
of Heathkits I'd assembled over the years--53. I picked up an MFJ 1.5 kW antenna tuner to handle the amplifier on those rare occasions when I used it. While in Munich, I upgraded my license to Amateur Extra Class, and became a volunteer examiner under the ARRL/Volunteer Examiner Coordinator program administering amateur radio license examinations in Munich. I had the good fortune of visiting the Ham Radio International Amateur Radio Exhibition (the European equivalent of the Dayton Hamvention) with Sandy/KG7NN/DA2BX in 1987 and with Kurt/DA1ZE in 1988--an interesting experience. I taught or assisted in teaching three license classes while in Munich, helping about a dozen people get their first licenses. Although I had never had much interest in DXing (contacting distant stations in foreign countries), Bob/WU5T/DJØMBC challenged me to get the DXCC Award (for contacting 100 countries and confirming those contacts with snail-mailed QSL cards). I made a run for DXCC during my last 9 months in Munich and managed to get the last needed QSL before returning stateside. The first 100 countries are relatively easy to get from Europe, I have to admit. (I think I beat Bob, but I never did find out for sure.) I continued to be active in the AF MARS program while stationed in Munich. I served as Region Operations Analysis Manager (ROAM) for two years and was net control station for the European Region AF MARS nets twice a week for three years. I ran some phone patches to the states for military personnel stationed in Munich and also sent written message traffic to the states on the overseas voice circuits.
After nearly 5 years in Munich, I transferred to my present location in San Angelo. Living in our own house for the first time since I joined the Air Force allowed me to build a radio shack in a separate room. For the first time ever, I have a tower for my antennas. I also decided to trade in my 3-land call sign for a 5-district call since we'd decided San Angelo was going to be my retirement location. I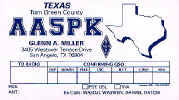 still use an inverted vee for the lower bands. And I got a pretty good deal on a Heath Twin-Bander (2 mtr/70 cm) transceiver. I picked up a Kenwood TR-7800 for my packet station, freeing the TR-9130 for future satellite work (the antennas and other satellite stuff collected dust until I could rearrange to get the satellite station set back up in 2008). The TR-9130 was given away when I replaced it with an Icom IC-910H in 2007. I picked up an Kenwood TM-G707A dual-bander for installation in my pickup truck. My Garmin global positioning system (GPS) receiver kept me from getting lost in the wilds of West Texas, but my XYL got me a Garmin Nüvi for Christmas in 2007. A quantum leap over the old GPS III+. I plan to use the GPS III+ for APRS one of these days. And, 2008 saw the purchase of an Icom IC-746 Pro to replace my TS-440S which started exhibiting that notorious VCO PLL unlock problem it's so famous for. And, in 2010, I purchased an Icom IC-7000. Plans are to place that into mobile service one of these days.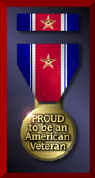 I retired from the Air Force on April 30, 1994, and started a job with the city of San Angelo as a telecommunications operator at the police department the following day. In September 1996, all public safety dispatching became a separate department (Public Safety Communications) in a separate communications center where I was supervisor on the midnight shift (yawn) for a little over 3 years. A lack of sleep and way too much bad management forced me to look for something to do elsewhere. After taking a month off to get adjusted to sleeping at night again, I worked part-time for two months as a customer assistance representative for Mitsubishi Motors. In October 1999, I took a full-time job as an assistant Veterans' County Service Officer working for one of my former USAF supervisors. In May 2002, I began work with the Texas Workforce Commission as a veterans employment counselor. And, finally, in April 2004, I took a job with Uncle Sam as a human resources technician at Goodfellow AFB where I plan to be until final retirement in 2013 when my XYL becomes eligible to retire from civil service. I've worked for the city, county, state and the fed since I retired.
Even though we have an air force base in town, I'm one of only four active AF MARS members in San Angelo--go figure. My current MARS call sign is AFA6HM.
I've served four terms as president of The San Angelo Amateur Radio Club, having also previously served three terms as secretary/treasurer and activities manager. I edited and published the club's newsletter, The Kilo-What, for 15 years (I "retired" in June 2007). I'm a volunteer examiner for our club's license testing efforts and an ARRL registered instructor for license classes. And last, but not least, I'm the Webmaster of the club's Web site. Visit our club's web site!

Back to my home page
If your browser is enabled, the musical selection playing is "Always Look on the Bright Side of Life" from the motion picture "Monty Python's The Life of Brian"