Welcome to the A61AJ WEB Page
A61AJ is top Asian Multi-Multi station and holder of current Asian Multi-Multi CQ WW CW Record of 28,014,492 points.

To learn more about A61AJ superstation please follow the links on the left side of this page. Also please take a minute to fill polling forms on the right side and help future operators to plan their out of contest operation.

History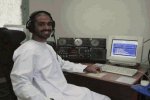 How Ali A61AJ became HAM Radio operator, how he got interested in contesting and when started building Contest superstation.

Contest QTH
Take a closer look at A61AJ superstation. Find out which equipment and antennas were used to reach Asian Multi-Multi record in 1998 CQ WW CW Contest.

Home QTH

Ali has very hice shack at home too. Take a look.

Operators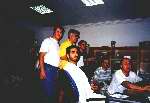 KE3Q, DL2CC, W3UR, T97M are some of operators who operated A61AJ superstation in the past few years (since 1997). In this section you can found details about each of them.

Picture Gallery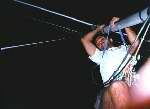 This is biggest section with more than 50 pictures taken during past years. Interesting situations, antenna instalations, view from the antenna towers, pictures of operators and more...

Magazine Articles

There were several articles about A61AJ published in different HAM Radio magazines. Here you can read one from April 1998 written by Dave K3LP and another from April 1999 written by Boris T93Y.

Statistics

This section holds A61AJ 1998 CQ WW CW Contest Summary Sheet, Continent Breakdown and hour by hour Breakdowns. Take a closer look to the new Asina Multi-Multi record.

A61AJ QSL Card
QSL via N4QB :
Joe Veras,
P.O. Box 1041, Birmingham, AL 35201, USA
---
A61AJ LOG Search
---
A6 Modes Poll

I need QSO with A6 on following modes:

CW
SSB
RTTY
SAT


Current Results


Tell us what you think about this WEB page by signing our guestbook or by sending E-mail message