8Q7WW 8Q7TX
Embudu Village, The Maldives, IOTA AS-013, Grid MJ64
We are back home now after about 7.500 QSOs from 6m to 80m. Unfortunately we were not able to work on 160m. Due to a very high QRM level operating on 80, 40 and 30m was very hard. On 6m we had only one opening which was good for 24 contacts with european stations. Thank you for working us! We hope to see you again in the next year's activity...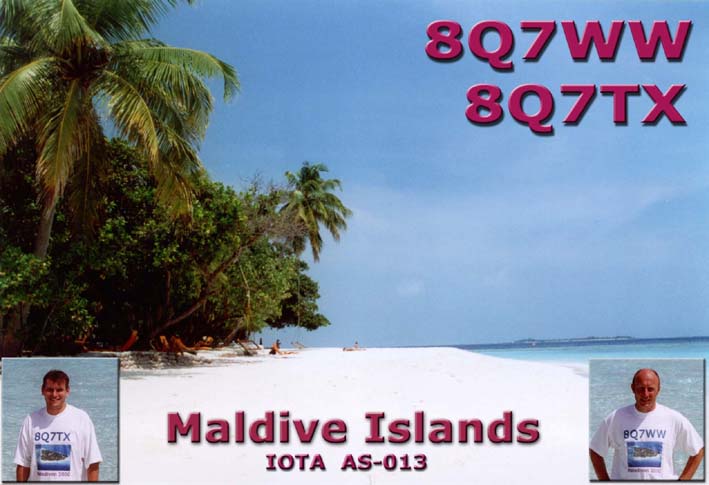 Log search available now!

QSL (bureau or direct) via:
DL5XAT
Holger Binder
Marienthaler Str. 142
20535 Hamburg
Germany

REQUESTS FOR 8Q7WW: PLEASE NOTE THAT THIS ADDRESS IS ONLY THE INCOMING ADDRESS FOR 8Q7WW CARDS!!! THE OWNER OF THE 8Q7WW CALLSIGN, Kurt Simon DF4XX, IS RESPONSIBLE FOR REPLYING TO THE 8Q7WW REQUESTS!!! ALL INCOMING REQUESTS FOR 8Q7WW WILL BE FORWARDED TO DF4XX QUICKLY!!!
There is a dedicated mailing list for the IOTA Contest at Yahoogroups. This list is the place for radio amateurs and SWLs to discuss topics related to the IOTA (Islands on the Air) Contests, held every last full weekend in July, organized by the Radio Society of Great Britain (RSGB). List members are encouraged to post news about planned activations, contest reports and claimed scores, QSL routes and QSL route requests, rule questions and discussions, as long as they refer to the RSGB IOTA Contest. Messages should preferably be in English. It is a privately organized mailing list that is in no way affiliated to or endorsed by the RSGB or any other ham radio organization. To subscribe, simply enter your email address in the form below and click on the "Join now!" button.

This page was last updated on April 24th 2003...