The English School Radio Club in Nicosia ,Cyprus has now for many years kept alive the idea of Amateur Radio and passed this to its members,the students of The EnglishSchool.
The English School Radio Club is made up of students of the school, ranging from 1st to 7th form,that is of the ages off 11-19 years old members.The students/members of the club learn the principlesof Amateur Radio, at their early years in the club, then the theory behind it - electronics - and thenbecome themselves operators and practise their knowledge and see that in action.
All the "teaching" and "learning" is done by the students themselves,the older students pass on theirknowledge to younger students and help them in any way possible to keep the club alive.Many generationsof students have passed from the club since it was first founded.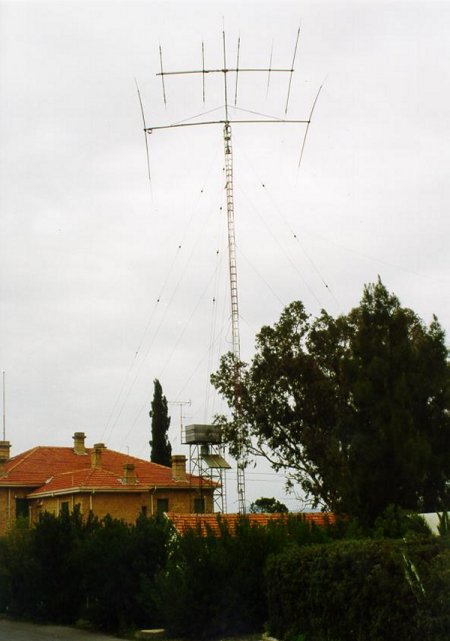 The English School Radio Club's Shack...and the antenna tower.You can distinguish easily on the 80 feet tower the 5 element yagi tribander (10/15/20m) at the top and below the 2 element cushcraft for 40m.There are also some 80m sloppers and an inverted-V 160m antenna coming down from the tower.
The History of the Club
The English School Radio Club was founded back in January 1969. At first the club did not have a licencefor amateur radio or any transmission and had temporary licence for using the callsign 5B4ES incertain special events.
The English School Radio Club was the 3rd 5B4 callsign on the island (was granted its licence 3rd) and since then the club is growing and making more ham operators than any other club in Cyprus.
The English School Radio club is still making history.With a long tradition in Amateur Radio has won many contests and achieved very good places world-wide in others and gainedmany awards and qualifications since it was founded.
The Club's Shack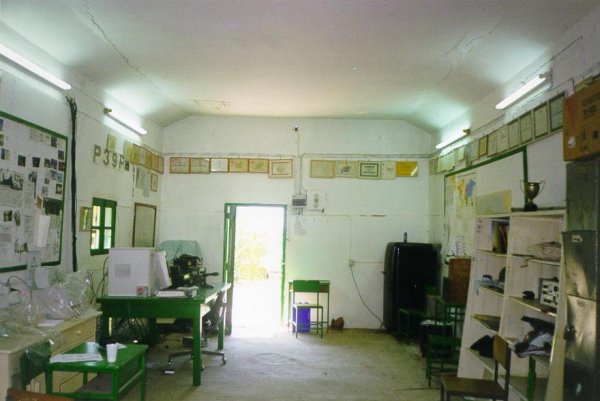 The clubs shack has been there for many years now.Originally taken from the first boy scouttroop in Nicosia. It was then expanded by taking up the hen's space which was then on the side of the club! the shack has now taken this form and it can only get better in the future! Full of Contests trophies and awards, equipment and QSL cards, maps and shelves, the radio club is a second home for many of its members.