Tools for Recording Audio
I have been experimenting some with writing CDs of some of my precious records from my high school band. In addition, I have realized that it is very important to be able to record my children so they will have these memories in the future.
What is necessary to make audio from old records? If you have a CD writer, you probably have everything you need -- that is if you still have a record player!
This is the set up I have put together. It includes a turntable and amp generously donated by my brother.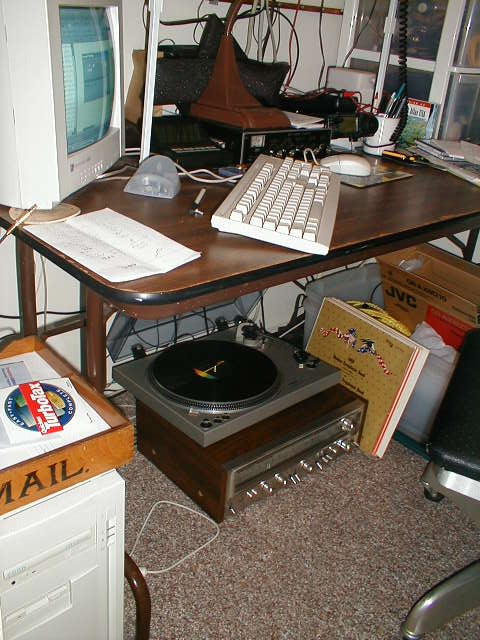 Audio is ported from the amp to line in connector of my sound card. Most sound cards come with a recorder program. All that one needs to do is record the platter track by track at CD quality. (Warning: one minute of music at this quality takes a little over 10 Megs of disk storage.) When you have about 650 Megs of audio, it is time to write the information to the CD. I'll assume you have played around a little with your writer to find out how to record an audio CD.
A couple hints are important. If your computer is part of a network, disconnect the computer from the network during the CD write. Any interupt processing may give an error to the writer. For the same reason, it is prudent to turn off your screen saver. It may be worth the couple extra bucks to first try playing around with RW cds! If you come up with an error, you will not need to use the now useless R CD as a Christmas tree ornament! (I had four on my tree this year!)
For recording family members, you will likely need a bit more equipment. My requirement was a portable set-up which I could set up in a church or auditorium where my kids were singing or playing a band concert. I looked into DAT recorders -- too rich for my blood, and too big. While reading the internet, I ran across the idea of using a minidisk recorder. WOW! These little machines record really well and are very small. They are also nearly as inexpensive as portablle CD players. My Sharp MD-MT15 cost about $180 in January 2000 and prices are likely to fall rapidly!
Here is my set-up in a little leather Bible cover: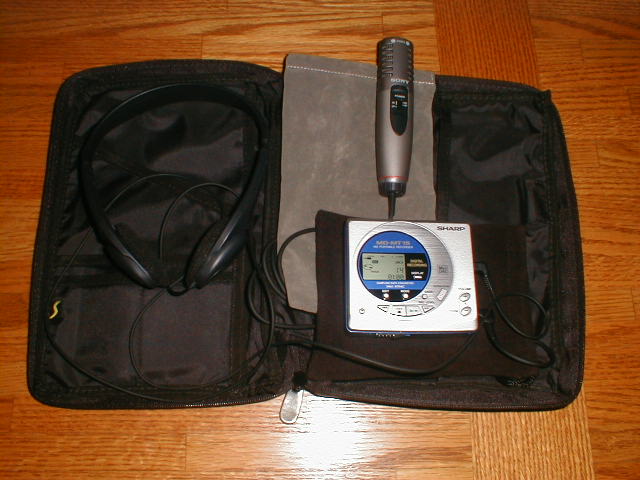 I have included a Sony 907 stereo microphone, which is 95% as good as the best Shure 57 microphones I have borrowed from a friend. (By the numbers, bass response is not as good for the Sony mic.)
Once I get the minidisk recording, I send that to the sound card just like I described for the amplifier above. The resulting recordings are crisp, and wonderfully realistic.