Flyfisher's Kayak BackRack Page
This page contains ideas for two different yokes for carrying a kayak:
While I was waiting for the epoxy to cure on my strip built Great Auk, I spent an hour cobbling up the two buck portage yoke I had sketched up from the picture of the Spring Creek yoke.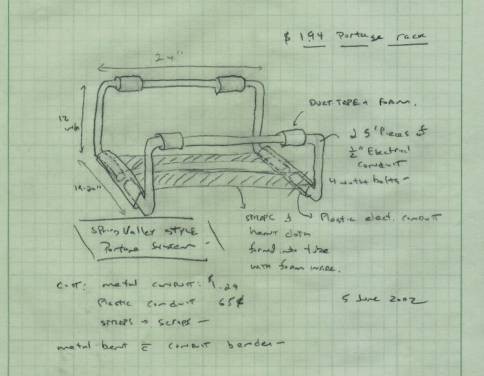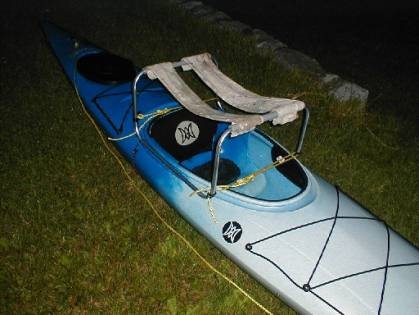 I looked around for some nice pack material for the straps in my closets, but all I could find for the evening was an old cotton painting ground cloth.. I cut a couple rectangles, sewed them into tubes, and then attached it to the frame with the sheet metal screws that join the plastic conduit and the metal conduit.
One design flaw was a tendency for the legs of the frame to separate a little. I want to keep them under the edge of the combing. For that I needed to add a tensioning strap at the base of the "legs" of the frame. That is what the yellow ropes in the picture are there for.
I picked up the kayak by the combing with its nose on the ground in front of me and set it down on my shoulders. Having the rope tied to the front and back allowed me to keep my hands at my side during a test portage which really helped to reduce fatigue. I carried the kayak about a third of a mile this way, 300 paces (1 pace equals two steps, or about 5 feet). It was more comfortable than my Grumman canoe. All this with a kayak that weighs ten more pounds than I hope my stripper will.
Followup, August 2002: I ended up designing a back pack frame which holds most of the weight of the kayak or canoe on my hips. This is a very good design and is much smaller. It can be stored in the kayak's hatches. These pictures are included only to show one way to experiment with a kayak rack.
Here is another kayak yoke
I wanted to find a way to build a simple little yoke for several kayaks. I found that a yoke could be built with a few boards and some cord. It is held to the kayak by a line and a short section (black) of shock cord. The shock cord allows pulling the cord around the lip of the kayak's coaming.
The padding is with Minicel scraps.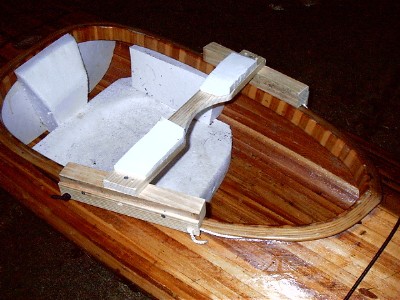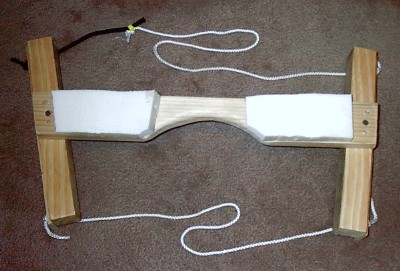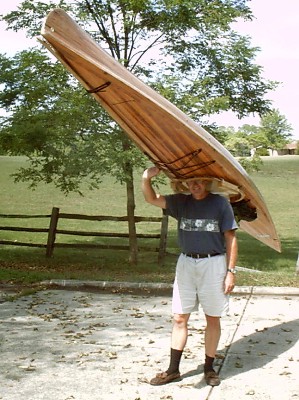 I like this yoke a lot better than the previous version.