My Experiments with Recumbent Bikes
Summer 1999
New: Descriptions of two century rides:
Third Century and Fourth Century
Pictures of the first (blue) Recumbent Trike in Detail
Building the second (red) Recumbent Trike
Pictures from Bent Trail Riders, Sep 99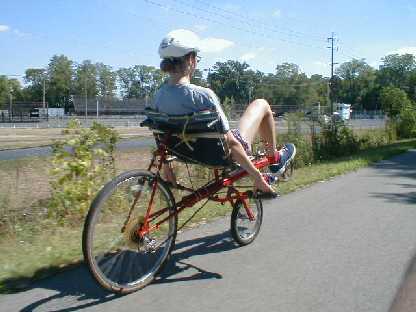 This summer, I have learned a lot about building bikes. I first got interested in welding and as the time went on, I began to learn how to do the kind of welding necessary for thin wall steel tubes.
Diane has had 4 episodes with chemotherapy during the summer, and I have built a bike during each of the episodes. One bike was a simple tandem built from two bike frames and is not featured here. The other bikes are recumbents built to my own plans.
The first bike I built is featured with my daughter riding it above. I had seen a Vision recumbent for about 30 seconds on the Xenia Ohio bike trail and decided I might be able to build something like it. The "Dream" was the result. (Young men have visions, old men have dreams according to the Bible.) This is what the Red Recumbent looks like from the side:
The second bike is my real favorite. I had drooled after the Wind Cheetah on the Internet and found a decent set of plans for a "tadpole trike" (does anyone know where that term came from?) called the Thunderbolt which I downloaded. I made a lot of modifications from this all aluminum bike to make it for a little less than 50 dollars from muffler tubing and mild steel, but it still works great. Here is a picture of it in profile: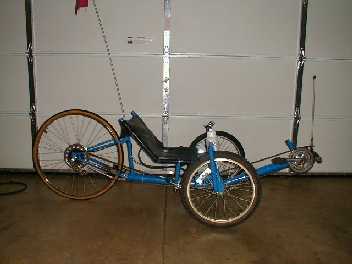 It looks even better with my daughter in it! Unfortunately, I seldom let her get the trike when we both ride. She is relegated to the red recumbent.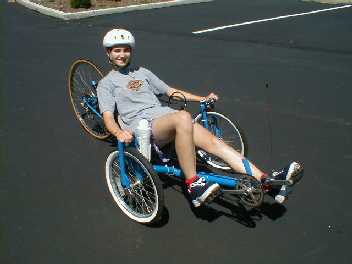 If you would like to see more information on this blue tadpole trike look here.
After I finished these two recumbents, my 10 year old got in the act and decided he wanted his own recumbent. Ten year olds grow quickly, so I built the front end of a new recumbent using the same muffler clamp adjustment I first used on the trike. I also made a number of improvements in the chain routing and in getting the seat down lower than in the first recumbent. The result is a simple little 'bent with no chain rollers and which will fit my 10 year and me at 6 feet with a couple simple clamp adjustments and by changing the chain length. Here is my new recumbent: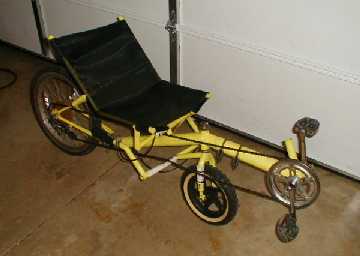 And a view of it from the side: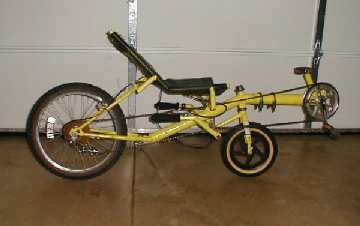 We have been having fun riding them as a family. I hope you get inspired to be like the Wright Brothers and begin building bikes!