My golf activities started at an early age and now I enjoy playing with friends and family. If you are interested in the details of my golf background please click on this link (golf background). In 1991 I had an opportunity to play in the PGA Tournament of Champions Pro-Am at La Costa Resort and Spa in Carlsbad, CA. One of my PGA playing partners was Lanny Wadkins.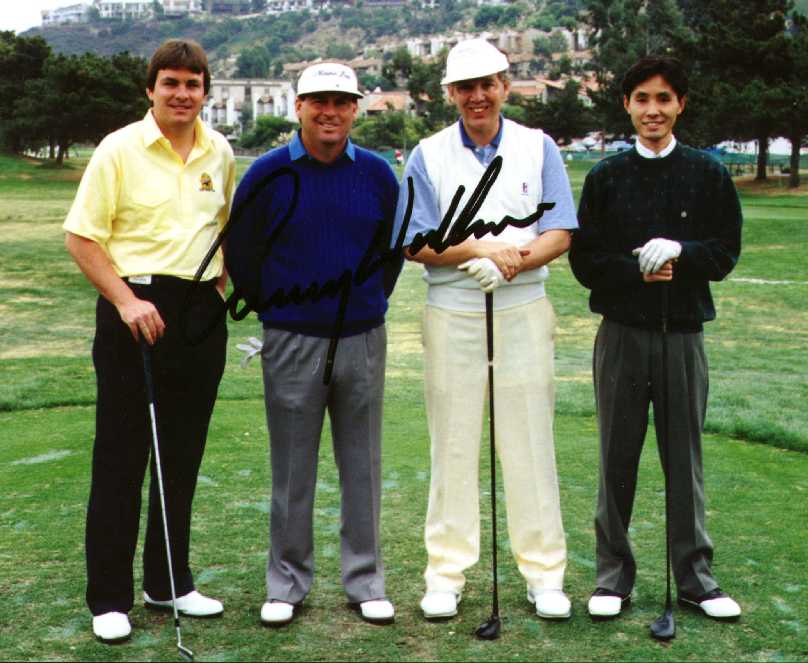 1991 Tournament of Champions Pro-Am at La Costa
(L-R: Kevin McClure, Lanny Wadkins, James Ritter, TK San)

The Tournament of Champions was the first golf event of the year for the PGA Tour and was by invitation only. You basically had to win a PGA event to qualify. The amateurs just had to pay an entry fee and that was donated to the PGA Tour.
Our team did not win, but I was able to capture first place in the actual division. My score was an even par 72 on the tournament course. The tournament course is made up of holes 1-3 and 13-18 of the North Course and holes 10-18 of the South Course. You can check out the La Costa Golf Course at "www.golflacosta.com", this is where they currently play the Andersen Match Play Championship..
One other highlight for me was to play at St. Andrews, Scotland in 1995. I was on a business trip to the UK and was fortunate enough to be able to take a weekend day for recreation. The Old Course was closed the day we played, but I was able to play the New Course (which is very similar to the famous Old Course). Below is a photo was taken just before we played (notice it is not raining!!).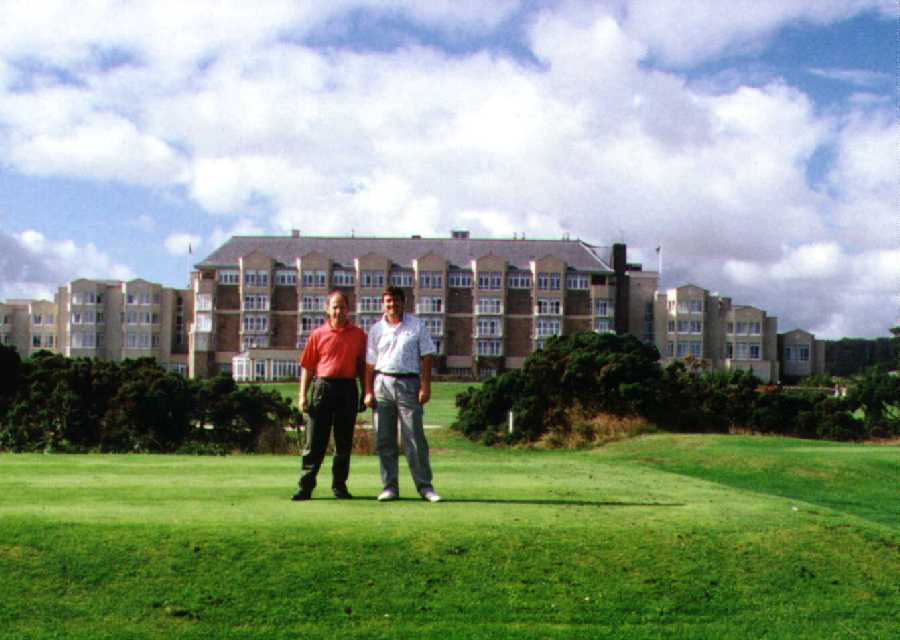 The 1st Tee on the New Course at St. Andrews
The New Course parallels the Old Course, so it was easy to walk over a get a few pictures. Interestingly enough the courses at St. Andrews are public, so the public has access on Sundays. They jog (animals included), play frisbee, and enjoy walks.. Look at a typical bunker shot on the Old Course:

Just Swing and Hope to Escape!!
Other pictures will soon be added to this page...