---
Amateur licensing in Canada (VE/VA/VO/VY)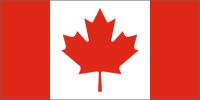 Updated 28 August 2006
---
Operating ham radio in Canada, unlike the situation in Mexico, is a simpler process. If a foreign amateur holds a CEPT license, IARP permit, or if the foreign ham is an American with an FCC amateur license - no problems. No application is required, just place the Canadian call-area prefix before your callsign (or after the callsign, for US hams in Canada). Foreign hams from other countries not covered by CEPT or IARP, but from a country that has a reciprocal-operating agreement with Canada, may apply for a "ministerial authorization" (a temporary permit, with a callsign made up of a Canadian prefix, a slash, then the callsign from your home country) from Industry Canada, the telecommunications regulator there. Authorizations should be issued along the same lines as listed below for hams from the USA or those holding CEPT or IARP authorizations, but it is possible that the ministerial authorization will be more specific than that.

More information on amateur radio in Canada is available from the web site of Radio Amateurs of/du Canada, the national amateur-radio organization in Canada. I am not going to restate the entire contents of that web site, but comment on how Canada views foreign amateur licenses and how I obtained my Canadian amateur license in April 2002.
---
Foreign amateur licenses in Canada
If a foreign ham has a CEPT class 1 license, IARP class 1 permit, or if the foreign ham is a USA citizen with a USA amateur license that includes a 5wpm Morse Code requirement (Novice, Technician Plus, Technician with 5wpm Morse code credit, General, Advanced, or Amateur Extra) - all have privileges equivalent to a Canadian licensee with the Basic, Advanced, and Morse Code qualifications. This is essentially the top Canadian license "class" - with access to all amateur bands, the authority to use up to 2250W PEP, and the authority to use homebrew transmitters and amplifiers.

If a foreign ham has a CEPT class 2 license, IARP class 2 permit, or if the foreign ham is a USA citizen with a USA Technician class amateur license (without 5wpm Morse code credit), these amateurs have privileges equivalent to a Canadian licensee with the Basic and Advanced qualifications. This allows access to all bands above 30 MHz, the authority to use up to 2250W PEP, and to use homebrew transmitters and amplifiers.

Any amateur from a country which Canada has a reciprocal-operating agreement other than the USA, and does not hold a CEPT or IARP permit, will have to apply to Industry Canada for the ministerial authorization. The authorization will indicate which Canadian qualifications (Basic, Advanced, Morse Code) the foreign license is equivalent to, the callsign to be used (VE_/callsign), and the length of time the authorization is valid. Foreign amateurs can send a request to Industry Canada before going to Canada or make the request at an Industry Canada district office after arriving in Canada.
---
How WD9EWK obtained a Canadian license (VA7EWK)
On a trip to Vancouver in October 2001, I mentioned to a ham friend in Vancouver that I wanted to obtain my own Canadian amateur license and callsign. I was told that it was possible, I could write the exams in Canada and then receive my license. After an exchange of e-mails with Industry Canada I found out they maintain the amateur database with separate station and mailing addresses. For most Canadians, the station and mailing addresses would probably be the same - but this allows someone to have correspondence mailed to another location, and that other location could be outside Canada. Perfect for my situation!

I searched the Canadian Amateur Radio Callsign Database to find a callsign I wanted to have. Prospective amateurs in Canada may have up to 3 choices for a callsign on their application, and if all the requested choices are not available - or if there are no choices listed on the application - Industry Canada selects a callsign based on the station address of the amateur. I wanted VE7EWK but found that another amateur already holds that callsign. VA7EWK was available in early April 2002. I made VA7EWK my first choice for a callsign on my application.

On my next trip to Vancouver (12-15 April 2002), I met Bill Tracey VE7QQ, a member of - and the license examiner for - the North Shore Amateur Radio Club of North Vancouver. Bill was ready for me a couple of hours after my arrival in Vancouver, and I met him at his house. I wrote the 100-question Basic exam in about 40 minutes, and had 82 of the 100 questions correct - the passing grade is 60. Then I had to copy 3 minutes of Morse code at 5wpm, and only made one error - passing is no more than 5 errors. In Canada, prospective licensees are also required to send Morse code, so I had to send 3 minutes of text. Once again, only one error - a passing grade, since I could have had up to 5 errors on the sending portion as well. With this, Bill completed my application. I also needed to draft a brief letter, explaining that the Canadian address on my application was my station address for Canadian licensing purposes (I initially used the address of a ham friend in Vancouver - thanks Greg VE7SOD, now unfortunately SK - and now have the address of a hotel I use on my Vancouver trips for that), and that I would like to use another address as the mailing address - my home address in Arizona. Then my application and letter were sent to Industry Canada in Ottawa.

My operator certificate was issued on 30 April 2002, with the Canadian callsign VA7EWK, and I received it at my house in Arizona on 6 May 2002. Industry Canada issues its certificates similar to how the FCC does it in the USA - a certificate-sized (11" x 8.5") version suitable for framing, and a smaller wallet-sized card (when folded in half and laminated) to carry.

On another trip to Vancouver in October 2003, I wanted to write the Canadian Advanced exam, to add the last qualification to my license and essentially hold the top Canadian amateur license "class". I made contact with another license examiner, Fred Chen VE7CX, asking if I could meet him while I was in Vancouver to write this exam. I had worked Fred on HF twice in the last year, and had mentioned that I visit his city periodically, and he offered to meet me on a Friday afternoon with his wife Heather VE7WTX for the exam. I passed the exam, and I now have my new certificate and wallet card from Industry Canada with all 3 qualifications.
---
When it comes to the Canadian operator certificates, there are two major differences compared to the amateur licenses issued by the FCC in the USA (these are the only two I can personally compare - I do not have licenses from any other countries):
Canadian amateur operators do not sign their certificates. FCC amateur licenses have a line for a signature, although it is legal for USA amateurs to operate in territory where amateur radio is regulated by the FCC without the license in their possession - as long as the amateur's name and callsign appear in the FCC ULS licensing database.
Canadian certificates have no expiration date. However, the Canadian amateur regulations (document RIC-9, in section 1.1) state that all callsigns are eligible for reassignment 125 years after the amateur's birthdate. Note to self: Contact Industry Canada in March 2093 to keep VA7EWK from being reassigned. :-)
---
Changes to Canadian amateur radio regulations in July 2005
In July 2005, Industry Canada released a new RIC-2 document, making changes to the amateur service in that country. The written exams now require a grade of 70%, instead of 60%, to pass. Also, a Morse code exam is not required for access to the HF bands if the amateur meets any one of the following criteria:
Has a certificate with the Basic and Advanced qualifications
Has a certificate with the Basic qualification, issued prior to 2 April 2002
Has a certificate with the Basic qualification, issued after 1 April 2002, where the passing grade was 80% or above - and has the examiner forward a copy of the application with the score to Industry Canada
The 5wpm Morse code examination is still available, and that qualification can still be placed onto Canadian amateur certificates. Some may prefer to do that, in order to show they have proof of Morse code proficiency. Others who travel to other countries may want that qualification on their certificate, in order to get an equivalent license or permit in other countries where Morse code proficiency is still required for amateur operators.

At some point in the future, the Morse code examination may be eliminated as an option for Canadian amateurs. In my opinion, this new series of options allows amateurs who want - or need - to pass a Morse code exam that opportunity. Otherwise, there are alternatives that still allow access to the HF bands without the Morse code exam.
---
Changes to Canadian license database information (August 2006)
When I obtained my first Canadian amateur license in 2002, the Canadian amateur callsign database had my home address in Arizona listed for VA7EWK. I had used a Canadian station address on my application as I mentioned above, but attached a short note to my application requesting a different mailing address so I could receive my license documents and any other correspondence directly from Industry Canada. This was acceptable back then, and also in 2003 when I added the Advanced qualification to my license. In August 2006, I received a letter from Industry Canada stating they had no address in British Columbia (the province for the VA7 prefix in my VA7EWK callsign) on file for me. I needed to provide them with an address in British Columbia to keep my call and license, or it would be cancelled.

I called the Industry Canada Amateur Radio Service Centre, and inquired about the letter. The lady who answered my call advised that with the change in policy related to Canadian amateur callsigns issued in late 2005, the callsign database would now contain Canadian addresses. Non-Canadians could still have a separate mailing address kept on file, but that address would no longer appear in the database - the Canadian address would be there. The text of the RIC-9 document cited in the letter I received did not change with the 2005 update, but apparently Industry Canada decided to make the change in what is stored in the public database.

After a few minutes of talking with this lady, I provided an address of a good friend of mine in a Vancouver suburb. The day after my phone call, the database now showed this address - but with an asterisk before the new address. I had been told that Industry Canada would still keep track of mailing addresses that were different than the station address, and I think the asterisk is the indication of a separate mailing address. In 2002, I saw that there were slightly over 300 entries in the database that did not contain a Canadian address, so this is not a large percentage compared to the over 62000 records (as of 28 August 2006) that were in the database.
---
Questions or comments?
If you have any other questions or comments about my radio trips, please feel free to contact me.
---
WD9EWK/VA7EWK - VA7EWK