Handi Finder.
The beauty of the handi finder is that rather than have a few people with sophisticated equipment, a bunch of people with simple equipment will work as well. This device switches the radio between two simple bow tie antennas. You get a beat note in the received siginal if the antennas are receiving a signal slightly out of phase. When both antennas are receiving the signal at the same time, the beat note in the audio dissapears.
---
Class Information
The current schedule calls for a class on Tuesday May 2 at the Garland ECC. 7 PM. Check back as this firms up.
I am buying parts for 25 kits and will make PWB's when I get a firm number for how many will attend. Price of the kits will be in the $5.00 to $10.00 range. Ill know more as soon as the parts arrive and I have shipping information. I will have to include the price of the etchant as my soultion is exhausted and will need to buy another gallon. Please provide a 9 Volt Battery.
---
Here is the note that started the intrest again

Thanks to all of you who expresses interest in our upcoming amateur balloon launch. Here's the latest.

We at the Athens Amateur Radio Club (in Athens, Texas, Henderson County, 80 miles SE of Dallas) are hoping to do our own amateur balloon launch on Saturday May 20, 2000. (Yes, that's the weekend of Dayton. The Athens repeater is on 147.22 +)

We have a payload package of about 5 pounds containing a crossband
repeater, temperature sensor, and 35mm camera. The repeater listens on 440 and transmits down continuously with 2.5 watts on 2-meters. Every 5 minutes it announces the inside and outside temperature over the air, then announces a voice ID, and a 35mm photo is snapped.

But we have one big hold-up. Recovery teams! Unless we can find enough DF'ers, we can't launch because we would have no hope of recovering our package. We just don't have anybody in the club who's set up for DF.

Please forward this information on to all the area clubs and hams you know. If anybody would like to help please have them e-mail me. Also, if anybody is involved with the Civil Air Patrol, perhaps a CAP group may wish to have a DF exercise AND get a chance to demonstrate for the public what they do as well.


Thanks a million,

James Alderman, KF5WT
kf5wt@arrl.net
---
HandiFinder schematic Redrawn from QST Artwork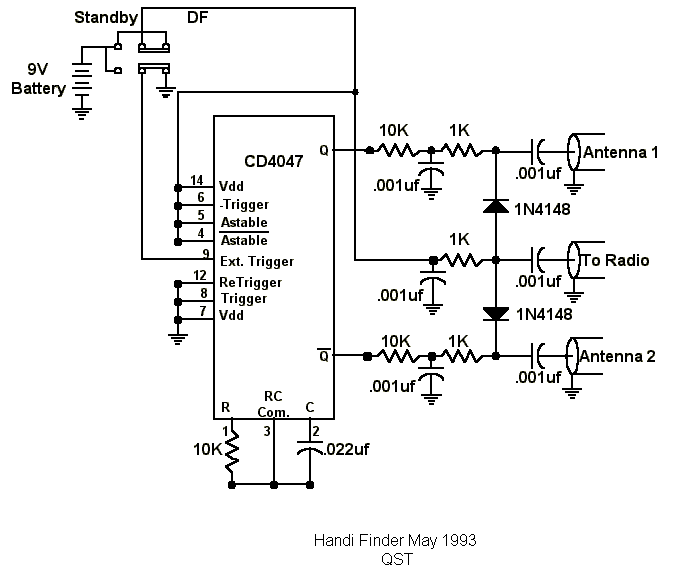 Original Handifinder PWB artwork By WD4BIS
Componet Placement for Handi Finder