Battery Monitor
This is the August 99 Home brew project for the GARC. I will be providing the pre-programmed PICS for the cost of the device. I will provide the PIC software for those who want it in disk format to anyone who can not down load the files. For those who do not want to complile, the hex file can be found here as well. The software must be used for non commercial use only.
Original Project by Derek Toeppen, WA0ZTI. See CQ magazine Page 36 for original article and explanation.
Above schematic artwork provide by Tom Kanode K4HFP. This has been redrawn from the original CQ article. Thanks Tom for the original Visio Files.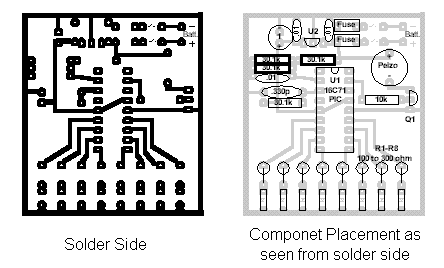 Above original PWB artwork for this project by WD4BIS.