The rig control part of the program controls basic functions of the radios and provides additional operating "toys." It has an internal logging program, access to online DXClusters (DXWeb), Audio Keyer/Recorder, internal frequency memory controls, auto-logfill from an Internet U. S. callsign database etc. More "toys" are in development.
ARCS III works in manual mode without automatic frequency control. It runs on Windows XP and higher on both 32 and 64-bit operating systems including Win 7/ Win 8. It uses the OmniRig rig server software (free) developed by Alex, VE3NEA to communicate with your radio.
Version 1.08 was released 10 September 2013. The software contains a new toy. MS Translate helps translate Amateur Radio technical talk and converstation. The tool is experimental and requires an Internet connection for some functions. Look in the Toolbar MENU Tools. The program doesn't perform miracles though it understands quite a few radio "technical" terms in several languages.

The software includes a Repeater Panel. The Simplex Panel is used primarily for storing simplex frequency information. The Repeater Panel imports and accepts TravelPlus *.tpe files and other CSV files containing repeater location/frequency information. Double-clicking on a record line in the spreadsheet should take your radio to the repeater frequency. There are limitations to this feature. Only standard repeater splits are permitted. Tone info is only used with Kenwood radios. Access tones must be set manually with other radios.

The ADIF import and export were improved; new features and some bug fixes. ARCS logbook files (*.cds) are now located in a special folder (/logbooks). Users of previous versions of ARCS III should manually move both any adif and cds files that may exist in the main ARCS folder to the /logbooks for best results.

A cw keyer for Kenwood transceivers is part of the software. A keyer for radios other than Kenwood is available (The CW keyer is a separate download; the keyer is controllable from the main software screens). The 'Sliderule' CAT dial is still experimental. Various other small bug fixes and tweaks. Added separate links to the MENU to import/export ADIF. Improvements made in the Help file.
.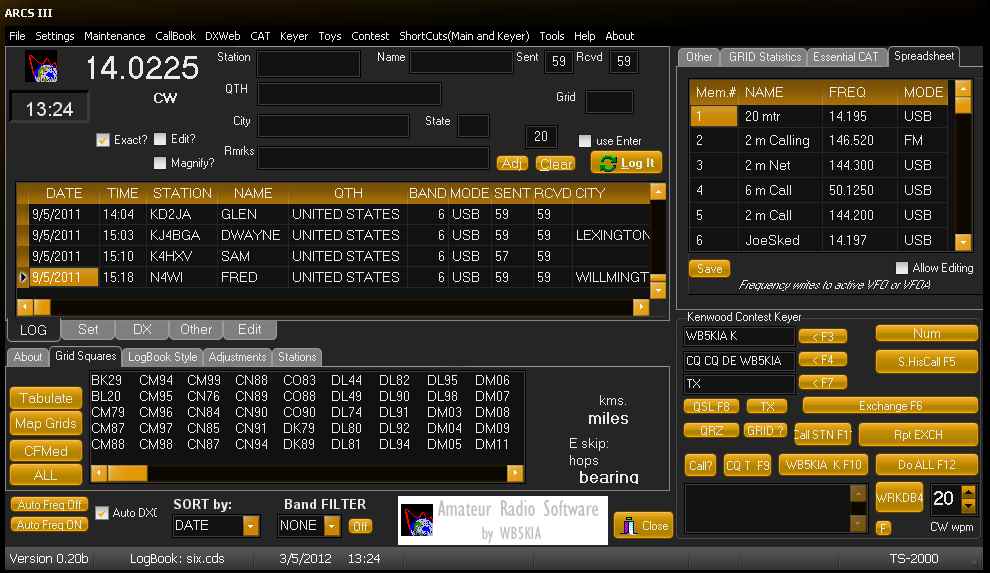 ARCS III Main Screen
Users: If you encounter difficulties, I would appreciate some input, favorable or unfavorable. I do entertain suggestions for software improvement. See ISSUES below. I do the programming for recreation, this is not my job.

Software License: Please read the license before you start playing: from the ARCS main toolbar, About>License . Thank you.
You may wish to visit the ARCS III blog: arcsii.wordpress.com to find out more.


USABLE RADIOS
ARCS III was tested with a Kenwood TS-2000x, an ICOM IC-706MKIIG and a Yaesu FT-817. Basic CAT functions work with those specific radios in my shack. The basics should work with any Kenwood, ICOM or Yaesu CAT controllable radio. Additional CAT functions are provided that might work on some other radios of those manufacturers. Other brands..i.e. Elecraft etc. may work...I have none of these other radios to test with, however, the basic functions might work with them now. I do not know.

MANUAL MODE
ARCS works in manual mode without any specific radio requirements. "Go to this frequency" type features of the software do not work in manual mode. Most other features will perform with almost full functionality. Manual mode allows using/testing ARCS features without a CAT radio connected or for use by stations that do not have a CAT controllable transceiver.

WHAT YOU NEED
You may need an interface to connect to your radio unless the radio has the interface already built-in (like a TS-2000). You must set the baud on your radio and on the software to identical values. You need a RS-232 cable (serial cable) to connect from your PC to your rig or rig interface. The Help files explain how to configure OmniRig for your particular transceiver but only in a general way. Refer to your radio's manual for some specific CAT settings and how to configure the baud rate etc. There are several tools that make use of the Internet. Your PC needs to be connected to the Internet to use the online U.S.Callbook, DXWeb and some mapping features of the software.

INSTALLATION
Run the arcs3setup.exe to install. The arcsiii folder cannot be placed in the Program Folder on Vista, Win7 and Win8 due to the enhanced file security features of these operating systems. If you do not have OmniRig already installed, the ARCS installer will prompt you to install it; if you already have OmniRig on your PC, ARCS will recognize it. After installing, run the ARCSIII.exe file. In this version of ARCS, the Help files are incomplete and may be inaccurate in places. Most of the keyboard shortcuts refered to do not exist in the software yet.
If using Vista/Win7/Win8, you must run the software as "Administrator," described somewhere for your version of Windows in your Windows documentation. Running as "Administrator" allows the software to save settings and the log books on your PC.


CONFIGURATION
Users need to 1) configure OmniRig..the software that allows the PC serial ports to communicate with ARCS (read the Help accessed from the main ARCS Toolbar, that is About>Help) and 2) Configure ARCS III..Settings>Configure, then press the Reconfigure button and change: YOURCALL to your callsign, the latitude and longitude to your information, your UTC offset (may not work yet...and u may have to set ur PC clock to UTC time???), your tenten # if you have one (not needed, just leave this as it is), MyState...change to where u are if in US... used for contests. Using this tool, you can also change the default logbook, currently set to six.cds. The six.cds logbook is provided to test the capabilities of the software with out populating a test logbook or a dummy logbook. A new log book is created from File>NEW General Purpose Log. The Configure screen is also where you register the software. Users need to "Register" to "unlock" some of the application's features.

THE LOGGING SOFTWARE PART
There are two logging programs in ARCS; the General Activities Logbook (that is the standard, default) and a CONTEST logger. The Contest logger is simple, not intended for hard-core contesters and, for some contests, is buggy. To say it a different way, depending on the contest selected, this part of the software may work properly or it may not, depending on the contest. Test the module you might need before attempting to use it in a contest please. If something is broke, send me an email or visit arcsii.wordpress.com (ARCS II and ARCS III share the same blog info site). ARCS III does NOT compile contest scores or statistics. Do not expect a lot of the contest tool but be aware some of the contest tools work nicely too, depending on the contest. The general logger works well.


ISSUES
Please report issues to WB5KIA. [email protected] (without space bars (_) between the letters and numbers). Please include the words "ARCS III Testing" in the message topic and mention the radio you are using. It is helpful for me to know the radio you are using, your Windows operating system etc. in an initial evaluation report. Captured screen images are extremely useful if the issue is related to displays.

I am aware of issues in the styles which are not present if the Classic Windows Style is used... Version 1.07 still has a few minor graphics issues. Some issues you will discover regarding graphics are compiler problems. I am sure there are bugs that I introduce. If something is not working right or could work better, please drop me an email. TNX


REGISTRATION
You need to register to get access to all software features. To register, follow the instructions Help>Registration. Registration is free. Registered users have a free license to use the software Why registration?..I want to know how many individuals feel the software is worthwhile. I do not share information with anyone.
DOWNLOAD ARCS III
You download the ARCS III software using the Download link at the top of this page or here .. Download ARCS III version 1.08.
DOWNLOAD the Keyer module for non-Kenwood radios (Not needed if you have a Kenwood).
The cw Keyer for non-Kenwood radios requires a separate COM port other than the one you use to control your transceiver. Download kiaKeyer version 1.00. The keyer comes in a zip file named cw.zip. Replace the folder in your ARCS III folder with the folder in the zip file to install. The keyer is experimental at the moment. It works with my PC, if it does not work correctly, please let me know.

73,
Steve, WB5KIA