I'm sure I wasn't the only teenager who lay awake on Sunday nights in the 1970's desperately searching the Boston radio dial for something to listen to. AM powerhouse WRKO's "Drug Hotline" was an amusing diversion, especially after it became a beloved target for prank callers:
HOST: This is Drug Hotline, you're on the air.
TEEN CALLER: Yeah, I (giggle) just smoked some (giggle) marijuana and I think I'm (giggle) addicted (giggle) (dial tone).
But mostly the AM dial was barren, a wasteland of dull-as-paint-drying religious and community affairs shows. Yet if you searched hard enough, down at the lower end of the FM dial, you'd discover a guy playing comedy records.
His name was Kenny Mayer.
Mayer was a living anachronism lurking quietly on the fringes of Boston radio. He did a brief stint at WBZ (AM) sometime in the early 1950's, and later hosted a quirky Sunday night program aired on WBOS and WUNR (AM/FM) radio, lasting well into the 70's. It was billed as a comedy show, and the LP selections Mayer played were hardly cutting edge, mostly tired Borscht Belt stuff, but I got hooked because it was something different on a Sunday night. No fancy jingles, slick station ID's or scripted DJ patter. Just Kenny and his comedy records. His on-air personality was absolutely one of a kind, more like someone's grouchy, irritable uncle than a radio host:
KENNY: "This is not a request show, so please don't call in with requests and then get upset if I don't play 'em. I can't fill your requests, especially if I don't happen to have that record. Look, if I have it or can get a copy of it, I'll play it. If I can't, you won't hear it. Now a lot of you have asked for more Bill Dana. We just did a show playing nothing but Bill Dana, and if you missed it, I'm sorry, you'll just have to wait till we get around to it again. So please don't call me asking for Bill Dana. That said, if there's something you'd like to hear, give me a jingle at WO9-89-89...."
And his famous "one-way" phone calls. When Kenny took calls on the air, he simply picked up his phone and barked "Hello". The radio audience was limited to hearing only Kenny's side of the conversation. The technology certainly existed for both sides to be heard, but for some reason, he didn't use it. The effect was extremely unusual and vaguely unsettling.
KENNY: "Yes Ma'am. (pause) Uh-huh. (pause) Uh-HUH. (long pause) Well we just played that last week. (pause) Yes. (pause) No. (pause) Maybe next month we'll be playing that album. (long pause) You're welcome. (pause) Goodbye."
And the commercials. Lots of 'em. Mostly restaurant pitches which Mayer did all by himself. Rambling monologues delivered in clipped tones, like Walter Winchell on Percodan.
To an impressionable teenager like me living on the New Hampshire border, Mayer was mysterious and worldly, and the Boston hotspots he promoted like "Ken's In The Heart Of Copley (Square)", "Paul's Mall", "Lennie's on the Turnpike", and "Aku-Aku" were thrilling, exotic and foreign.
But there was so much more to him. Kenny held a full-time job issuing press credentials for the Boston Police, and acted as a press spokesman for the Boston Police Commissioners Office. He also pounded out entertainment columns ("Night Mayer") for the Boston Herald-Traveler and later the Herald, and was one of the few Herald staffers that stuck when the Boston Record-American took over.
Mayer was an old-school journalist. The kind that smoked Lucky's and drank martinis, wore a fedora and trenchcoat in public and uttered profanities in private. He referred to the world of shady Boston nightclubs, lounge acts, theatres and restaurants as his "beat". He was the ultimate "night owl", glued to his typewriter and telephone through the wee hours of the morning. People who knew Kenny say they're not sure if the man ever slept. You could call him at all hours at his telephone number ("W0-98989") and more often than not, he would answer. He actually did his radio shows from the basement of his Newton, MA home using an expensive (at the time) telco line hookup to the studio.
<![if !vml]>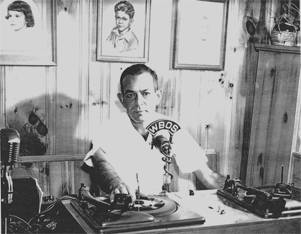 <![endif]>
Because of similarities in name, Boston-area residents and even some media historians confuse Kenny Mayer with Ken Meyer, producer of evening talkmaster Larry Glick's radio show on WBZ in the 1970's. But there is no comparison. Kenny Mayer was a true original.
Perhaps because it's been more than thirty years since Mr. Mayer's gruff, clipped cadences pierced the inky night, I searched for an artifact, a shred of proof, some scrap of evidence that the man even existed at all. But in all my Googling of the world wide web I have yet to find even one page - never mind an aircheck - for this incredibly rare gem of the Boston radio scene. So here it is, both a web page and a brief aircheck of Kenny I was fortunate enough to obtain -- and you can now enjoy.
Kenny Mayer on WBOS, 1960s

<![if !supportEmptyParas]> <![endif]>
EPILOGUE
As usual, the moment I put a page up, the world rushes to correct me. Here is an additional source of Kenny Mayer airchecks on the web that have recently been brought to my attention: