Welcome to the Home Page of
My QSL card shows the U.S.S. Constellation CV-64 heading out to sea from her home
port at Naval Air Station, North Island (Coronado, CA). As a young man I had the
privilege of being a Radioman 2nd Class aboard the "Connie" as she was affectionately
known. The ultimate thrill of any young ham is to be turned loose in biggest mobile
radio communications center known to mankind. During my time aboard the Connie
we communicated almost exclusively by HF RTTY.
(Fleet broadcast was 16 channels at only 75 BAUD!)
Amateur Radio Communications at it's Finest!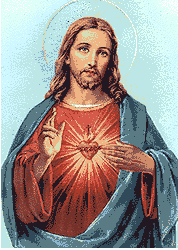 PICK JESUS' SACRED HEART
"Thus it is written that the Christ would suffer and rise from the dead on the third day
and that repentance, for the forgiveness of sins, would be preached in his name
to all the nations, beginning from Jerusalem. You are witnesses of these things."


You are visitor number
since 03/22/99