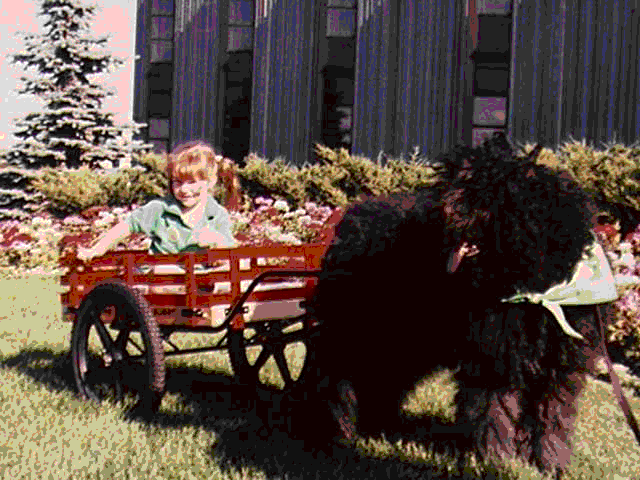 Hi, my name is L'Essar. I am a Bouvier de Flanders. I am oversized, about 125 pounds, and stand about 30 inches high at the shoulder. In a few minutes I will pull a cart as a member of the Animal Inn Drill team in a parade in Maple Grove, Minnesota. I have been pulling a cart with a "cart kid" for the last three summers for the Drill Team. I also do demos and other public functions. I have been known to pull my cart around our neighborhood to deliver pumpkins for the neighbors just before Halloween. On Halloween, our Drill Team does the Anoka Halloween Parade, where all the dogs are in costumes. This past Halloween, my little girl was Cinderella, my cart was turned into a pumpkin coach, and I was a "horse" with a long tail and a gold lame horse blanket.
I really enjoy being part of the Drill Team, as do my people. We generally all park our vehicles at the end of each parade route, load up into several vans, and head for the front of the parade. People have to been known to slam on their brakes in the middle of the street when we start unloading all kinds of dogs, people, kids, etc. I heard one guy say our "van stuffing" act was better than the parade! We sometimes have up to 15 dogs, about that number of people, and several kids, all in one vehicle. So of course we all have to get along well and be on our best behavior.
My Mom and Dad have had four Bouviers over twenty years. All of them, they claim, have had very different personalities, and quite different designs for living. They say the only things we have all had in common were furry coats and determination. Mom and Dad have taken all the various Bouv's all over the country, and usually stop traffic wherever we are. We have ridden in elevators in the mountains of Colorado, startling unprepared passengers, ridden in buses in various places in Minnesota, been on hay rides, and gone canoeing and camping along lakes and rivers. One of us has even gone for rides in a speed boat to supervise water skiers.