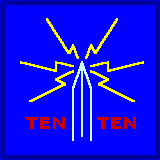 THIS PAGE IS RADIO-ACTIVE!
AMATEUR RADIO STATION
WBØCON

Welcome to the world of amateur radio (aka ham radio), which is not to be confused with CB (Citizen's Band) radio. Amateur radio has rules and a license issued by the Federal Communications Commission is required to operate an amateur radio station. Following links (just click on the icons) provide information about amateur radio, Quarter Century Wireless Association, Ten-Ten International Net, and the Colorado Frontier Gang Award.

Want to know more about amateur radio and how to get a license?
Had your ham radio license for twenty-five years or more?

Ten Meters is the amateur band that I like best. You can find a friendly group of people on 10 meters exchanging 10-10 numbers! Curious about 10-10 International?

Another activity that 10-10er's engage in is paper chasing (collecting certificates from various 10-10 chapters around the world). My name is Eva (WBØCON) and I am the certificate manager for the Colorado Frontier Gang award. Need more information about the Colorado Frontier Gang award ? Also by clicking on the Colorado state flag a link is provided for upgrading your Colorado Frontier Gang Award online!!!!!!!!!!!!!!!!!!!!!!!!!!!!!!!!!!!!!
.
Would you like some information about the Colorado Centennial Chapter?

Should you have any sugestions or comments send some e-mail.
This page was updated December 24, 2003