BEHIND THE SCENES
Allan Libby writes:
"I frequently felt I was the 14th crew member, though doubtless many would disagree. Charlie Morgan put it nicely. "We were all in this together. Some of us just got cold and wet."

The crew did the heavy lifting but the support staff, and there were more than a few, greased the sails. I was involved with the Godspeed from the keel laying in May 1982 through to the welcome home ceremony in December 1985. As we approach the 25th anniversary of this impressive achievement, here are a few observations, all of which are personal, a few of which may have never seen the light of day.

May 1982. Virginia First Lady Lynda Robb laid the keel, driving a drift pin with a wooden mallet. She wore red. Very red. LBJ's daughter knew well how to play to a camera. "God bless the Godspeed. God save the Commonwealth."

The keel lay there for weeks, boat builder Carl Pedersen sitting around waiting for something to do. Superintendent Les Sweeney couldn't get materials delivered. Off to a slow start. As construction began, and then continued, Sweeney and I began to discuss the idea of an overseas voyage. Presumably, others did likewise.

Sometime, probably mid 1983, I was asked to assemble a proposal for a voyage. Proposal was about 30 pages. In the end I was off the mark as much as on. East Anglia had not yet entered the picture, but I did suggest St. Katherine's as a place to moor in London, so was correct on that score, along with a few others.

"This is Black Angus Radio calling."
I was well outside the politics, but remember the day as it were yesterday. Ross Weeks was over at Yorktown for a meeting. Before the meeting, he stopped by to tell me the voyage was simply not doable, for a number of reasons. Let it go. It's dead. Period.

Weeks went into his meeting and was interrupted by a phone call from the UK. This is all a SWAG, since I was on the outside, but phone call was from John Mosesson, owner of the ancestral home of Bartholomew Gosnold, captain of the 1607 Godspeed. Call lasted perhaps 90 minutes. John was the first to offer support and assistance from the UK. Deal wasn't back on, but neither was it dead in the water anymore.

I continued on the outside, mainly PR'ing construction of Discovery and Godspeed. The voyage began to gain some traction, support meetings were held with the Coast Guard, Virginia Pilots, state officials and a number of others.

No idea if or when there was ever an official announcement, but a decision was made to move forward. Debbie Sowers was taken on as Voyage Coordinator and later, Joan Betzner was named to handle the media. Ross and Joan went to the UK to scope and meet with UK officials. Support grew quickly, and fundraising began. Discussion of how to hire a crew also began.

Christening took place in 1984. Lucinda Robb, Governor Chuck Robb's oldest daughter christened Godspeed with a mixture of Virginia wine and what Mosesson's wife referred to as 'shitty Orwell water.' I was on the platform, albeit incognito in costume. Foundation wanted somebody on the platform that knew the program.

Following christening, the ship eventually went to NNSDC for outfitting. Boat was out of our hands and we were at the shipyard's mercy. Regrettably, it took longer than we'd hoped to get her back. We lost months and thus, no sea trials that summer. Crew had been selected, committee selected George Salley as captain and George selected crew. First visit by Howard Hull, UK Coordinator, and Chris Swann, North Sea diver. I suggested to Howard that we consider sea trials in the North Sea, following arrival in the U.K. Howard strongly cautioned, "The North Sea in winter is not where you want to do trials with an untested boat and crew."

Outfitting was finally complete and first time under sail was under shipyard's direction. Lou Lazo was in charge. Cloudy, gray day. Godspeed was towed through Hampton Roads, then into the lower Chesapeake Bay, west of the Bridge-Tunnel, where she sailed through the day.

Godspeed then moved to Yorktown for commissioning and thence to Gloucester Point for final outfitting. Randall Bevan, Recreation and Amenities Director for Ipswich was the British rep on hand for commissioning. Trials took place in the lower York River in early November, where I lucked into one of the definitive Godspeed photos. Later trials took place in the lower bay. Thence to Norfolk International Terminal for dispatch to UK.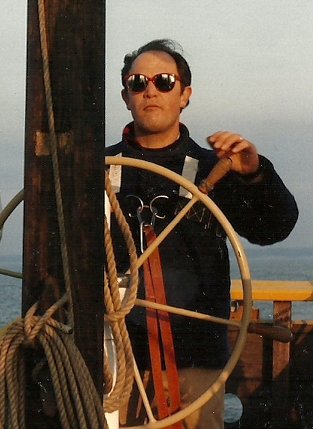 Allan Libby, aka
Black Angus
Early March 1985, having been disassembled (Norm Cubberly left a note, "Comes with easy-to-follow instructions," and a note from crew, "Be Gentle, Love Godspeed") Godspeed was loaded onto the Stuttgart Express for the trip to Felixstowe. We mingled with the German crew in their lounge while waiting for the vessel to leave, and they departed Norfolk around 2 a.m.
A week later crewmen Jack Greer, Neil Tanner, JYF staff Jim Harward and I left BWI for the UK.
Neil in his pea coat, guitar, canvas duffle, and no return ticket was given a bit of a hassle by immigration at Heathrow. Jack suggested, "Let's make him sweat a bit." We got to Liverpool St. Station early afternoon and were hungry. I rang up Ipswich Coordinator Mike Lloyd and told him what train we'd be on, and could he please arrange to have something for us to eat upon arrival. While I was on the phone, Jack found a little French bakery and ordered up some ham and cheese on croissants, so we stuffed ourselves all the way to Ipswich. Upon arrival at Ipswich, Mike delivered us to Willis Faber's client house at 63 Meadowvale Close, and dropped off some sandwiches which his wife, Liz, had been feverishly putting together since my earlier phone call. Not wishing to offend, we ate again.
Stuttgart Express was delayed a day from France owing to rough Channel weather (a harbinger of things to come,) and arrived mid-afternoon. We were there to meet her, as was Anglia TV, which had filmed in Virginia earlier that winter, and a gathering of British press and TV. Harward had a can of paint, to do some touch up on the hull before she was put in the water. Upon brief inspection, he discovered the locks to the cabin doors had been broken and the ship's cabins rifled through by somebody, somewhere in route – presumably France. Everything was askew, we were never able to determine precisely what was missing and it remained askew until departure.
Jack Greer (L) and Allan Libby (BA)
Felixstowe Dock & Railway Co. Best part of my 'Godspeed year.' The dock fellows were great, breakfast at the Dock Basin Canteen was 35p, dinner for 95p. Sitting in a dockside pub one evening, Jack was slipped a note one evening by a would be terrorist, and we reported it to the port constable the following morning. About a week after arrival I had night watch, and was a bit apprehensive, but Howard suggested I'd score points with rigger Nick Corke, Jack, Neil and Pete Meekins, who had since arrived, if I pulled my shifts. Great night. First officer of one of the Townsend Thoreson ro-ro's invited me up for a tour and dinner, then actually invited me to sail with them to Rotterdam that evening, returning the following evening. Toughest decision of the year – do I go to Holland with the officers. Figured I'd best stay 'at home.' The chaplain tended bar, offering generous portions of Irish whiskey, ship's crew served up roast beef with Yorkshire pud, garden peas and sent me on me way. I fired up the paraffin burner, climbed into Jack's bunk and slept until Jack, Neil, Pete and Mike came to wake me at 9:30 the next morning. Best night's sleep since I left Virginia.
Work began and continued at Felixstowe in re-assembling the ship. Ship was re-fitted, and two sets of trials followed in the Orwell. Getting onboard was the hottest ticket in East Anglia, with scores wishing to sail. We got to repay some valuable favors.
Ernest Skinner, representing the Virginia Dept. of Education, was documenting the voyage on film, and was on hand for the first trial. Ed, his still photographer and audio man was with him. They returned stateside the following day and put Ed's photos out on the wire. The Daily Press ran it as a section front, above the fold. Crisis. We'd not yet been able to find the U.S., Virginia and Foundation flags, and I got a blistering phone call from the states, where
were the flags and why weren't they flown. "Well, actually, they are still missing." Replacement flags were shipped to us in short order.
TO BE CONTINUED

This site is still on the ways. If you were part of the crew, email to: wa4chq(at)netscape.net