ENGLAND
My brother Tony, had a going away party for me the night before my flight.
He had invited a lot of our friends over and it was good to see everyone....I didn't know when I'd be back. The next day, March 9 I left Virginia Beach. It was a little difficult saying good-bye. I drove to my parents, Jean and Bob on Gwynns Island. They let me store my car at their house while I was away. (Lucky them...it was a Plymouth Valiant) Then they drove me to the Yorktown Victory Center, where I joined Jack Greer, who with two employees from Jamestown Festival Park, would accompany us to England. The rest of the crew members were there at Yorktown for some last minute crew meetings we'd been having for the past year. They would be joining us in England at various times in the next few months. Out in the parking lot, we bade our good byes and best of lucks. I gave my folks a hug and said I'd be seeing them in England. They would be there for the send off. We left YVC at 3pm and arrived at BWI around 6:30.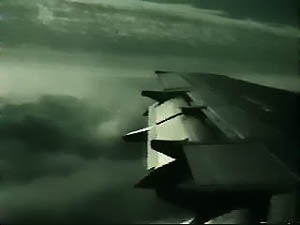 This would be my first flight and looking back, it was kind of ironic that I'd be crossing the Atlantic twice that year, in two completely different forms of transportation- one that would only take 8 hours and the other which would take almost three months! We arrived in London around 9:30am on the 10th of March. It was my brother, Tony's birthday. In the states, he was home still asleep while I was having a time explaining to immigration why I didn't have a return ticket. I no doubt looked suspicious, and I am sure the fellow was having a bit of fun, but how could I explain what we were about to do on GODSPEED? Here is this American, with a bearded face and some-what long hair, dressed in a pea coat and jeans, carrying a duffle bag, backpack and guitar case,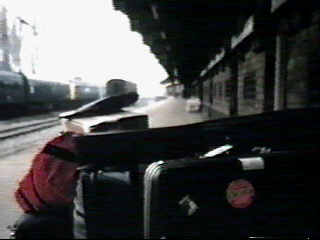 with no return ticket, trying to enter England. All I could remember was the movie "Midnight Express"....Fortunately, Jack came over and asked what the problem was and he quickly put the problem to an end, telling the fellow that we were guests of Prince Philip and the Royal Family. He said a few more things that I forgot, but the guy stamped my passport and let me through. I don't know if it was the mention of the Royal Family, or because Jack was an imposing figure, but what ever it was, it worked.
Our destination was
Ipswich
, in the county on Suffolk, located just north of the Thames estuary. After leaving Heathrow, we took the train to Ipswich, where we were met by Mike Lloyd.
He drove us to a house provided by the Willis Faber Insurers which would be our home for the first month. Nearby, was the port of
Felixstowe
. This was where Godspeed would tie up while we re-rigged her and made her ready for sea. Two days later, Stuttgart Express arrived and Godspeed was off-loaded. We learned that somewhere between departure from Virginia and arrival to the U.K., someone had broke the locks off and completely trashed the inside. It wasn't apparent at the time what had been stolen, but it was a shock to see the mess. Pete Meekins flew in next and we finally began our work. In the following weeks, with the assistance of some local riggers,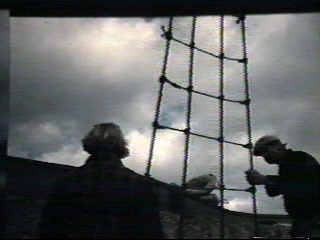 we stepped the masts and set up the rigging. Sails were bent to the yards and they were hauled into place. Next to Godspeed, on the quay side, the container had been off-loaded. Jack and I spent a few days coating the the cardboard boxes of food with varnish. This would help keep the cardboard dry. Slowly, things began to take shape.
We began loading some of the gear onboard. Charts and radio permits had to be obtained. The folks that worked at Felixstowe were great. Anything thing we needed, they found it for us. If we needed the crane to lift something, it was there. We made many new friends and we tried to do our best to show our appreciation by giving tours to the workers and their families. We took turns keeping watch on the boat each night. The guys helping us with the rigging and some of the dock workers joined in on this. It was a great time during the first month....On the 24th of March, we had our first sea trials.
We had about 14 people onboard. A tug took us out into the River Orwell, where we set the sails and really had a nice run. We had another sail on the 28th. This one had a few mishaps, like loosing a cleat on the bowsprit while getting towed and breaking a belaying pin, but it was still a great sail. We were to leave Felixstowe in a few days, so we had a party for all of the guys at the dock that gave us a hand. I know I don't have all of the names written down, but I will mention those that I did... Besides Nick Corke, Ray Topple and Andrew Clark (these fellows helped with the rigging) there was John Robinson, Les Topple, Steve and John Hillyard, Allan the Liverpudlian, Bernie, Martin, and Roger Bannister to name a few...

This site is still on the ways.
Don't forget to sign the Visitors Guestbook