Welcome to my AT New Hampshire Page!
Thanks for checking out my AT NH page. This page will contain lots of nice pics from my Mt. Washington trip of July 2001. My daughter, KA3WXY, and myself will hike to the summit of Mt. Washington and along the way we will give you a virtual hike up to the summit! Please stop back after our hike for a most unique hike to the summit of Mt. Washington. We will tell and show you what is needed in radio gear and hiking gear for a summit trip. We will also document the entire hike so you can also enjoy the trip! I planned this hike to spend some time with my youngest daughter and to have fun operating QRP while hiking in NH.
So stop back after the hike for some awesome pics of the White Mountains of NH and how a father/daughter climbed to the " top of the east coast - QRP Style ."

Well, we're back from New Hampshire and here are a few pics from the trip. After you look at the pictures, you might want to read about our NH AT Hike.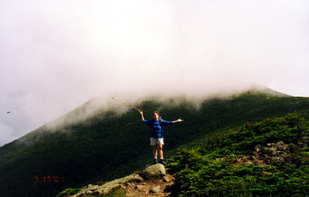 WA3WSJ on Summit of Mt. Pierce, NH Cyn with Mt. Eisenhower in Background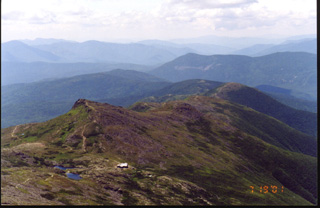 Pic taken from side of Mt. Washington. Lakes of the Tuckerman's Ravine
Clouds Hut at foot of Mt. Monroe, NH. We hiked this We hiked down this ravine for
entire ridge. I operated from this hut. five hours!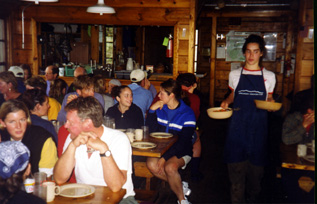 Lakes Hut sleeping Bunks Lakes dinner time- that's Cyn in middle of pic!
She's actually saying, " I don't know him."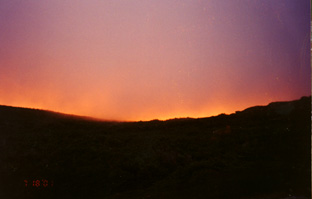 Fire on the mountain! No, this is actually a Lakes Lakes Hut power sources: two wind
sunset. A cloud hit the mountain below us and shot generators and solar panels.
vertically into the air. The "fire" you see is the sun
shinning through the bottom of the cloud as it rises
up the mountain!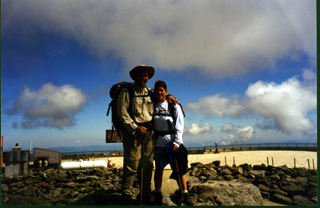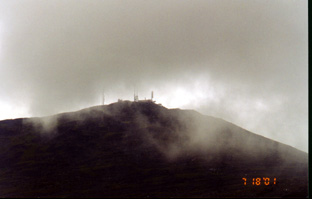 My daughter Cyn and WA3WSJ on summit Mt. Washington in the Clouds.
of Mt. Washington at 6,288 feet!
Life is good!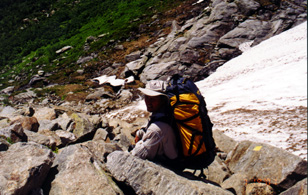 Chained Down Building Mt. Washington WA3WSJ going down Tuckerman's Ravine
That white is snow! We saw snow 8' deep.

Back to WA3WSJ's Main Page