Cape Cod Mini-DXpedition - Orleans, MA, USA - 9 NOV 2016
Mark Connelly, WA1ION - rev. 20170212
Nauset Beach - Orleans, Cape Cod, MA, USA
GC= 41.7857 N / 69.9365 W (= 41° 47.14' N / 69° 56.19' W) (grid FN51as)
Times = UTC on 9 NOV 2016
Logs are arranged by frequency within each area group. Some have hyperlinks to audio clips.

Receiver: Microtelecom Perseus

Antenna: 2m x 2m Micro-SuperLoop installed on car roof
Most logs were with the cardioid null at approximately 250° to null NYC stations.
Some were with the null placed about 340° to reduce Boston and Portland stations.
Several other DXpeditions were in progress during this effort.
Click here for links to Other DXpeditions of NOV 2016.

DXpedition Site Maps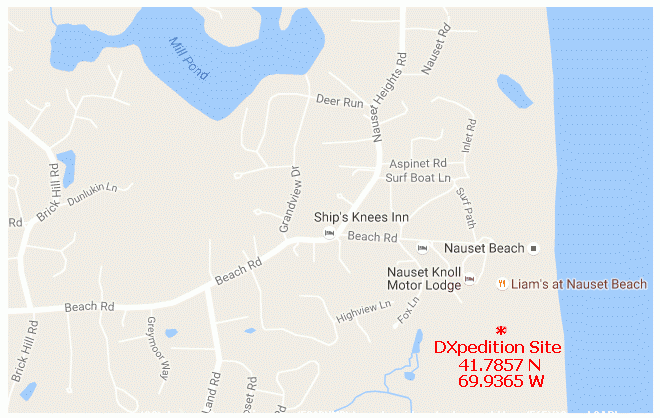 Europe, Africa, Middle East
549 | ALGERIA | Jil FM, Les Trembles, NOV 9 2202 - Pop Arabic music; over noise.
______________________________
576 | CANARY ISLANDS // SPAIN | RNE synchros, Las Palmas // Barcelona, NOV 9 2200 - 5+1 pips, fanfare, ID, news // 657; poor.
______________________________
585 | SPAIN | RNE R.1, Madrid, NOV 9 2045 - Talk, teletalk // 855; to fair peak through WEZE slop.
+ NOV 9 2145 - man in Spanish; in WEZE slop.
______________________________
603 | SPAIN | RNE R.5 synchros, NOV 9 2045 - Man in Spanish // 855; poor.
+ NOV 9 2200 - Talk // 738; poor.
______________________________
612 | MOROCCO | SNRT Al-Idaa al-Watania, Sebaa-Aioun, NOV 9 2045 - Arabic vocal, talk by woman and man; poor.
______________________________
621 | CANARY ISLANDS // SPAIN | RNE R.1 synchros, NOV 9 2045 - Man in Spanish; through WZON/CKCM slop.
+ NOV 9 2145 - Talk // 585.
______________________________
639 | CZECH REPUBLIC | Cesky rozhlas, Liblice, NOV 9 2145 - Programming sounds like Slavic male folk vocal, not // RNE.
______________________________
657 | SPAIN | RNE R.5, Madrid, NOV 9 2200 - Talk // 738; fair.
______________________________
684 | SPAIN | RNE R.1, Sevilla, NOV 9 2045 - Spanish talk, teletalk; fair in WRKO slop.
______________________________
693 | UNITED KINGDOM | BBC R. 5, Droitwich et al., NOV 9 2231 - Talk about Trump; good.
+
NOV 9 2100 - Five Live net ID, talk // 909. (uk-693_20161109_2100z.mp3)
+
NOV 9 2200 - Mention of US election, "This is BBC Five Live"; good. (uk-693_20161109_2200z.mp3)
______________________________
738 | SPAIN | RNE R.1, Barcelona, NOV 9 2200 - Radio Nacional de Espana ID; through CHCM slop.
______________________________
756 | ROMANIA | Romania Actualitati, Lugoj-Boldur, NOV 9 2145 - Slow talking man then a fast talker (sports?) // stronger 1152.
______________________________
774 | EGYPT | ERTU, Abbis, NOV 9 2158 - Arabic flute and string music; over Spain.
______________________________
783 | MAURITANIA | R. Mauritanie, Nouakchott, NOV 9 2200 - Music, Arabic talk with Mauritania mention, news mentioning Trump. (mauritania-783_20161109_2200z.mp3)
+
NOV 9 2301 - Arabic talk, music snippet. (mauritania-783_20161109_2301z.mp3)
______________________________
810 | UNITED KINGDOM (SCOTLAND) | BBC Radio Scotland synchros, NOV 9 2130 - Talk by woman. Station under with pips on half hour believed to be SER Spain. (scotland-810_20161109_2130z.mp3)
______________________________
819 | EGYPT | ERTU, Santah, NOV 9 2200 - Group Arabic vocal; to fair peak.
______________________________
837 | CANARY ISLANDS // SPAIN | COPE synchros, NOV 9 2159 - Fast Spanish talk by man, mention of Estados Unidos; slight echo.
______________________________
855 | SPAIN | RNE R.1 synchros, NOV 9 2200 - Fanfare music, Radio Nacional de Espana ID, news; over WEEI slop.
______________________________
864 | EGYPT | ERTU, Santah, NOV 9 2030 - Koran; fair.
+
NOV 9 2129 - Koranic chanting man; good. (egypt-864_20161109_2129z.mp3)
______________________________
882 | UNITED KINGDOM | BBC R.Wales, Washford, NOV 9 2230 - Cliff Richard "Lucky Lips" (1963), male DJ; good peak.
+
NOV 9 2131 - Talk, BBC Radio Wales ID. (uk-882_20161109_2131z.mp3)
+
NOV 9 2200 - Talk "... and on your mobile, this is BBC Radio Wales", news about Trump; fair through WCBS splash. (uk-882_20161109_2200z.mp3)
______________________________
909 | UNITED KINGDOM | BBC R. 5 synchros, NOV 9 2100 - Five Live net ID, talk // 693. (uk-909_20161109_2100z.mp3)
______________________________
918 | SLOVENIA | Radio Slovenija 1, Ljubljana-Domzale, NOV 9 2130 - Music with a sort of whistling or flute, three "cuckoo" sound effects, Radio Slovenia ID by man, some English talk followed (possibly an excerpt from a political speech); poor with 917 Nigeria het.
______________________________
945 | UNITED KINGDOM | Smooth Radio, Bexhill, NOV 9 2130 - Presumed this with UK-accented talk by man; poor.
______________________________
954 | SPAIN | Onda Cero, Madrid, NOV 9 2131 - Man in Spanish; poor.
______________________________
981 | ALGERIA | RTVA Chaine 2, Algiers, NOV 9 2030 - Man in Arabic; fair.
+ NOV 9 2130 - Arabic male vocal with strings, percussion; good.
______________________________
999 | SAUDI ARABIA | BSKSA R.Quran, Tabuk, NOV 9 2129 - Arabic vocal; over jumble.
______________________________
999 | MOLDOVA | Maiac, Grigoriopol, NOV 9 2030 - Soft music, TransWorld Radio musical box interval signal. (moldova-999_20161109_2030z.mp3)
______________________________
1008 | CANARY ISLANDS | EsRadio, Las Palmas, NOV 9 2200 - Two "EsRadio" ID's. (canaries-1008_20161109_2200z.mp3)
______________________________
1044 | SPAIN | SER synchros, NOV 9 2229 - Echoey fast Spanish talk, into man on telco-grade audio hook-up (interview?), then talk by woman; to fair peak.
______________________________
1053 | UNITED KINGDOM | TalkSport synchros, NOV 9 2100 - Adverts, TalkSport mention. (uk-1053_20161109_2100z.mp3)
______________________________
1062 | ITALY | RAI Radiouno synchros, NOV 9 2200 - Pips, news by woman in Italian; poor.
______________________________
1089 | UNITED KINGDOM | TalkSport synchros, NOV 9 2130 - Adverts; local-like signal. (uk-1089_20161109_2130z.mp3)
+
+ NOV 9 2300 - Adverts. (uk-1089_20161109_2300z.mp3)
______________________________
1098 | SPAIN | RNE R.5 synchros, NOV 9 2030 - Man in Spanish // 1107; to fair peak.
______________________________
1107 | SPAIN | RNE R.5 synchros, NOV 9 2030 - Talk // 1098; fair, echoey.
______________________________
1116 | SPAIN | SER synchros, NOV 9 2045 - Spanish woman & man talking, laughing; fair.
+ NOV 9 2145 - Spanish talk // 1584; poor.
______________________________
1125 | SPAIN | RNE R.5 synchros, NOV 9 2045 - Teletalk / interview; to fair peak, somewhat echoey.
______________________________
1134 | SPAIN | COPE synchros, NOV 9 2045 - Spanish chatter; over Middle East sounding music (Kuwait?)
______________________________
1152 | SPAIN | RNE R.5 synchros, NOV 9 2300 - Pips, Radio Nacional de Espana ID; over presumed Romania.
______________________________
1152 | ROMANIA | R. Romania Actualitati, Cluj, NOV 9 2100 - "Radio Romania Actualitati" and "hora exacta" in talk before time pips; way over others. Adjacent 1150 WWDJ Boston no problem. (romania-1152_20161109_2100z.mp3)
+
NOV 9 2146 - Animated talk by two men, // 756, 1179; to good peak. (romania-1152_20161109_2146z.mp3)
______________________________
1179 | ROMANIA | R. Romania Actualitati, Galbeni-Bacau et al., NOV 9 2145 - // 756, 1152 with two men with Romanian talk (that sounds a bit like a blend of Portuguese, Italian, and Greek).
+
NOV 9 2200 - ID "Aici Bucuresti, Radio Romania Actualitati, hora exacta", pips, news mentioning Trump. (romania-1179_20161109_2200z.mp3)
______________________________
1197 | UNITED KINGDOM | Absolute R. synchros, NOV 9 2130 - Vocal seemed // 1215; poor over possible Mideast station.
______________________________
1215 | UNITED KINGDOM | Absolute R. synchros, NOV 9 2258 - ID, adverts; loud. (uk-1215_20161109_2258z.mp3)
______________________________
1224 | SPAIN | COPE synchros, NOV 9 2130 - Man in Spanish over 1224.06 growl, second audio.
______________________________
1224.06 | unID | ?, NOV 9 2100 - Growl against 1224.
______________________________
1296 | UNITED KINGDOM | Radio XL, Langley Mill, NOV 9 2129 - Man in English, Indian music; to fair peak.
+ NOV 9 2230 - Indian pop music, talk by man & woman, XL mention, a short musical interlude, woman mentioned a phone number; poor.
______________________________
1296 | unID | ?, NOV 9 2045 - Talk then Mideast sounding music. Possibly Sudan. (1296_20161109_2045z.mp3)
______________________________
1296.068 | unID | ?, NOV 9 2300 - Growl against Radio XL.
______________________________
1305 | SPAIN | RNE R.5 synchros, NOV 9 2030 - Two men in Spanish // 1107; to fair peak.
+ NOV 9 2045 - talk; fair.
______________________________
1314 | SPAIN | RNE R.5 synchros, NOV 9 2030 - // 1305 with man in Spanish; poor.
______________________________
1332 | ROMANIA | Romania Actualitati, Galati, NOV 9 2130 - Fast talk. ID'ed as this per Jari Savolainen and Romanian DXer Cristian Mocanu who listened to the file and said "This is the slot for their vintage theatre shows, and I could hear the voices of two famous 1970s actors." (1332_20161109_2130z.mp3)
______________________________
1341 | NORTHERN IRELAND | BBC Radio Ulster, Lisnagarvey, NOV 9 2032 - Folk vocal; to good peak.
+
NOV 9 2100 - BBC Radio Ulster ID. (n_ireland-1341_20161109_2100z.mp3)
+
NOV 9 2300 - Man "and 1341 medium wave, BBC Radio Ulster"; fair. (n_ireland-1341_20161109_2300z.mp3)
______________________________
1368 | UNITED KINGDOM (ISLE OF MAN) (t) | Manx Radio, Foxdale-Douglas, NOV 9 2259 - Creedence Clearwater Revival "Proud Mary", male British-accented DJ; in tough WDEA slop.
______________________________
1394.91 | ALBANIA | TWR, Fllake, NOV 9 2045 - TransWorld Radio musical box interval signal, talk and music; loud! (albania-1394.91_20161109_2045z.mp3)
______________________________
1413 | SPAIN | RNE R.5 synchros, NOV 9 2030 - // 1305 with man in Spanish; poor.
______________________________
1413 | MOLDOVA | Vesti FM, Grigoriopol, NOV 9 2201 - Man in Russian; over RNE Spain. (moldova-1413_20161109_2201z.mp3)
______________________________
1422 | ALGERIA | R.Algerienne, Algiers, NOV 9 2029 - Man in Arabic; fair.
+ NOV 9 2130 - Slow male Arabic vocal with strings, drums; fair.
+ NOV 9 2215 - French talk; fair.
+ NOV 9 2300 - Pips with last one higher pitch, news by man in Arabic; to fair peak.
______________________________
1431 | UNITED KINGDOM (t) | ?, NOV 9 2200 - Perhaps Smooth Radio, Southend (as logged in PEI), pop music sounded like "What I Am" by Edie Brickell, running across hourtop.
______________________________
1440 | SAUDI ARABIA | BSKSA, Damman, NOV 9 2229 - Arabic vocal; under WRED and WVEI.
______________________________
1458 | UNITED KINGDOM | Lyca Radio, London, NOV 9 2230 - Indian-accented talk then advert for Lyca Mobile; to fair peak.
+ NOV 9 2245 - Indian music.
+
NOV 9 2300 - Lyca Radio ID. (lyca_uk-1458_20161109_2300z.mp3)
______________________________
1458 | UNITED KINGDOM | Gold, Ashton Moss, NOV 9 2045 - Talk about 7 seconds into the audio clip, then the song "Working My Way Back to You" (newer version than 4 Seasons). Per John Faulkner (UK) on RealDX "Man at 5 seconds of audio clip 'Playing the greatest hits of all time.', woman at 8 seconds 'This is Gold. The Music Marathon.' So it's Gold, Ashton Moss (Manchester area)." (1458_20161109_2045z.mp3)
______________________________
1467 | FRANCE | TWR, Roumoules, NOV 9 2131 - Talk in Arabic or similar language. (france-1467_20161109_2131z.mp3)
______________________________
1467.372 | IRAN (t) | IRIB R. Qom, Qom, NOV 9 2300 - Presumed this with carrier on high side of channel, audio fragments in WLAM splash, stronger than whatever was on 1467.0.
______________________________
1485 | SPAIN | SER synchros, NOV 9 2230 - Man in Spanish, pips on half hour; to fair peak.
+ NOV 9 2258 - Fast Spanish talk by two men; fair.
______________________________
1503 | IRAN | IRIB 1, Bushehr, NOV 9 2030 - Mideast vocal, chimes, a few words by woman; poor.
+ NOV 9 2259 - Mideast vocal; Spain under.
______________________________
1504 | unID | ?, NOV 9 2030 - Really weak carrier on high side of 1503 Iran/Spain. Possibly a 1 kHz test tone from a 1503 station.
______________________________
1521 | SAUDI ARABIA | BSKSA, Duba, NOV 9 2130 - Arabic talk by two men; good.
+
NOV 9 2301 - Short news items by man in Arabic, 4-note "stingers" between the items. (saudi_arabia-1521_20161109_2301z.mp3)
______________________________
1530 | SAO TOME E PRINCIPE | VOA, Pinheira, NOV 9 2200 - End of R&B song, man "This is the Voice of America, Washington, DC, signing off."; to good peak. Had been noted before 2030 UTC with Afro-pop duking it with WVBF before that station powered down. (sao_tome_voa-1530_20161109_2200z.mp3)
______________________________
1539 | SPAIN | SER synchros, NOV 9 2300 - Spanish news; fair on LSB through WDCD slop. Second station (Arabic?) occasionally popped through.
______________________________
1550.035 | ALGERIA | RASD Clandestine, Rabouni, NOV 9 2130 - Arabic talk over the domestic 1550 jumble. Was slugging it out with WNTN an hour earlier. (algeria-1550p04_20161109_2130z.mp3)
______________________________
1566 | BENIN | Trans-World Radio, Parakou, NOV 9 2030 - African male vocal; noisy.
______________________________
1574.94 | IRAN | IRIB1, Abadan, NOV 9 2100 - Most likely this with a big growl against 1575.0.
______________________________
1575 | ITALY | RAI Radiouno synchros, NOV 9 2100 - Italian talk including "RAI" ID, news. (italy-1575_20161109_2100z.mp3)
______________________________
1575 | SPAIN | SER synchros, NOV 9 2300 - Spanish news // 1485; over growl from Iranian on about 1574.94.
______________________________
1584 | CEUTA (t) | RadiOle, Ceuta, NOV 9 2300 - Presumed this with Spanish vocal, pips, news not // SER; poor.
______________________________
1584 | SPAIN | SER synchros, NOV 9 2145 - Man in Spanish // 1116; to fair peak.
______________________________
1593 | ROMANIA | Romania Actualitati, Ion Korvinn, NOV 9 2259 - // (better) 1179 with Foreigner hit "I've Been Waiting for a Girl Like You"; poor to fair.
______________________________
1602 | SPAIN | R. Vitoria, Vitoria, NOV 9 2147 - Non-SER Spanish talk by woman; in WUNR slop.
______________________________

South America
670 | VENEZUELA | YVLL, R. Rumbos, Caracas, NOV 9 2302 - Radio Rumbos ID; atop Cuba. (yv-670_20161109_2302z.mp3)
______________________________
700 | COLOMBIA | HJCX, W Radio, Cali, NOV 9 2300 - "W" and "en Colombia" mentions; noisy.
______________________________
700 | BRAZIL | ZYK686, Nossa R., Sao Paulo, NOV 9 2132 - Music then talk by woman that sounded more like Portuguese than Spanish. Sao Paulo logged previously so the most likely here just after sunset. (700_20161109_2132z.mp3)
______________________________
720 | COLOMBIA | HJAN, Emisoras Unidas, Barranquilla, NOV 9 2300 - Barranquilla mention; in jumble.
______________________________
720.47 | unID | ?, NOV 9 2300 - Weak carrier.
______________________________
750 | VENEZUELA | YVKS, RCR, Caracas, NOV 9 2245 - Discussion of US election and reaction in Venezuela; loud.
______________________________
760 | COLOMBIA | HJAJ, RCN, Barranquilla, NOV 9 2301 - Banco Popular advert, pips a minute late.
______________________________
770 | COLOMBIA | HJJX, RCN, Bogota, NOV 9 2302 - Jingle // 760, "RCN La Radio", sped-up talk; under WABC. Rebelde in brief fade.
______________________________
850 | COLOMBIA (t) | HJKC, Candela 850, Bogota, NOV 9 2245 - Spanish talk under WEEI likely this per numerous receptions at home.
______________________________
860 | BRAZIL | ZYJ459, R. CBN, Rio de Janeiro, NOV 9 2214 - Man in Portuguese; over others.
+
NOV 9 2228 - Portuguese talk; mixed with unID salsa music station. (860_20161109_2228z.mp3)
+
NOV 9 2231 - Fanfare music, "CBN" network ID, man in Portuguese. (brazil-860_20161109_2231z.mp3)
______________________________
910 | VENEZUELA | YVRQ, Caracas, NOV 9 2230 - Spanish talk including "AM Center", "RQ", and "en todo Venezuela" mentions along with a long list of affiliate stations; mostly over WABK-ME. (yvrq-910_20161109_2230z.mp3)
______________________________
1030 | unID(s) | ?, NOV 9 2208 - Possibly two Spanish stations beating up WBZ. Suspects LS10, WONQ, WWGB, WOSO. (1030_20161109_2208z.mp3)
______________________________
1039.62 | VENEZUELA | La Voz de Carabobo, YVLB, Valencia, NOV 9 2259 - Carabobo mentions; fair on lower sideband. (yv-1039.62_20161109_2259z.mp3)
______________________________
1070 | COLOMBIA | HJCG, R. Santa Fe, Bogota, NOV 9 2300 - Santa Fe and Q'Hubo mentions; poor in jumble.
______________________________
1100 | COLOMBIA | HJAT, CARACOL, Barranquilla, NOV 9 2300 - CARACOL Radio ID; over mess.
______________________________
1130 | unID | ?, NOV 9 2230 - Spanish religious talk by man, then female vocal; mixed with WBBR. (1130_20161109_2230z.mp3)
______________________________
1130 | unID | ?, NOV 9 2235 - Just a little under WBBR, woman talking, maybe Portuguese instead of Spanish. Rio de Janeiro logged here previously. (1130_20161109_2235z.mp3)
______________________________
1170 | COLOMBIA | HJNW, Caracol R., Cartagena, NOV 9 2300 - CARACOL mentions by man in Spanish; over static crashes.
______________________________
1190 | COLOMBIA | HJCT, L. V. de la Costa, Barranquilla, NOV 9 2257 - ID "La Voz de la Costa"; a bit under WLIB. (hjct-1190_20161109_2257z.mp3)
______________________________
1220 | BRAZIL | ZYJ258, R. Globo, Rio de Janeiro, NOV 9 2245 - Man in Portuguese; slightly over jumble.
+
NOV 9 2301 - Globo and Sao Paulo ID's in Portuguese talk by man; some slop from huge adjacent 1215 UK. (globo-1220_20161109_2301z.mp3)
______________________________
1290 | VENEZUELA | YVLF, R. Puerto Cabello, Puerto Cabello, NOV 9 2301 - RCR Deportes mention; over WRNI-RI's Latino music. (yv-1290_20161109_2301z.mp3)
______________________________
1300 | VENEZUELA | YVKH Caracas or YVNS Maracaibo, NOV 9 2259 - Venezolano and Carabobo mentions; over WJZ and other domestics. (yv-1300_20161109_2259z.mp3)
______________________________
1320 | VENEZUELA | YVWP, R. Apolo, Turmero, NOV 9 2301 - Spanish talk and Radio Apolo jingle. (yv-1320_20161109_2301z.mp3)
______________________________
1420 | VENEZUELA | YVZO, Maracaibo, NOV 9 2300 - "Sintonia" slogan, Venezolano mention. (yv-1420_20161109_2300z.mp3)
______________________________
1500 | VENEZUELA | YVRZ, Radio Dos Mil, Cumana, NOV 9 2259 - Venezuela talk giving WFED-DC some gas. (wfed+yv-1500_20161109_2259z.mp3)
______________________________
1530.088 | unID | ?, NOV 9 2300 - 88 Hz high-side growl against 1530 jumble. Not sure if domestic or foreign in origin.
______________________________

Caribbean (excluding Cuba), Central America, Mexico
580 | PUERTO RICO | WKAQ, San Juan, NOV 9 2300 - WKAQ Cinco Ochenta ID's; loud.
+
NOV 9 2300 - ID "WKAQ en la noche"; loud. (wkaq_pr-580_20161109_2300z.mp3)
______________________________
600 | PUERTO RICO | WYEL, Mayaguez, NOV 9 2259 - // 580 with WKAQ network affiliates list; mixed with CBNA & Rebelde Cuban.
______________________________
630 | PUERTO RICO | WUNO, NotiUno, San Juan, NOV 9 2231 - NotiUno Seis Treinta ID; over WPRO.
+ NOV 9 2300 - ID.
______________________________
680 | PUERTO RICO | WAPA, San Juan, NOV 9 2302 - WAPA ID and affiliates list; competing with semi-local WRKO Boston. (wapa_pr_o_wrko-680_20161109_2302z.mp3)
______________________________
780 | BRITISH VIRGIN ISLANDS | ZBVI, Road Town, Tortola, NOV 9 2231 - ZBVI ID, local weather read by US-accented announcer. (zbvi-780_20161109_2231z.mp3)
+ NOV 9 2245 - Two Carib-accented women discussing an author; initially good then under Coro.
______________________________
800 | BONAIRE | PJB, TransWorld Radio, Kralendijk, NOV 9 2300 - Man "Glory Train on TWR 800 AM"; coming up over the pile.
______________________________
810 | BAHAMAS | ZNS3, Freeport, NOV 9 2301 - Bahamas news by woman "The government is working on much needed hurricane relief."; over HJCY, others.
______________________________
830 | DOMINICAN REPUBLIC | HIJB, Santo Domingo, NOV 9 2301 - News about "Republica Dominicana"; just about even with WCRN.
______________________________
840 | HAITI | R. 4VEH (4VEF), Cap-Haitien, NOV 9 2300 - Electronic "Dashing through the Snow" 5-note interval signal, man "4VEH ... il est six heures"; to good peak. (haiti-840_20161109_2300z-.mp3)
______________________________
860 | ST. KITTS & NEVIS | V. of Nevis, Bath Village, NOV 9 2300 - VON with usual "Power from the Tower" slogan. (von-860_20161109_2300z.mp3)
______________________________
940 | PUERTO RICO | WIPR, San Juan, NOV 9 2232 - Woman in Spanish with "nueve cuarenta AM" mentions and WIPR ID; good. (wipr_pr-940_20161109_2232z.mp3)
______________________________
960 | PUERTO RICO | WDNO, Quebradillas, NOV 9 2245 - Man mentioned Mayaguez and Aguadilla in Spanish talk. Good to get this in the clear with not much showing from Reloj, WELI, and other usual pests. (wdno_pr-960_20161109_2245z.mp3)
______________________________
1120 | PUERTO RICO | WMSW, R. Once, Hatillo, NOV 9 2230 - Radio Once ID and jingle; dominant. (1120_20161109_2230z.mp3)
______________________________
1280 | BERMUDA | VSB2, Hamilton, NOV 9 2300 - Talk includes usual BBN network and Wadesboro-Charlotte mention so there's at least one active Bermuda station. (bermuda-1280_20161109_2300z.mp3)
______________________________
1480 | PUERTO RICO | WMDD, Fajardo, NOV 9 2300 - Puerto Rico newstalk; over WSAR. (pr-1480_20161109_2300z.mp3)
______________________________
1610 | ANGUILLA | Caribbean Beacon, The Valley, NOV 9 2228 - Black gospel music, man "to make your reservations for this Sunday's service, call 1-800-338-3030"; loud.
+
NOV 9 2302 - Usual Gene Scott preaching; strong. (anguilla-1610_20161109_2302z.mp3)
______________________________

Cuba
650 | CUBA | R. Progreso synchros, NOV 9 2301 - // 640 with woman "Radio Progreso, la onda de la alegria", wobbling; mixed with CKGA Irish music.
______________________________
670 | CUBA | CMQ, R. Rebelde, Arroyo Arenas, NOV 9 2300 - Choral music, 9-note sounder, news; even with Venezuela.
______________________________
690 | CUBA | R. Progreso, Jovellanos, NOV 9 2300 - Progreso ID; over CKGM, WOKV.
______________________________
710 | CUBA | R. Rebelde synchros, NOV 9 2300 - Choral music // 670; hammering WOR.
______________________________
740 | CUBA | R. Angulo, Sagua de Tanamo, NOV 9 2215 - Audio clip information from Mauricio Molano on RealDX: "It is a news program for Holguín Province (Cuba). They link with station Ecos de Sagua for a report. On 740 there is a relay station of Radio Angulo (Provincial station of Holguin) placed at Sagua de Tanamo (10 kw)." Also thanks to Chuck Hutton. At my house about 16 km to the west of the DX site, R. Angulo is a 740 regular on my south antenna. (740_20161109_2215z.mp3)
______________________________
770 | CUBA | R. Rebelde, Victoria de las Tunas, NOV 9 2300 - Chorus // 670; mixed with HJJX & WABC.
______________________________
870 | CUBA | R. Reloj synchros, NOV 9 2300 - ID "Radio Reloj en Habana, Cuba"; over WLVP.
______________________________
900 | CUBA | R. Progreso, NOV 9 2300 - Progreso ID; over presumed Venezuela.
______________________________
1000 | CUBA | R. Granma, Media Luna, NOV 9 2300 - Granma chimes; in jumble.
______________________________
1020 | CUBA | R. Reloj, Victoria de las Tunas, NOV 9 2245 - Reloj program; over other Spanish language station.
______________________________
1080 | CUBA | R. Cadena Habana, Villa Maria, NOV 9 2215 - Cadena Habana mention; way under WTIC.
______________________________
1110 | CUBA | R. Angulo, Holguin, NOV 9 2245 - Woman in Spanish // 740; over Latin American music station & WBT.
______________________________
1180 | CUBA | R. Rebelde synchros, NOV 9 2300 - Chorus, 9-note sounder, "las noticias" mention, splash effects; big multi-station echo. Other Spanish (Marti?) & WHAM way under.
______________________________

USA and Canada
540 | CANADA | CBT, Grand Falls, NL, NOV 9 2130 - CBC Newfoundland-Labrador news // 600, 640, 990, et al. (cbt_nl-540_20161109_2130z.mp3)
______________________________
570 | CANADA | CFCB, Corner Brook, NL, NOV 9 2130 - List of VOCM network affiliates including CFCB Corner Brook. (cfcb_nl-570_20161109_2130z.mp3)
+
NOV 9 2200 - Man "When the weather turns, you turn to VOCM", then into "Sausalito Summernight" by Diesel; good. WMCA and Reloj pretty much in receiving antenna null, so no trouble from them. (cfcb_nl-570_20161109_2200z.mp3)
______________________________
600 | CANADA | CBNA, St. Anthony, NL, NOV 9 2130 - CBC Newfoundland-Labrador news // 540, 640, 990, et al. (cbna_nl-600_20161109_2130z.mp3)
______________________________
610 | USA | WIOD, Miami, FL, NOV 9 2301 - Miami traffic, Newsradio 610 WIOD ID; over Latin American jumble.
______________________________
620 | CANADA | CKCM, Grand Falls, NL, NOV 9 2231 - "VOCM radio network" mention, Homestyle program with Celtic music; briefly through usual WZON/WVMT/WSNR/WDAE/Rebelde pile-up. (ckcm_nl-620_20161109_2231z.mp3)
______________________________
640 | CANADA | CBN, St. John's, NL, NOV 9 2130 - CBC Newfoundland-Labrador news // 540, 600, 990, et al. (cbn_nl-640_20161109_2130z.mp3)
______________________________
640 | USA | WMEN, Royal Palm Beach, FL, NOV 9 2300 - "640 Fox Sports for South Florida" mention; under Progreso.
______________________________
650 | CANADA | CKGA, Gander, NL, NOV 9 2130 - "On stations of the VOCM network, this is Homestyle", then Irish music. (ckga_nl-650_20161109_2130z.mp3)
+
NOV 9 2232 - VOCM network ID. (ckga_nl-650_20161109_2232z.mp3)
______________________________
740 | CANADA | CHCM, Marystown, NL, NOV 9 2100 - Mentions of VOCM network stations including 590 VOCM and 740 CHCM. (chcm_nl-740_20161109_2100z.mp3)

+
NOV 9 2132 - VOCM $10000 news tip promo, call 579-2020, mention of 590 //. (chcm_nl-740_20161109_2132z.mp3)
______________________________
750 | CANADA | CBGA, Bonavista, NL, NOV 9 2030 - Newfoundland-Labrador news starting with report of job losses at Come-By-Chance oil refinery. (cbgy_nl-750_20161109_2030z.mp3)
______________________________
800 | CANADA | VOWR, St. John's, NL, NOV 9 2131 - Talk including VOWR ID, PSA's for smoking cessation, not leaving an unattended car running. (vowr_nl-800_20161109_2131z.mp3)
______________________________
930 | CANADA | CJYQ, St. John's, NL, NOV 9 2059 - Talk about Conception Bay South, NL road works project affecting traffic, then an Avalon Peninsula weather report, Kixx Country slogan. (cjyq_nl-930_20161109_2059z.mp3)
______________________________
990 | CANADA | CBY, Corner Brook, NL, NOV 9 2130 - CBC Newfoundland-Labrador news // 540, 600, 640, et al. (cby_nl-990_20161109_2130z.mp3)
______________________________
1140 | CANADA | CBI, Sydney, NS, NOV 9 2030 - Nova Scotia health news starting with assisted dying. (cbi_ns-1140_20161109_2030z.mp3)
______________________________
1210 | CANADA | VOAR, St. John's, NL, NOV 9 2030 - "This is the VOAR News." (voar_nl-1210_20161109_2030z.mp3)
______________________________
1230 | USA | WGUY, Veazie, ME, NOV 9 2202 - ID "WGUY Veazie-Brewer-Bangor, the greatest hits are always playing right here .." into "Pretty Woman" by Roy Orbison from '64; good, way over usual WESX/WCMC combo. (wguy_me-1230_20161109_2202z.mp3)
______________________________
1260 | CANADA | CKHJ, Fredericton, NB, NOV 9 2130 - Talk "... on real country variety, 103.5 'KHJ"; loud. (ckhj_nb-1260_20161109_2130z.mp3)
______________________________
1270.019 | CANADA | CJCB, Sydney, NS, NOV 9 2031 - C&W music, jingle "1270 CJCB"; loud. (cjcb_ns-1270.019_20161109_2031z.mp3)
______________________________
1330 | USA | WESR, Onley, VA, NOV 9 2300 - WESR ID alone on channel, no sign of usual WRCA-MA & WWRV-NY. (wesr_va-1330_20161109_2300z.mp3)
______________________________
1350 | CANADA | CKAD Middleton, NS, NOV 9 2146 - ID "AVR Middleton CKAD 1350 AM", C&W music; good. (ckad_ns-1350_20161109_2146z.mp3)
+
NOV 9 2259 - AVR net, CKAD ID, C&W music. (ckad_ns-1350_20161109_2259z.mp3)
______________________________
1370 | USA | WDEA, Ellsworth, ME, NOV 9 2031 - "Downeast Maine - WDEA" ID. (wdea_me-1370_20161109_2031z.mp3)
______________________________
1380 | USA | WSYB, Rutland, VT, NOV 9 2200 - "Your home for the best talkers on the planet, AM 1380 WSYB"; good. (wsyb_vt-1380_20161109_2200z.mp3)
______________________________
1400 | CANADA | CBG, Gander, NL, NOV 9 2300 - List of some CBC Newfoundland affiliates; a bit over co-channel jumble. (cbg_nl-1400_20161109_2300z.mp3)
______________________________
1450 | USA | WVOM, Rockland, ME, NOV 9 2100 - ID for several stations including WVOM AM Rockland, news about stock market and election. Dominating well over "usuals" CFAB, WNBP, WPGG at the time. (wvom_me-1450_20161109_2100z.mp3)
______________________________

Other DXpeditions of NOV 2016
Prince Edward Island, Canada
Lubec, ME, USA
Long Beach Island, NJ, USA
Zion, PA, USA

Please feel free to send any comments to me at e-mail: MarkWA1ION@aol.com

Click here for: other 2016 DX Audio Files

Click here for: DX Audio Files Home Page

Click here for: WA1ION DX Labs Web Links