Central Washington's premier amateur radio club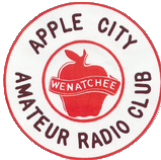 Next Club Meeting: March 7th - 8am
Chelan County Fire Station - 5th and Western - Wenatchee
Doors open at 7:30am (coffee and donuts available)

Next Board Meeting - March 5th - 6:30pm
Country Inn, East Wenatchee


New Swap n' Shop postings

Please use the button at left to check them out!


2015 Hamfest Dates announced

The 2015 Hamfest will be held on the weekend of
June 12th - June14th at the Dryden Gun Club (as in previous years). Please make plans to attend and have a great time.


Special Olympics Volunteers - Sign Up ASAP

If wishing to participate as a volunteer with the club you need to apply - this is easiest. Information/forms can be found here:
http://www.specialolympicswashington.org/sowa/volunteer/become_a_volunteer


PO Box Notice *please read*

Attention - for most of this year we have been having issues with the Post Office and our box. There are times mail is returned to sender stating the box is closed.

This is not true

. If this happens to you please email the club and we will contact you to make other arrangements on getting the letter/package to the group. Sorry and thank you for understanding as we get this worked out with the PO.


Newsletters

Check the archive out from the buttons on left. If you would like to suggest a story idea or have one you have written added please send to the club email address
.



Club Repeaters:


146.68
( - offset / 156.7 )

53.390
( - 1.700 offset / 118.8 )

Weekly Club Nets:

Tuesday Night Net
8pm on Club 2 meter repeater

Monday 10 meter gathering
8pm on 28.375
(freq open to all license classes
)


***** Club Events *****

Special Olympics - Feb 28th and Mar 1st
Club members participating:
If you would like to participate please get volunteer application in to Special Olympics of Washington asap.


(Calendar at bottom of page)