Central Washington's premier amateur radio club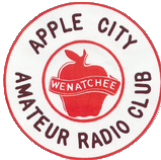 Next Club Meeting: Dec 5th - 8am
Douglas County Fire Station, Eastmont Ave, East Wenatchee
*Nov / Dec - still may need to find more permanent location, will be 5th and Western Jan/Feb/Mar*

Next Board Meeting - Dec 3rd - 6:30pm
Country Inn, East Wenatchee



First Aid Class

We have arranged a First Aid class for members of the group (and family members) to take place on

November 30th at 6pm

at the Fire Station at 5th and Western. There is no charge for the class and a great opportunity to get or renew your card.


Dues are due (for many)

If your membership is due please submit asap - this can be handled at any club meeting or sent in to the club PO box. Thanks.


Elections 2015

Elections for 2015 are now complete - the officers for 2016 will be:
President - John Lathrop-N7RHY
Vice Pres - Sal Spagnole-KA7ZDL
Secretary - Tracy Lathrop-KD7KBE
Treasurer - Stacey Kirkpatrick-KB7YYY
Trustee 1 - Marie McCoy-KB7ALI
Trustee 2 - Danny Whaley-K7ISC
Trustee 3 - Skip Frans-KE7MPO


New Swap n' Shop postings

Please use the button at left to check them out!


Alcoa Safety Gear Donation - $1000

On March 24th the club was the recipient of a very generous donation from Alcoa to help us purchase safety gear (harnesses and helmets) for climbing. We are very appreciative of the work that Danny (K7ISC) and Jex (KG7MKS) put into getting this donation. And a great big thank you you Alcoa for their support!


Alcoa newsletter article with picture of PR Superintendent Jens Lee presenting check to ACARC President John Lathrop
Newsletters

Check the archive out from the buttons on left. If you would like to suggest a story idea or have one you have written added please send to the club email address
.



Club Repeaters:


146.68
( - offset / 156.7 )

53.390
( - 1.700 offset / 118.8 )

Weekly Club Nets:

Tuesday Night Net
8pm on Club 2 meter repeater

Monday 10 meter gathering
8pm on 28.375
(freq open to all license classes
)


***** Upcoming Club Events *****

Christmas Party - 12/19 4pm - Holiday Inn Express, Wen
Party will be from 4pm to approximately 9pm - This will be a Potluck dinner which should start around 5pm. For those that wish to participate there will be a $10 gift exchange .

!!! Net Controls Needed !!!
If you are interested please contact Tracy (KD7KBE) or email the club. Vvolunteers needed for Tuesday night net. No experience necessary - just follow the provided script.
Rich K7RBC has joined the ranks, but more help never hurts.
**Thanks!

(Calendar at bottom of page)