Central Washington's premier amateur radio club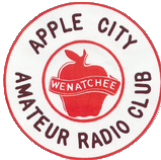 Next Club Meeting: Feb 6th - 8am
5th and Western Fire Station, Wenatchee
*Jan / Feb / Mar will be at this location - still may need to find more permanent location for after these*

Next Board Meeting - Feb 4th - 6:30pm
Country Inn, East Wenatchee



Special Olympics - 3/4-3/6

Please contact Tracy-KD7KBE for application information or get app online. Applications should be in by end of January. We need as many volunteers as possible (12 would be nice).


Technician Class starting 1/27

Sal-KA7ZDL and Skip-KE7MPO (and other club members) will be conducting a Technician License class starting 1/27 - for all dates please check the club calendar at bottom of page. Classes will start at 6pm and be held at the firehouse at 5th and Western in Wenatchee. Study books (W5YI) available for sale for the first 10 students. For morning information contact Skip, his info is on the become a ham page.


Online General Upgrade Assistance

Bruce Prior-N7RR is leading a online coaching system to help people upgrade from Technician to General. He is just starting the meetings and will be using the ARRL General Study Guide for the class (provided by student). They are currently going over questions from the pool right now as people get their books. If interested please contact Bruce at n7rr@mail.com. A great opportunity for these winter months!


Dues are due (for many)

If your membership is due please submit asap - this can be handled at any club meeting or sent in to the club PO box. Thanks.


New Swap n' Shop postings

Please use the button at left to check them out!


Newsletters

Check the archive out from the buttons on left. If you would like to suggest a story idea or have one you have written added please send to the club email address
.



Club Repeaters:


146.68
( - offset / 156.7 )

53.390
( - 1.700 offset / 118.8 )

Weekly Club Nets:

Tuesday Night Net
8pm on Club 2 meter repeater

Monday 10 meter gathering
8pm on 28.375
(freq open to all license classes
)

***** Upcoming Club Events *****

Special Olympics - March 4th-6th - Volunteers needed for venue communications
More information to come as the games approach.

!!! Net Controls Needed !!!
If you are interested please contact Tracy (KD7KBE) or email the club. Vvolunteers needed for Tuesday night net. No experience necessary - just follow the provided script.
Rich K7RBC has joined the ranks, but more help never hurts.
**Thanks!

(Calendar at bottom of page)