Commemorating the grand opening & dedication of the Lewis & Clark Interpretive Center in Great Falls, Montana
---
Hats:
We are now Officially sanctioned by the LCIC Board as the official Amateur Radio Station. With this Sanction comes the privilege to use the official LCIC logo.
The designs below reflect this change.
I am putting together an order for W7A baseball caps at this time. I am going to try to get them done before Ham Fest. Let me know right away if you want one. Only participants (operators, support staff, and valid contacts) are elegible for the W7A hat. I will be pricing embordery on a good quality cap.
Click on a graphic below for a larger view.
You will have to use your browser's back button to return to this page.
The image below will appear on the hats.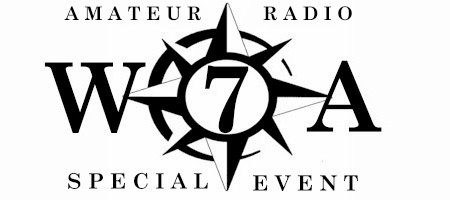 The image below will appear on the front and back of the shirts, should we decide to print them.
---
---
©1998 Bob Avritt KQ7K. All rights reserved.