Here are some photos from the July 19, 2006, Final Construction Meeting.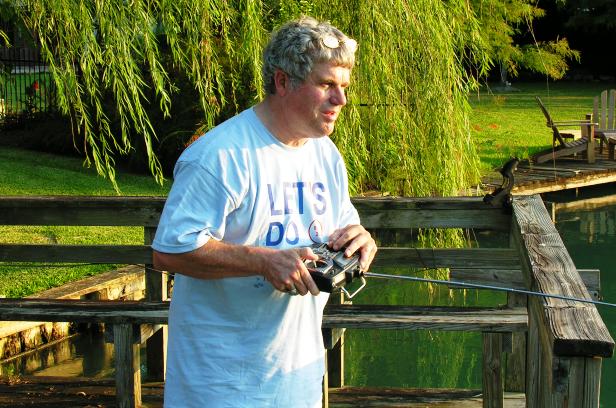 Check out that INTENSE look of concentration on Payload Master George W5GFP. He must SURELY be doing something significant and closely related to the BLT-22 Project.



Well maybe not... But that is one cool RC sailboat! We allocated 30 minutes prior to the BLT-22 gathering to do some fun RC action in the lakes behind the Secret BLT Lab in Sugar Land. Even though there was barely enough wind to get George's silboat moving, we had fun!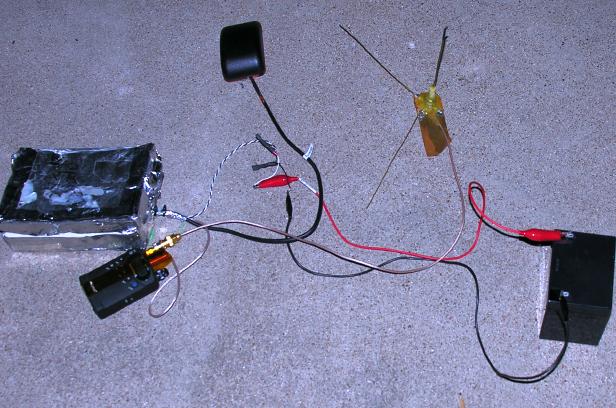 Back to business. We did some final testing on the main APRS system for BLT-22. It works great, but the foam-lined aluminum "box" needs replacing, some connections require upgrading, and the antenna has seen better days. Tonight we will build up a new antenna with enough coax to place the finished aerial on the end of one side of Payload Master Tony's Gravity Gradiant Boom experiment.



Things did not go as well for the backup, internally-powered APRS system. It seemed to run for a while, but then the battery voltages were checked, and it seems that something BAD may have happened. We didn't have time to find out what the BAD thing was, but either way, this unit could use some repackaging, a new antenna and further tests. Fortunately Bronwin sent us enough extra GPS gear to cover any eventuality.



Here's Mikey KK5SC reading the manual on FM ATV receive gear from Holland. We had some nice successful tests even though the primary BLT-22 ATV transmit system was still undergoing tests at the Secret BLT Lab in Katy.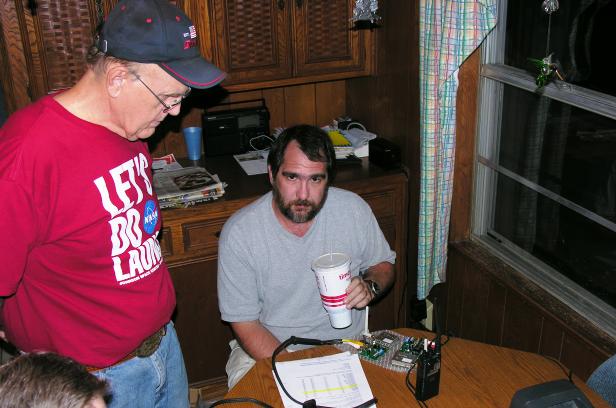 Helium King Charlie K5ENG was well behaved. Here he and Mikey are comparing notes on what not to do with the ATV receive gear.



Michael W2CVZ and Charlie get together to check out some battery voltages and antenna connections. First they have to get past the fact that Andy's meter doesn't work - typical!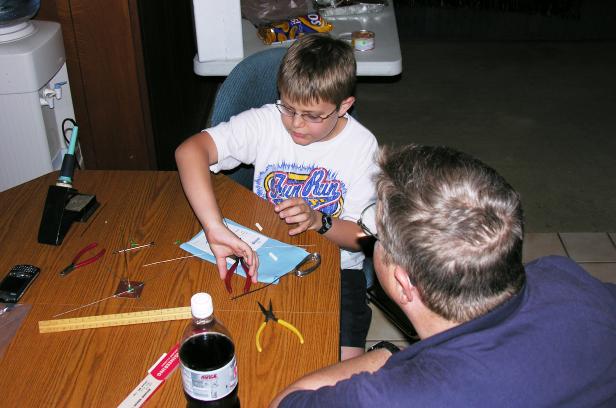 Michael and Mark AD5SS get moving with new 70-cm ground-plane antennas for the primary and backup APRS systems. The antenna bases are made of double-sided PC board. The center element is brass tubing that is slipped over, and sweat soldered to the top of a rigid insulated stand-off. The base of the stand-off is held in place with a small 4-40 bolt and solder.



Michael calculated the element lengths and continues to measure and cut to length. These will be some very nice replacements for the previous, now flight-worn, 70-cm ground planes.



Payload Master Mike WA5TWT checks out primary battery locations in the new flight package. We're still not sure if there will be enough room for everything, but we will certainly check it out.



The batteries fit. Note that there are other equally important consumables in this photo, but I see no helium. No wonder Charlie has left the building! In August, we will bring ALL of the pieces to the table and get moving with BLT-22.

Our Completion Meeting will be held on Wednesday, August 16, 2006, at the Secret BLT Lab (310 Lombardy) in Sugar Land - 8 PM till 10 PM.

Launch is scheduled for 10 AM on September 9, 2006 from the Wharton Regional Airport. Be There!!!