Here are some photos from the June 21, 2006, Construction Meeting.



Wow! We hooked up ALL of the stuff from BLT-21, and it ALL worked! Here's a view of mostly ATV gear. Our primary color camera is propped against the BIG battery, while the "look-up" camera is just to the left of the video command receiver in the lower right. We did some video tests, but no one could remember the command codes to change cameras! Andy W5ACM promised to unlock the BLT archives (i.e. find his old notebook) and find the secret codes.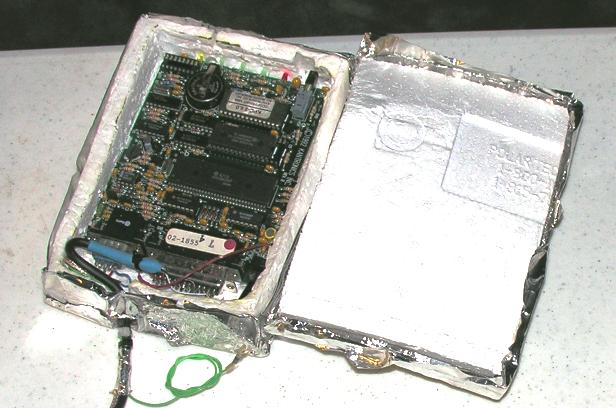 Here's a close-up of the TNC for the primary APRS GPS system. It works great, so no changes are anticipated, except for a little work on packaging.



We tested the APRS GPS back-up system by propping it up on WA5WOD's spare tire. It works! N5RPQ Tony installed fresh batteries last year, and all is well. Andy has promised to pack the system a bit better to fit the NEW high-tech main payload enclosure. We will need new 70-cm data antennas to be mounted at the ends of N5RPQ's gravity gradient boom.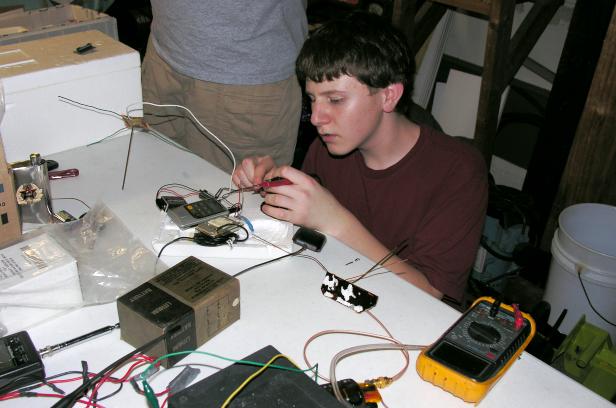 Josh KE5FGC took the initiative to measure the current consumption of all of the main payload devices. This data was a bit surprising. The video system, including the 1255 MHz ATV transmitter draws nearly an AMP at 15 VDC. The heat sink on the ATV transmitter also gets excessively warm, and there is insufficient conductive grease. Ron AG5RS has been informed and will fix this. We will have to be careful to check the capacity of our vintage NOS (New Old Stock) sulphur-dioxide lithium batteries. They are now TWENTY years old! Needles to say, they have exceeded their expected life, but let's not assume that OLD is BAD. We are optimistic that these old batts will be just fine. I wonder why Andy is so interested in a back-up APRS GPS system??



There it is! That's the theme for BLT-22, i.e. LET'S DO LAUNCH To The Edge of Space!! It's on the NEW BLT-22 T-shirts, and we LIKE IT!!



Dr. Dan W5DF showed up in a shirt and tie. Good Grief! He changed into a BLT-22 T-shirt, and proceeded to "kick back". Dan and John AB5SS have been amazing with their direction-finding efforts with previous launches.



"Whers'e the HELIUM?!? I want ANSWERS!!" Helium King Charlie is a bit upset about the empty Helium bag. Did Helium Czar KC5JAR do it? This IS a problem.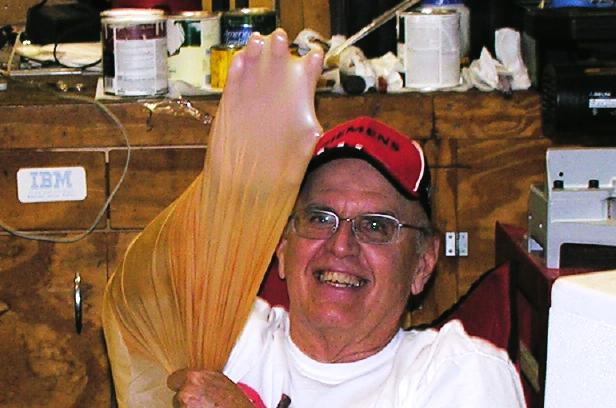 Charlie's happy. He has found a new toy. LATEX!! "I love the feeling of latex in the evening!"



John WA5WOD and Charlie get serious. The parachute needs attention. John is investigating evidence of possible alien abduction. The knots in the support lines have been altered. Only an advanced extraterrestrial civilization could have tied these knots. John wants answers!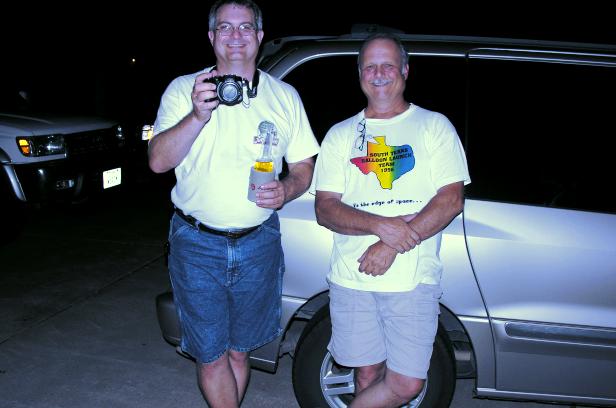 Chase Master John and Payload Master Mike WA5TWT pose for a picture. John reciprocates! "If you take my picture, I will capture your digital soul in my camera!" Let's not get TOO serious. Launch is WAY in the future... Hmmm...



Payload Master Tony N5RPQ has asked John about the possible Alien intervention. John has been thinking, and has answers. "Obviously this is the result of an intergalactic conspiracy. Art W6OBB called me from Manila a few days ago. The knots in the parachute cord have been altered. The origin is most likely from the planet Tralfamador. We had best be very careful!"

Our Final Construction Meeting will be held on Wednesday, July 19, 2006, at the Secret BLT Lab (310 Lombardy) in Sugar Land - 8 PM till 10 PM.

Launch is scheduled for 10 AM on September 9, 2006 from the Wharton Regional Airport. Be There!!!