Here are some photos from the April 6, 2005, BLT-21 planning meeting.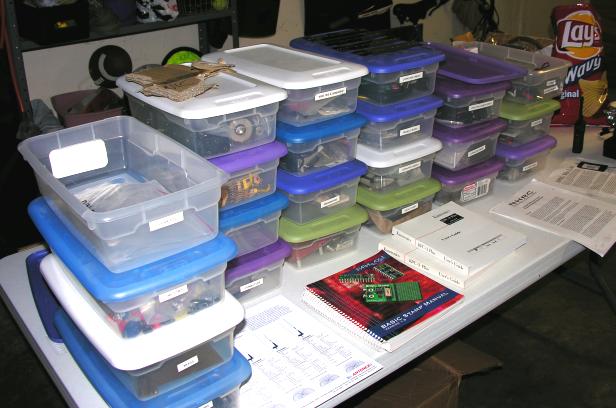 It's THE Night of the BLT-21 Planning Meeting, but first a tour of some of the great KD5DTW payload ingredients sent from California by Bronwyn. Lots of components for BLT-21. Thanks!!



In addition to the camera we successfully flew on BLT-20, we now have FOUR MORE! Do we have a volunteer to concoct a remote-control camera sequencer or controller?? They look new... They ARE New!!



Ultra-light solar panels... How about a solar-powered, very-low-power, HF beacon on BLT-21?



George W5GFP has volunteered his Brand-New Sony DV camcorder for FLIGHT in BLT-21! Payload Master Mike WA5TWT gets a firm grip on the camcorder.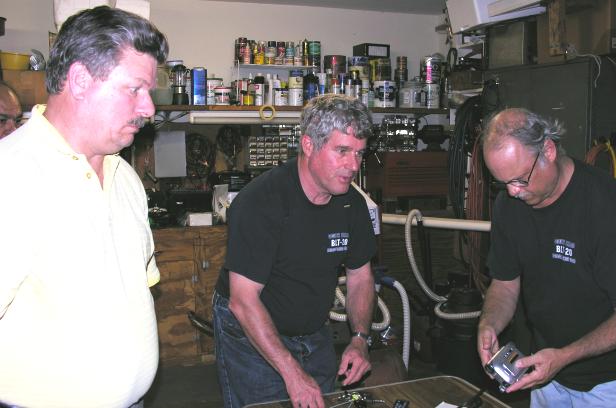 Mike explains to George and Rick W5RH how the camcorder will be integrated into BLT-21...
First we remove anything we don't really need. You've got to keep the weight down, you know. We need to get this display panel off. Then we pull the viewfinder. Some of these case parts and controls really aren't necessary to get a recording.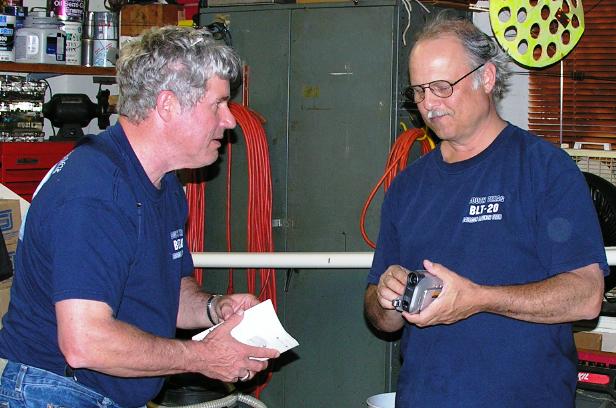 Mike's thinking out loud, - We could actually begin taking it down tonight.
Does George look worried? Nah! Not George! It's only a Brand-New, ultra-light, digital-video, camcorder!



Just messing with you George!
Mike and Tom K5SAF are having too much fun!
Where's Pete KD5ELH and Charlie K5ENG anyway??



Not-So-Mellow Charlie is hunting Helium. With all of these bins, there's bound to be a small can of the good stuff in there somewhere!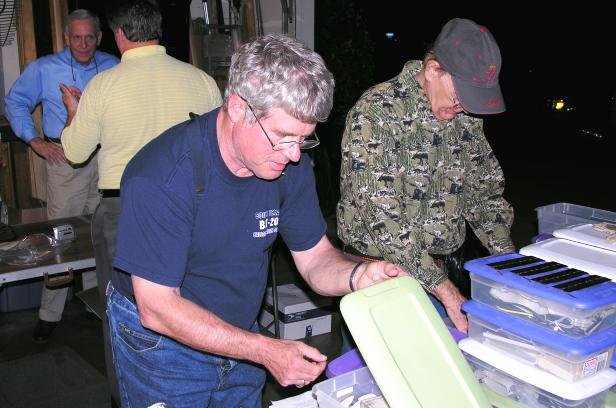 George joins the chase. Is George getting into the Helium hunt to help Charlie? Hmmm... Very-Mellow Pete didn't even show up in the pix. We'll get him next time!

Our Construction Meeting will be held on Wednesday, May 4, 2005, at the Secret BLT Lab (310 Lombardy) in Sugar Land - 8 PM till 10 PM.

Launch is scheduled for 10 AM on August 20, 2005 from the Wharton Regional Airport. Be There!!!