Here are some photos from the August 23, 2003, BLT-19 Flight!
These are special landing shots for immediate viewing!
The Wing Glider is still missing!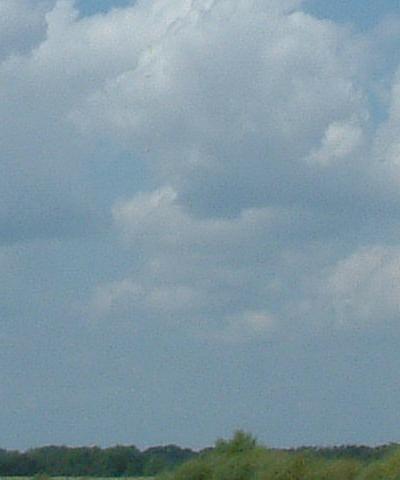 Thanks to John Maca AB5SS and Dan Feeback W5DF, we have these LANDING pix from BLT-19. Lots more pix will come later, but for now we are looking for clues to help us find the Wing Glider. It was supposed to release at 10,000 feet, but instead went for a ride To The Top! At some point it came lose from the main payload - but when - and where did it go?

In this picture, if you look VERY carefully, you can see the payload and the parachute in the upper left quadrant in front of the clouds.



Check this out! Just before landing, John snapped this photo or BLT-19 coming in... but where is the Wing Glider? Wait... There's more...



When more of this long-shot photo is observed, there's something in the picture to the left, but it's blurred. Is it the Wing Glider, a bird or a UFO??? Help!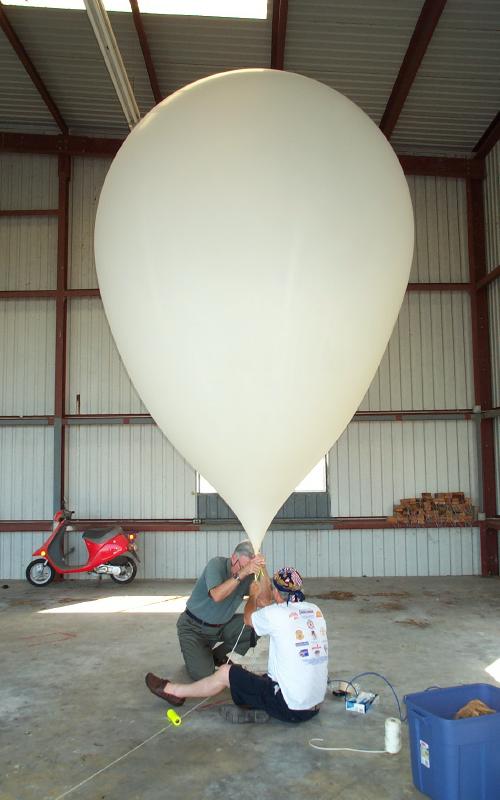 OK, so what did it look like BEFORE launch? Here's Allen and Tom finalizing the fill process for our Totex 1000.



And here is a picture of the wing glider just before launch. It's not too big, but it's not that small either.



While taking a photo of all of the vehicles that made it to the main payload landing site, I took this photo. WOW! The line is building as folks start showing up, but what's that in the upper left-hand corner??



ANOTHER UFO? A bird? The wing glider? Here we go again!! Where's Charlie??



While back at the BBQ restaurant... Payload Master Mike WA5TWT transfers the BLT-19 main payload and associated "stuff" from the back of Dr. Dan's Hummer. What a day!!



BLT-19 was launched from the Wharton Regional Airport at 10:17 AM on August 23, 2003. We have some SUPER video and tons of pictures, but first... let's find the Wing Glider!

Launch happened on August 23, 2003 from the Wharton Regional Airport. Were you there??