Here are some photos from the August 20, 2003, BLT-19 final integration meeting.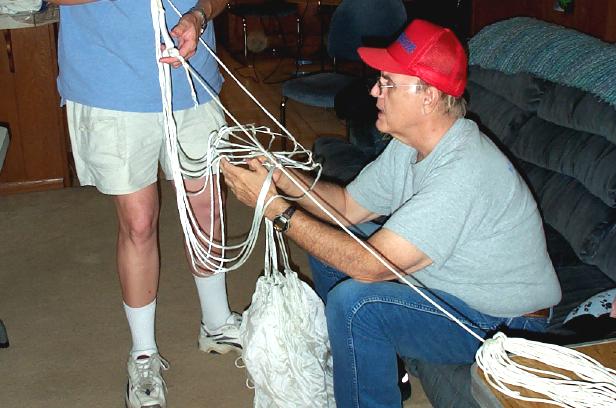 This is IT! We're at the FINAL Integration Meeting! Charlie gets serious. With some help from Tony our RC guru, the parachute from BLT-18 gets some serious rework for BLT-19. Why is Charlie forming a saucer shape with the chute lines?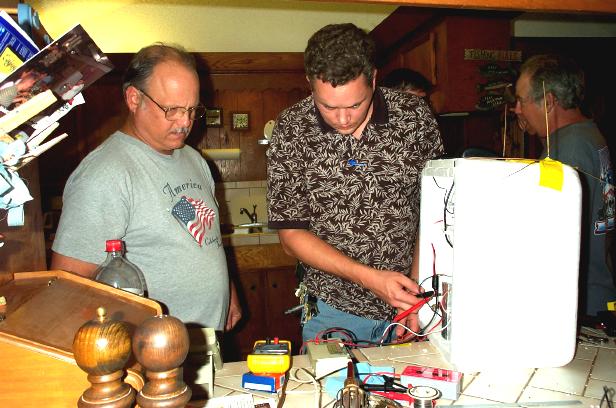 Wild Bill KD5IIU demonstrates a new, high-tech battery tester to Mike WA5TWT. "It works really great with lead-acid batteries, but we can't get any usable info at all about these Lithium cells."



Wild Bill watches Tony N5RPQ expertly craft a slanted depression in the Omaha Steaks foam lid for the 35-mm camera that has been checked for flight by Pete KD5ELH, while Andy W5ACM complains about having to do too much work. Some folks get Mexican restaurants to sponsor their balloon launches, but we go for the REAL BEEF!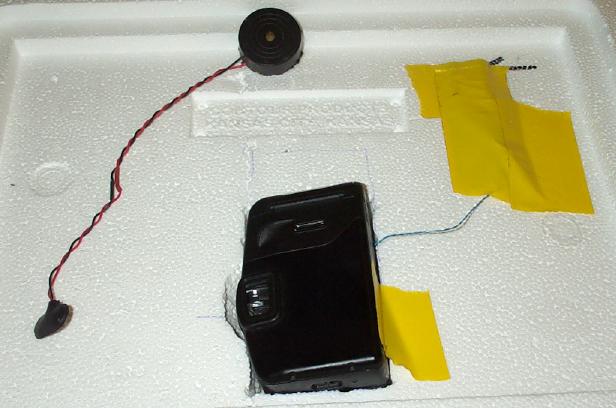 The results of Tony's work. The 35-mm camera is set to take a picture once every 2 minutes 40 seconds. The mounting angle provides a better view of the earth, while still getting enough of the sky and the horizon to provide impressive images. The device on the left is the outside audio beeper. It helps a LOT when you are looking for a package that is trying to hide out.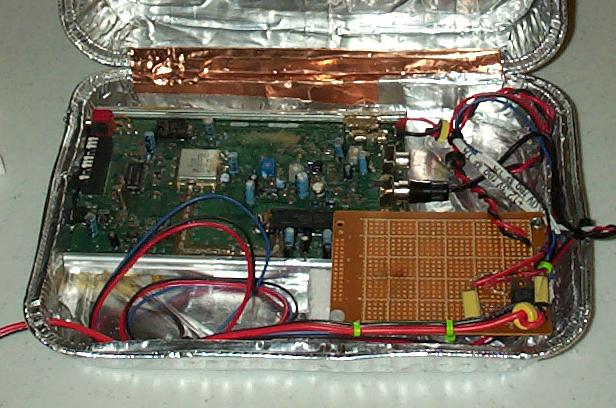 Ron AG5RS couldn't make it to the meeting, but he made sure that the HATS (Houston Amateur Television Society) 1255 MHZ FM ATV transmitter system was available for integration. Here it is, complete with voltage regulators, case and interface wiring - Ready for Launch! We have dubbed it "Ron's TV Dinner."



It's getting late. Time for a break, and some intellectual TV...



Check it out! We're almost done! BLT-19 is REAL, and with the exception of final-final testing, we're ready to go to The Edge of Space!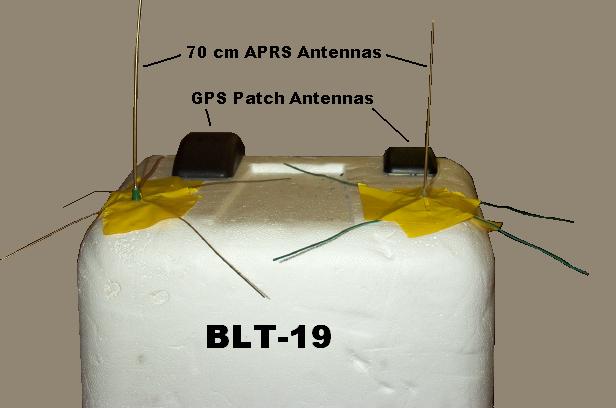 This is a view of the antennas on the top of the Omaha Steaks foam box. The backup GPS system uses a separate power system and transmits on 445.925 MHz as W5ACM-8 with a single line of GPS data every 15 seconds. The primary system is on 440.950 MHz as W5ACM-9 with three lines of GPS data every 10 seconds.



Andy, Mike and Allen N5LKJ were comparing notes on last-minute needs, when Andy notices that Charlie is missing. "Where did he go? What's he up to this time? More helium?"



Our final-final integration meeting will be held on Friday, August 20, 2003, at the Secret BLT Lab (310 Lombardy) in Sugar Land - 8 PM till 10 PM. Some meetings run late. This one CAN'T!! We Need Some Sleep!! It's Launch Time!!

Launch is scheduled for 10 AM on August 23, 2003 from the Wharton Regional Airport. Be There!!!