Here are some photos from the July 23, 2003, BLT-19 integration meeting.



We're getting down to the wire with BLT-19. George W5GFP is working on a TV-camera interface with his telescope. In addition to catching the glider on tape, it would be great to get a telephoto shot of the balloon burst.



"Wow! These parts are Really getting small! Why can't they get bigger? Then I would be able to SEE them!" Andy W5ACM attempts to fix a connection on the GPS to TNC interface.



"Am I at the wrong meeting again? I thought this was the National Organization of Men Against Amazonian Masterhood!" Mike WB5QCC is getting ready for those all-important FAA phone calls...



"At the thermocline I expect excessive gamma radiation and a significant shift in the ultraviolet levels. According to my theory, we may predict the end of the world as we know it!" Randy KA5IIA is on track with his flight sensors, computer system and transmitter. Mike WA5TWT ponders all.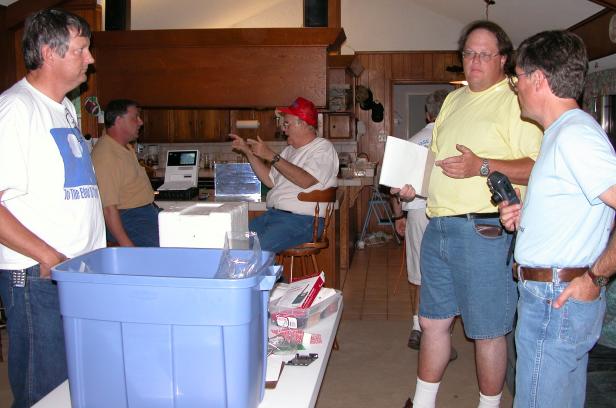 Tony N5PRQ, Randy KA5IIA and Andy W5ACM carry on further radiation discussions, but what is Charlie K5ENG telling Ron AG5RS??? No, not the Aliens again...



Wild Bill KD5IIU is deep into serious work, tabulating all of the contact data for the primary BLT-19 launch and recovery team. Tony has been helping, but something has caught his eye... It's Charlie...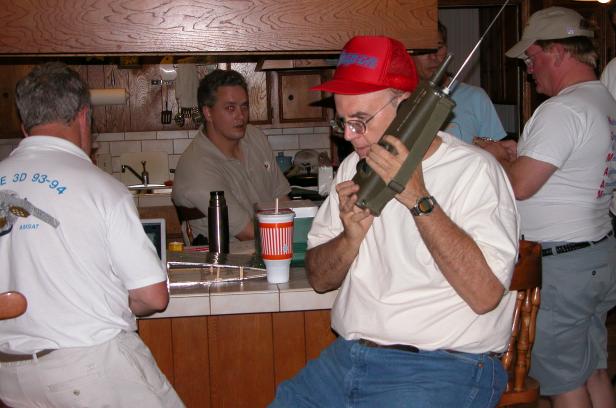 "Aliens! I KNOW you're out there! CQ Aliens! CQ Aliens! Tau Ceti! Alpha Centauri! Any Alien! Come back NOW!" It's happened again. Wild Bill observes as Charlie once again has had just a bit too much helium! That's all for tonight!



Our final integration meeting will be held on Wednesday, August 20, 2003, at the Secret BLT Lab (310 Lombardy) in Sugar Land - 8 PM till 10 PM. It's time for all of the parts to come together as one. Time is running out!!!

Launch is scheduled for 10 AM on August 23, 2003 from the Wharton Regional Airport. Be There!!!