Here are some photos from the June 18, 2003, BLT-19 construction meeting.



Tonight's focus was on the GPS system for BLT-19. Ron AG5RS and Mike WA5TWT investigate options from previous flights, including gear from Tim KD5DTW and Bronwyn (miniature Alinco xcvr, a micro TNC and a Garmin 25) and BLT-18 (Tokyo Hi-Power HT, Kantronics KPC-3+ and a Garmin 35).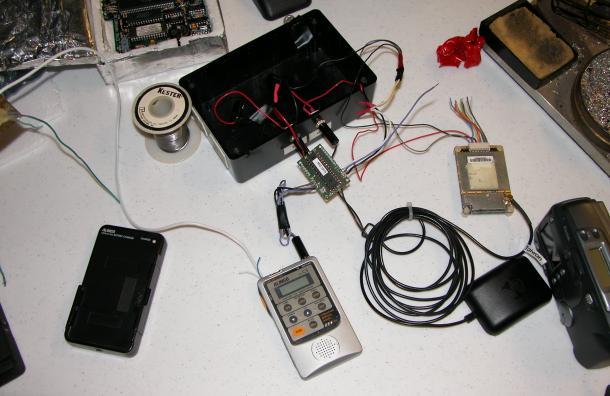 Here's a closeup of Tim's system that included some extraneous cabling and boxes. Only one string of GPS data is transmitted by the micro TNC, but it does work. Perhaps it could be used as a second onboard GPS? We'll see...



Andy W5ACM puts power to the BLT-18 GPS system. It works! It's a little low on RF (70 cm), but modulation is good, and three strings of GPS data are spewing forth!



Wild Bill KD5IIU checks data on his Palm clone and super-deal-of-the-century GPS unit vs. the Tim system. It all looks good!



"OK, so which signals are which? Darn multiple GPS systems..." Mike WA5TWT monitors the driveway GPS transmissions at the Secret BLT Lab in Sugar Land.



WUPS! There we are! The location of the Secret BLT Lab has been pinpointed by the GPS transmissions!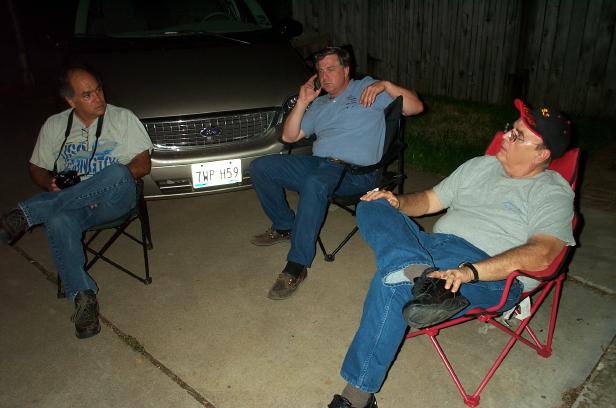 Pete KD5ELH (provider of many of this meeting's photos) wonders why Helium King Charlie K5ENG is staring at the sky. Video Master Ron AG5RS is busy chasing camera gear using non-ham frequencies. Charlie may have had a bit too much helium this evening. What is he looking at??



"HA! If that Alien shows up again, I'm READY!" Charlie takes aim! Yes, he's had too much helium. That's all for tonight!

Our first integration meeting will be held on Wednesday, July 23, 2003, at the Secret BLT Lab (310 Lombardy) in Sugar Land - 8 PM till 10 PM. The focus will be on video systems and the radiation detector experiment.

Launch is scheduled for 10 AM on August 23, 2003 from the Wharton Regional Airport. Be There!!!